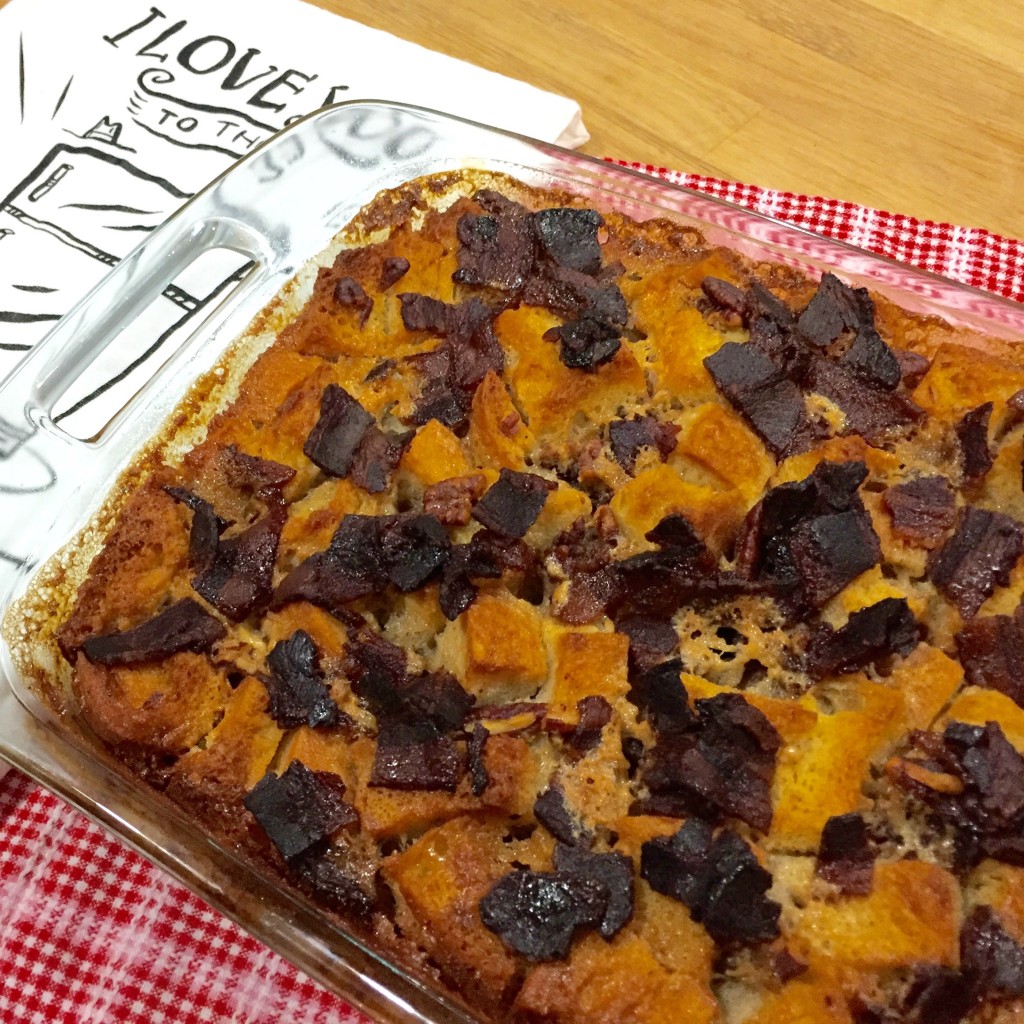 We're continuing our series on national food holidays in September and this week's post happens to fall on another special day … my birthday! According to my mom, it's a national holiday and, at the risk of sounding narcissistic, I tend to agree. I feel pretty lucky to share this b-day time of year with my bestie and Founding Foodie Amy, who's birthday is only two days before mine.
Our favorite way to celebrate is with food. No surprise there. In fact, if I don't feel a little sick to my tummy from my bad food choices on my birthday, I'm doing it wrong. This year we're not able to celebrate together and will probably do it a bit belatedly. With Amy's new role as foster mom to a tiny little baby, plus her personal chef schedule, we're putting our usual celebration aside for now. I have no real excuse … other than my current "condition", being with child and less than 7 weeks till my due date, which is making me tired, slightly less mobile and unable to partake in a glass of a celebratory adult beverage.
Having said that, this week's choice of yum – butterscotch bread pudding – may seem a bit off when you see there is bacon AND bourbon in the ingredients list. Aren't these no-go's for pregnant ladies? The bacon I chose was nitrate free and most alcohol bakes off when cooked. Also, it only calls for a few tablespoons of bourbon, dispersed into a whole baked dessert is really not that much.
It's National Butterscotch Pudding Day and I'm not a big fan of pudding. It's a texture thing. Ever since I can remember I've not been into puddings, yogurts, mousse … stuff most kids love. Even too mushy oatmeal can be a little off putting to my senses.
Funny story, when I was little my dad told me that chocolate mousse was made of moose, like those giant beasts with horns roaming the northern forests. OK, maybe I was a little gullible. And at some point, yes, I figured out he was pulling a "dad" fib. Is this why I'm not a fan? Who's to say?!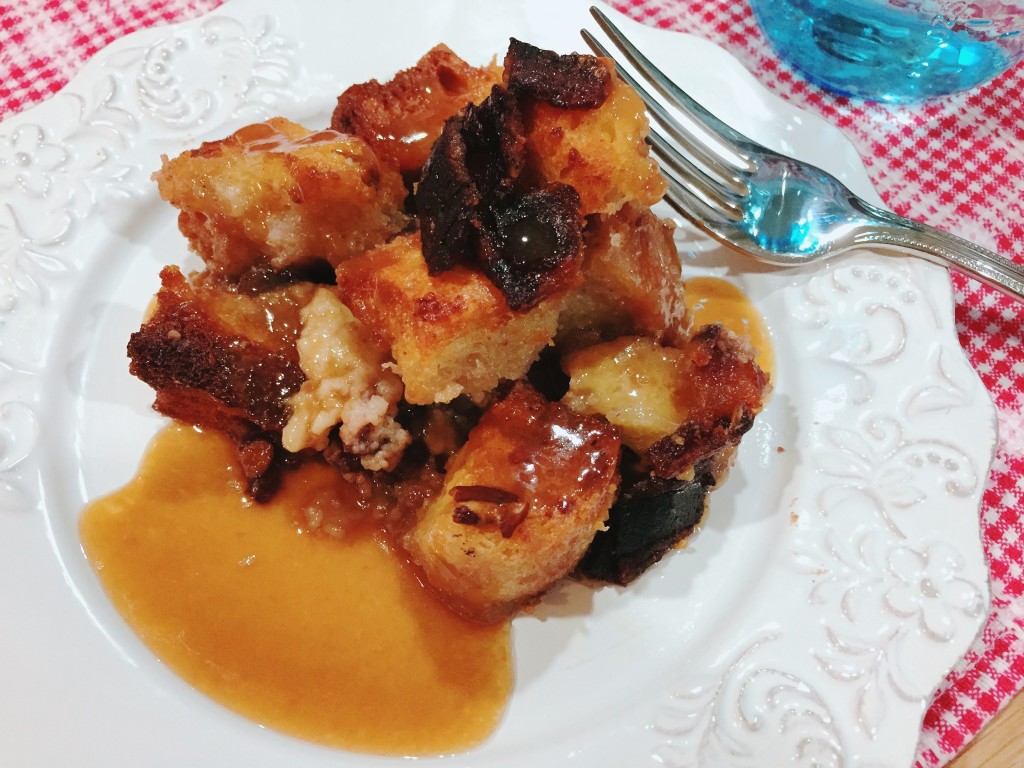 You know what I am a big fan of? Bread pudding. It's not as "pudding-y" as the name implies. Generally, it's a baked dish made with stale bread soaked in cream and eggs. You can make it sweet or savory, depending on the additional ingredients you toss in or on top, or the sauce you serve alongside. My experience is with the dessert variety and only in the eating of them; I've never made one from scratch. But it was pretty easy!
I followed a decadent recipe from my go-to print and online food magazine, Bon Appetite. I didn't add the poppy seeds they did, nor did I remove the crusts from my bread. I also kicked up the decadence by adding candied bacon on top before baking. You gotta treat yourself on your birthday, right?
And now…well, let's just say I feel a little sick from all that rich, decadent sweetness. Can you pass the Tums please?
Bacon-Pecan Bourbon Bread Pudding with Butterscotch Sauce
You can leave out the pecans or the bacon in this recipe…but why would you want to? I candied my bacon, which just means rubbing brown sugar onto the strips before cooking them in the oven. A simple pan fry preparation would work just as well. You can also make the bacon and the caramel sauce a few days ahead of time. Note, this can take a bit of time allowing the pudding to set in the fridge and baking. Plan to make it the night before or the morning of to allow time to set.

Bread Pudding Ingredients
1 loaf stale, day old rustic white bread (I used a French bread), cute into 1 inch cubes
1/2 cup unsalted butter, melted
2 tablespoons sugar
5 eggs
1 1/2 cup sugar
4 cups heavy cream
pinch kosher salt
3 tablespoons bourbon
1/2 vanilla bean, halved lengthwise
2 cups chopped pecans
6 strips bacon
1/4 cup light brown sugar

Butterscotch Sauce Ingredients
1 cup light brown brown sugar
1/2 cup light corn syrup
3 tablespoons unsalted butter
1 1/2 teaspoons kosher salt
1/2 cup heavy cream
1 tablespoon bourbon

To make bread pudding… In a large bowl, toss the bread cubes with melted butter and two tablespoons sugar till well coated; set aside. Add the eggs and 1 1/2 cups sugar to a mixer bowl. Beat for about three minutes, till pale yellow and fluffy. Add cream and pinch of salt, beat to blend. Pour bourbon into a small bowl and whisk in the seeds scraped from inside the vanilla bean; whisk into the egg mixture. Add pecans to the bread cubes then pour the egg mixture in, tossing to coat well. Pour the coated bread into a 13×9 inch glass or ceramic baking dish. Cover tightly with plastic wrap or aluminum foil and allow to set for 4-5 hours or overnight in the fridge.

Before baking the pudding, candy the bacon. Set the oven to 400 degrees. In a medium sized bowl, toss the bacon strips in 1/4 cup brown sugar. Place non-stick aluminum foil or parchment paper onto a large rimmed baking sheet. Arrange bacon onto the sheet; bake for about 20 minutes, till cooked and crispy. Move to wire racks to allow to cool and crisp a bit more.

When ready to bake, set the oven to 325 degrees. Remove the plastic wrap from the pudding. Chop up the bacon and sprinkle on top. Bake for 1 1/4 to 1 1/2 hours, until a toothpick or tester inserted to the middle comes out clean and top is browned.

To make butterscotch sauce… In a medium sized pan on medium-high heat, add brown sugar, corn syrup, butter and salt. Bring to a boil, whisking to completely dissolve the sugar. Continue to boil for about 3 minutes, until until syrupy and only about 1/2 cup remains after liquids are boiled off. Remove from heat. Add cream and bourbon, stirring until smooth. (If making ahead, allow to cool completely before covering tightly and setting in fridge. Rewarm before serving.)

Serve pudding warm drizzled with butterscotch sauce alongside vanilla ice cream or fresh whipped cream.