The longer I do this food blog thing, the more I learn about various diets and food allergies. Whether it's paleo, gluten-free, vegan or raw … I feel equipped for almost any scenario. This week I'm kicking off our month of raw desserts with something that hits just about all of these scenario – raw blueberry cheesecake.
I haven't dabbled very much in the raw realm, other than a few years back when Amy, April and I pulled together a completely raw dinner. No surprise here: I brought the sweet dessert – a chocolate brownie made mostly with dates, walnuts and cacao. It was delicious!
But that was three years ago. So unless I accidentally ate "raw" by eating a simple salad or, even simpler, an apple, it's been a while since I considered this eating style. I've prepared plenty of paleo and gluten-free dishes, but making a raw cheesecake sounds a little daunting. Especially when you love that creamy, cheesy filling. But there's no keeping a Founding Foodie down!
The crust is super simple and sounds a lot like the base of that raw brownie I made – dates and nuts. You could throw in a little coconut, ginger or lime zest. As long as it's raw, sticks together and keeps that crust texture you're good to go.
Here comes the challenging part…the filling. How in the world was I going to get that creamy texture without baking?
After looking online, I tried out a filling recipe using raw cashews and coconut milk as the base. Soaked overnight, the cashews become super soft so when blended up in a food processor or high powered mixer they turn creamy and firm. When adding the the coconut milk, you should make sure to add the creamier bits that rise to the top first, rather than the thinner, more watery part. This will aid in that cheesecake-like texture. Also, don't be afraid to process or blend for a while. There's no danger in overdoing it. I found that after a minute or so longer than I thought I needed to blend it – BOOM – all of a sudden the texture was visibly different.
So now that you have the basics – the crust and the filling – you can customize! I had to add vanilla beans to mine; they are a must, plus I still had some gorgeous beans left from when Amy and Adam honeymooned in Bali. The perk of a best friend and business partner who you share a love of food is that you know you'll get something edible when they go on vacation!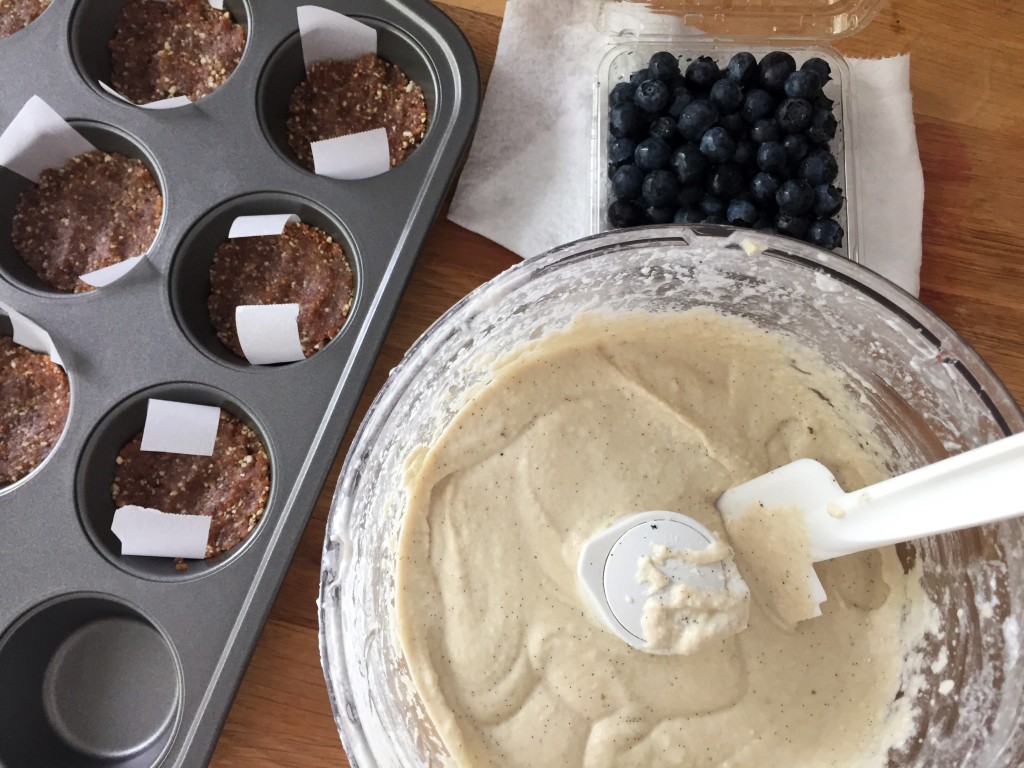 You could stop there … or you can add berries. I opted for blueberries, but you could add strawberries or raspberries. Or all the berries. I used them a couple of ways. I threw some into the vanilla filling after pouring it onto my crust, then mixed them into about 1/3 of the filling for a mega blueberry kick spread onto the top. Perhaps a drizzle of melted raw dark chocolate or a little lemon zest to top it all off.
When looking for inspiration I ran across mini cheesecakes made in muffin or cupcake tins. I love adorable food in tiny forms. Doing them this way should entice any littles in your life to dig in too.
These are best served super chilled, or maybe even frozen. I had visions of a Fourth of July picnic, eating them by hand with a bit of waxed paper. They're light and cool, perfect for the summer time and great for cleaning up your bad sugar habit.
Mini Raw Blueberry Cheesecake
I love these made into individual sizes, but that can be time consuming. For a quick solution, use a loaf pan. Line the entire pan with parchment paper and simply layer in the same way. The nuts and berries are easy to swap out too, just use the variety that suits your taste.

Crust
1 cup pitted dates, tightly packed
1 cup raw nuts (almonds, walnuts or combo of both)

Filling
2 cups raw cashews, soaked overnight
3/4 cup coconut milk
1/4 cup cold-pressed, coconut oil, melted
1/3 cup raw, unfiltered honey (local is always best)
1 lemon, juiced
1 vanilla bean seeds (scrape to remove)
1/2 pint blueberries (or small container)

Prepare muffin pan by cutting thin strips of parchment paper, roughly 4-inches long, and placing them in the hollows of the tin. They may curl up, but will stick down when you place the filling inside. These will make it very easy to pop the cheesecakes out of the tin when done.

For the crust, place dates and almonds/walnuts into a food processor. Pulse till well combined and the "dough" starts to stick together. If it's too dry, try adding another date or a little water. Note, using the freshest dates is best. I used up some older ones from my pantry and, while not dried out, I found them to be a bit too dry.

Spoon out a bit of "dough" into each tin hollow. I like my crusts a little thicker, so out of a 12-muffin pan, I was able to make 8 cheesecakes. So, depending on your preference, go heavier or lighter on the crusts. Using your fingers, press the "dough" down till it forms a tight, even crust.

In the food processor, add the cashews, coconut milk, coconut oil, honey and lemon juice. Run until thick and creamy. You may have to stop once or twice to push any bits of cashews clinging to the top of the bowl down into the mixture. The filling gets surprisingly creamy … you'll be shocked there's no dairy in it!

Stir in the vanilla bean seeds until well incorporated. Spoon this middle layer on top of each crust, leaving a little room for the last thin top layer. Spread it out evenly till it's touching the sides. Note, there will be filling leftover.

Place 2 or 3 blueberries into each cheesecake, pressing them into the filling. To quickly set this layer, place the cheesecakes into the freezer for about 10 minutes.

Add the rest of the blueberries to the remaining filling mixture and pulse until they are well combined. This will be top top layer of the cheesecake. Pull the muffin pan from the freezer, spoon and spread onto the tops of the cheesecakes. Place back into the freezer until all is set, at least 30 minutes.

Serve frozen or simply chilled with a few fresh blueberries.