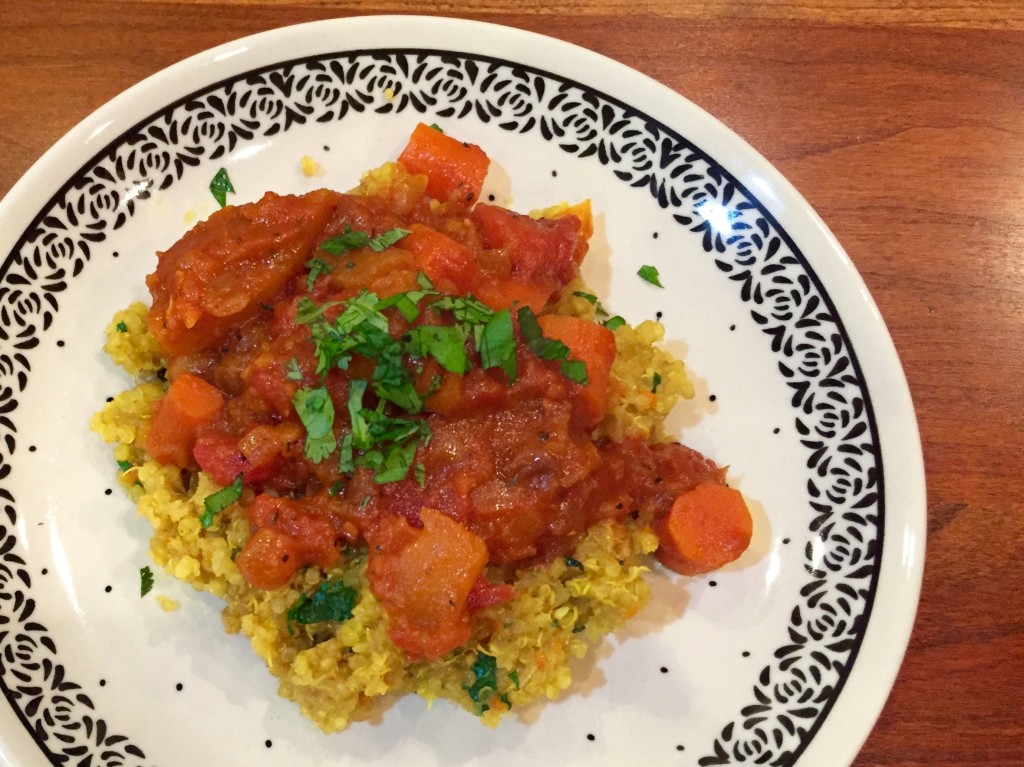 "I'm making a stew for the blog," I proclaimed while visiting my parents for New Years weekend. How exciting to make something for a new audience! My dad and stepmom would be my latest victims … I mean guinea pigs.
As I pulled out the ingredients – butternut squash, saffron, quinoa and turmeric – it became apparent this wasn't the stew they were looking for. My dad's first question: "Where's the meat?" This might be a bit out of their comfort zones.
When I was looking for a recipe to make to kick off a whole month of stews, I struggled with the definition of what a "stew" even is. I always had the idea that a stew had to have meat. Growing up, beef stew was in our family meal rotation. Being of Irish-German descent, it was all meat and potatoes. How can a stew be meatless?
Technically, a stew is any food cooked in liquid, low and slow, and served in its own gravy. It's all about the method. Sometimes it's confused with soup, but they are not the same! A stew is much thicker and heartier than a soup. Where a soup must be served in a bowl due to the broth, a stew could be served on a plate. It will hold its shape and not mush all over the place.
The main ingredients can be your usual meat, potatoes and veggies. Tougher and cheaper cuts of meat, like beef shoulder and chuck roast, benefit from cooking on low heat for a long time. Cuts with fat, marbling and connective tissue render out juices and the meat becomes tender. Lean meat may dry out! Because of this, stew makes a great budget meal.
Want an even more budget conscious stew? Go meatless! Again, a stew can be any food, it does not require meat to be considered a stew. Think chickpeas, beans, lentils, sweet potatoes, butternut squash and carrots. Pick some favorite veggies, maybe a legume, add seasonings and liquid … BAM, stew.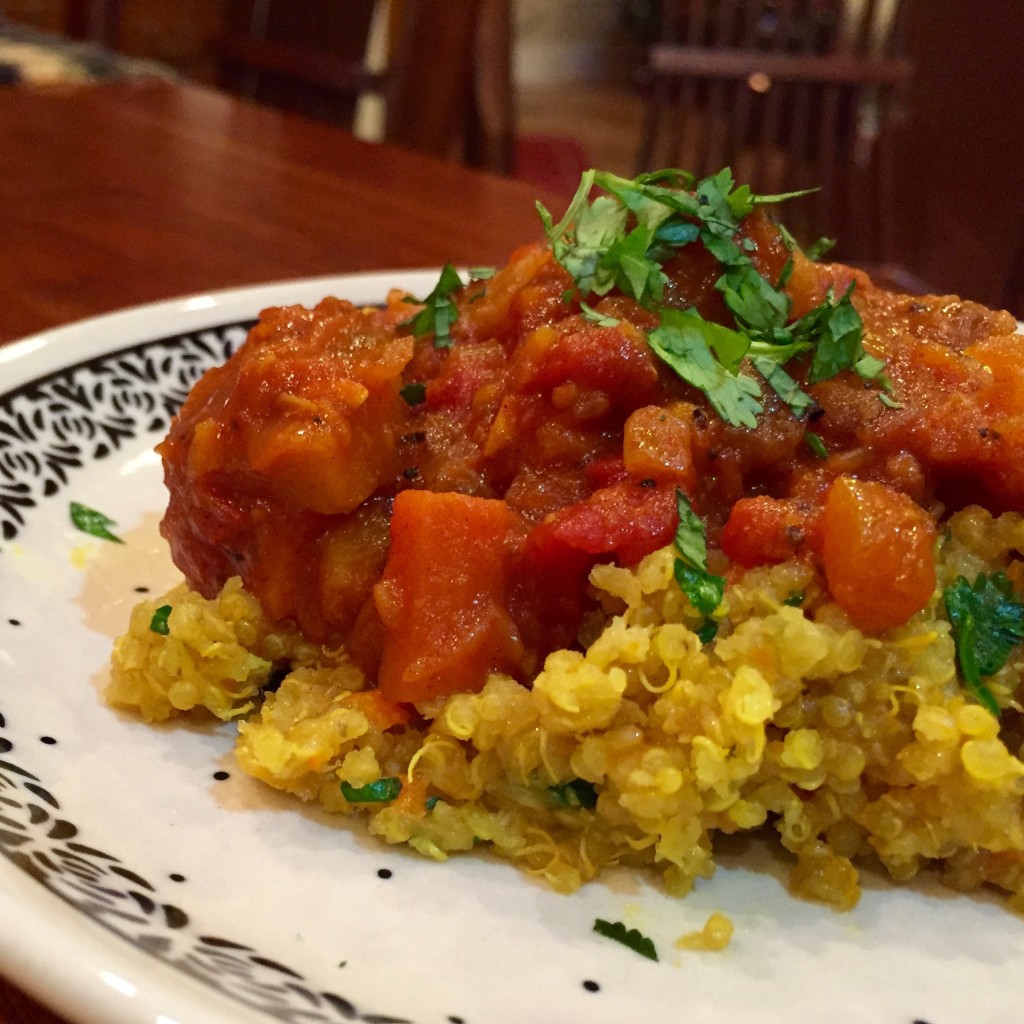 Another thing I learned about stews is that it is one of the oldest and most diverse dishes. People of almost all cultures have been making stews for centuries. Amazonian tribes cooked turtle with other ingredients in its own shell. Some ancient people would cook a stew within an animal's "paunch" over a fire. Although according to this Bon Appetite article on the etymology of the word, "stew" wasn't used to refer to the food itself until the 18th century. It was used more in terms of the method, "food cooked by stewing", which the author points out was probably to distinguish it from the slang word "stew", used to to refer to houses of ill repute, sometime in the 1400s.
After that thought, a meatless stew sounds pretty appetizing. Especially after all the decadent food we've been eating and money we've been spending over the holidays. I welcome a dish that has loads of flavor, is light on the calories and is easy on the budget. I settled on a Moroccan winter squash stew served on top of quinoa. It did not disappoint!
But how did my guinea pigs like it? My dad loved the spice and the Moroccan flavors, but he missed the meat. My stepmom loved the meatless aspect (she would eat nothing but veggies), however the spices were too intense. I had added too much cayenne pepper, for my taste too. It seemed to overpower the rest of the seasonings in the stew.  I would adjust this particular ingredient to taste, even leaving it out if you're sensitive to heat.
All in all, it was a success! With my healthy eating resolution and plan to do a Whole30 in this new year, I'm excited to have something new and versatile to add into our menu plans, meat or no meat.
Don't forget! Take the 30-day no-sugar challenge … starting on January 10th. And get lots of awesome tips from We The Eaters delivered right to your inbox. Sign up for our newsletter, The Peppercorn Press, below.
Moroccan Butternut Squash and Carrot Stew Over Quinoa
Thanks to my Founding Foodie in crime, Amy, who sent me this tried and true recipe. Try swapping in sweet potatoes and/or chick peas. The stew can be made ahead and doubled for a large batch. It can be served on its own, over the quinoa recipe below, over rice or chickpeas.

Tip: measure out the spices ahead of time, then add all at once rather than one at a time. There are a lot! And if you take too long (like me) you may burn the first few spices you've added.

Stew
2 tablespoons olive oil
1/2 large onion, chopped
3 garlic cloves, chopped
2 teaspoons Hungarian sweet paprika (or regular, if you cannot find)
1 teaspoon salt
1/2 teaspoon ground black pepper
1/2 teaspoon ground coriander
1/2 teaspoon ground cumin
1/2 teaspoon turmeric
1/2 teaspoon ground ginger
1/2 teaspoon cayenne pepper (if sensitive to heat, cut down to 1/4 teaspoon or omit entirely)
a pinch of saffron
1 cup water
1 can diced tomatoes, drained
2 tablespoons lemon juice
3 cups butternut squash, peeled and cut into 1-inch cubes
2 cups carrots, peeled and cut into 3/4-inch cubes

Quinoa
1 cup quinoa (or couscous)

1 tablespoon butter
1 tablespoon olive oil
1/2 cup onion, finely chopped
1/4 cup carrot, peeled and finely chopped
2 garlic cloves, minced
1/2 teaspoon salt
1/2 teaspoon turmeric
2 cups water
1/4 cup chopped fresh cilantro
1 teaspoon chopped fresh mint

For the stew:

In a dutch oven or stock pot, heat the oil over medium heat. Add onions and sauté till tender and browned, stirring often, about 5 minutes. Add garlic and sauté another minute. Stir in all seasonings – paprika, salt, pepper, coriander, cumin, turmeric, ginger, cayenne pepper and saffron – then add water, tomatoes and lemon juice. Bring all to a boil.

Stir in squash and carrots, then cover and simmer until the veggies are soft and tender, stirring often. This took me about 30 minutes, so cook time can vary depending on how tender or tough your vegetables are. The longer it simmers, the better all ingredients incorporate.

For the quinoa:

Rinse and drain the quinoa. While draining, melt butter into the oil over medium heat in a medium pot. Add onions and carrots, sauté till soft and browned, stirring often. Add garlic and sauté another minute. Stir in salt and turmeric. Add the quinoa and combine all together. Cook for another minute. Add water and bring to a boil. Cover, reduce heat and simmer for about 15 minutes or until the water is absorbed and quinoa is tender.

Before serving, mix the cilantro and mint into the quinoa. Serve the stew piled on top of the quinoa. For a bit of freshness, sprinkle a bit of chopped cilantro and mint on the stew!