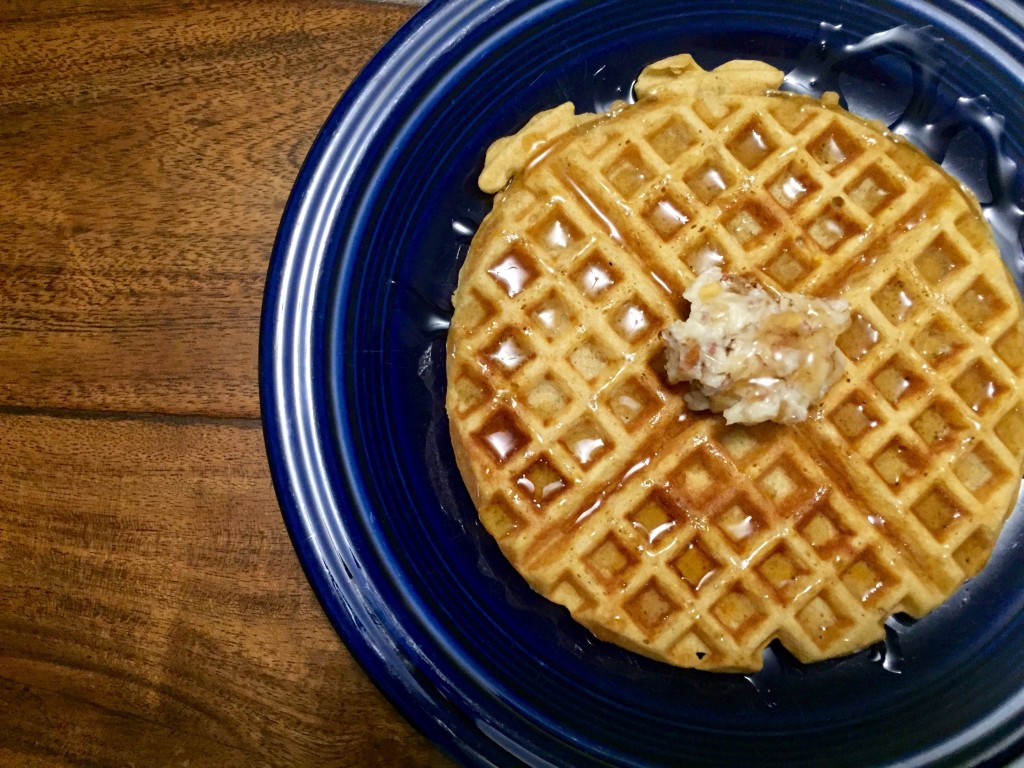 As much as I love sweet potatoes, I must admit that I have never baked with them before. Yes, that even means no sweet potato pie. So a baked breakfast food fight sounded pretty challenging.
But no worries, dude! I got this. I'm like the queen of B's – breakfast AND baking. Not to be confused with the Queen Bee herself.
These are two things that bring me right back to my childhood. Waffles were my favorite treat. Crispy on the outside, fluffy and warm in the middle. Drizzled in syrup and melted butter … it was a kid's dream. Sugar rush for an hour, then food coma crash on the couch. It all adds up to the perfect Sunday morning.
What better way to pay homage to little Sarah than to do a sweet potato waffle?
Adding sweet potatoes to a waffle feels very Fall. With the Thanksgiving eating season upon us, you may have loads of extra sweeties sitting around.  And with the extra family members who may be hanging around your house, you may be looking for fun and creative ways to feed them that aren't just leftover pumpkin pie. After trying this out on my husband, trust me … this will win over any family member.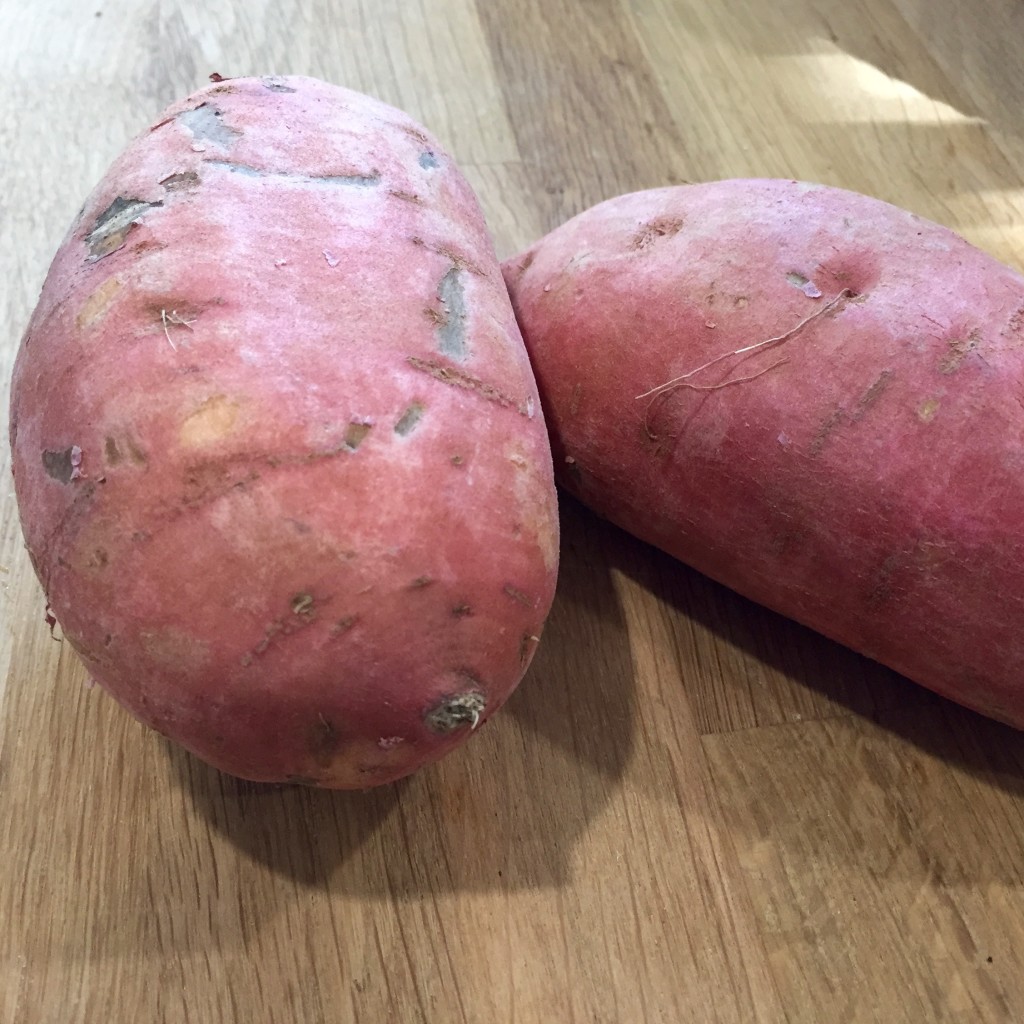 Since sweet potatoes are a great source of the good carbs and have so many health benefits, they are popular with the paleo and Whole30 crowds. I will admit, this recipe is neither, but it would be easy to customize to fit your needs. As long as you use a yeast or baking powder, your waffles will rise and crisp. The batter also needs a bit of fat to develop that crispiness, hence the milk and butter. I used coconut milk for added flavor, which could be swapped for regular cow's milk or another alternative, but I would recommend it have a little fat, healthy or not. Coconut oil would be a good swap for the butter if you are trying a paleo version.
The great thing about these waffles is that you can pair them with a decadent butter and maple syrup or pile on a piece of chicken for a savory take. Admittedly, we had these as a dessert and breakfast the next morning. Note to self, the honey pecan butter is not frosting … I cringe to think how much we slathered on top. Even still, I could also see eating this with some rosemary and chicken sausage for dinner.
It's that versatile!
See, I can "adult" whilst also satisfying the inner little Sarah.
Sweet Potato Waffles with Honey Pecan Butter
A bit of Googling yielded this awesome blog post from Wicked Spatula. I swapped all-purpose gluten free flour for regular and we couldn't discern a difference.

Waffles
1 sweet potato
4 eggs
1 can (13.5 ounce) coconut milk
6 tablespoons butter, melted
1 teaspoon vanilla
2 cups all purpose flour (I used a gluten free version from King Arthur)
2 teaspoons baking powder
1/4 cup light brown sugar
1/2 teaspoon cinnamon
1/4 teaspoon nutmeg
1/2 teaspoon salt

Honey Pecan Butter
1 stick (1/2 cup) unsalted butter, softened
1/3 cup chopped pecans
2 tablespoons honey
A nip of bourbon, if desired

Bake sweet potato at 425 degrees till cooked through and tender, about 40 to 50 minutes. Note, this can be done a day ahead to cut down on prep time.

Remove the skin from the potato, cut into 1 inch pieces and add to bowl or blender. Add eggs, coconut milk and melted butter. Whisk or blend till smooth. Sweet potato chunks may take a bit to work through. Mix in flour, baking powder, brown sugar, cinnamon, nutmeg and salt till well incorporated.

Warm up your waffle iron. While warming, make the butter! Stir together the softened butter, chopped pecans and honey till well blended. If you're feeling frisky add a nip of your favorite bourbon.

Pour batter into the iron. It's thick, so mush it to the edge using a spatula. Cook waffles according to your iron's instructions. I have the super simple round Cuisinart, so at the middle temp it took about 4 minutes to get a golden crisp. Remove when done with a spatula or tongs.

Serve right away while piping hot with honey pecan butter and warmed up maple syrup on the side.

Batter can be stored in an air tight container and refrigerated for a couple of days. Or make all at once and freeze waffles for easier breakfasts!