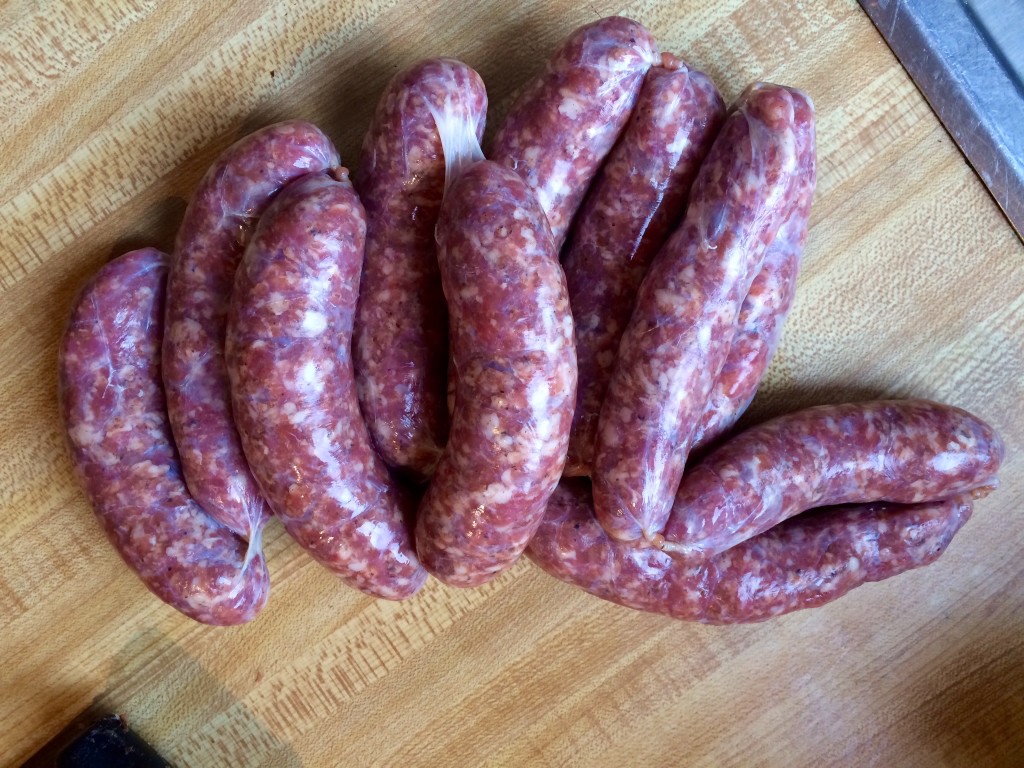 Every year, usually in February, my brother, Tom, announces that it's time for our annual sausage-making gathering. We all meet at his house on a Saturday to process and package approximate 80 pounds of delicious, delicious pork product.
It's a tradition that began when my father became too ill to make this family favorite anymore.
For many years, dad's sausage was the only kind I'd eat. In fact, I didn't even know the flabby, fatty bits of meat served at local diners even existed. Dad's sausage were meaty, spicy and crispy heaven-in-a-patty…  and sometimes a link.
When I was growing up, Dad—a farmer—would make sausage in his little workshop on the farm. He'd sell it to folks who came to buy corn and vegetables. Customers clamored to find out when it would be available. Being a young kid, I had no idea what I had. I just couldn't figure out why in the world this sausage was such a fabulous thing.
You know those annoying holiday games where you pick a number and either choose a gift or steal one from another person? Well, Dad would always bring sausage as his contribution. The game would nearly come to blows if someone stole on of these precious packets. This sausage was even MORE popular than a gift of whiskey.
I was in awe.
So when the task became to onerous for Dad, the family was distraught. With what surely could only be the end of times upon us, Tom stepped up to the plate. Once he decided to take up the sausage-making mantle, all was right with the world again. We all gather during a cold and boring month (February is usually perfect) and bond over Dad's old recipe,  and try out some new ones.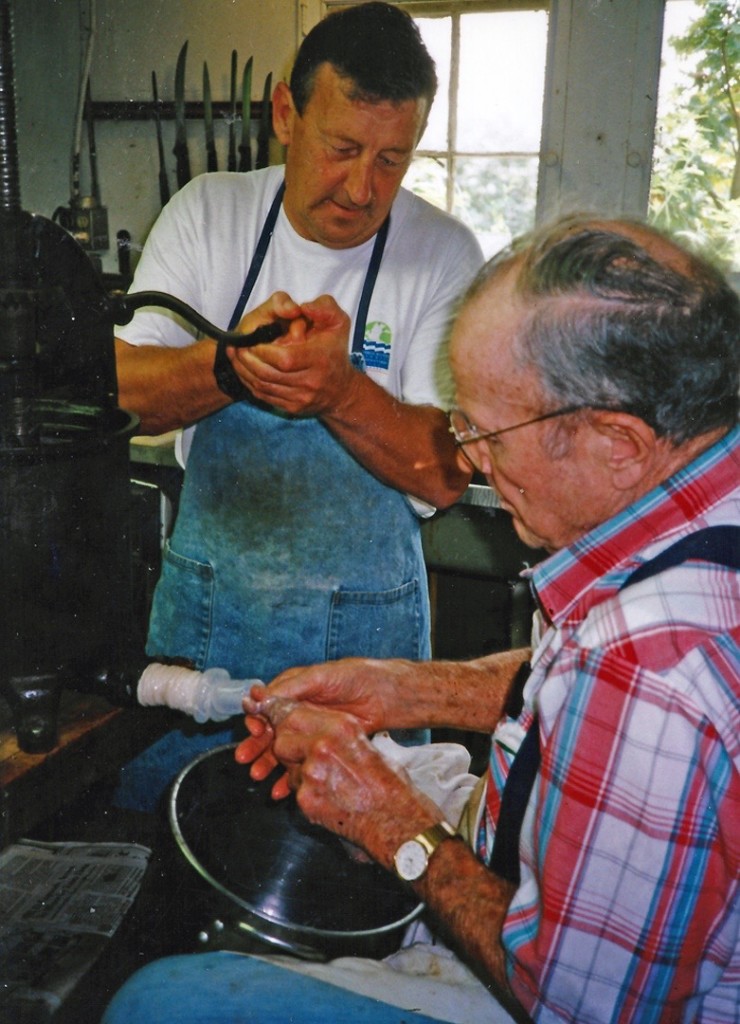 My brother  or sister-in-law, Ginny, pick up 80 pounds of "Boston butt." I'm not sure exactly what cut that is, but when dad Dad used to say it, I couldn't help but chuckle.
Tom cuts the meat into smaller chunks—about two inch by two inch—and stores the meat in a cool place.  It is best to use a refrigerator or a cooler with ice. For my family, we use "nature's cooler," a.k.a. Tom's garage. Without insulation, it's perfect and safe storage from any critters.
After we arrive, Tom starts by mixing spices into the meat.  We recently made Dad's sage breakfast sausage, as well as some Italian, chorizo and andouille sausage. About half is Dad's recipe, the rest split amongst the other types.
After each blend is mixed, we chill it again before the grinding. Cool meat tends to grind more cleanly and doesn't gum up the machine. Grinding the meat is surprisingly swift. We're making sausage in bulk, so Tom bought a larger grinder. He used to use the grinder mechanism on his beloved KitchenAid mixer, but worried about burning it out. The grinder attachment would work fine for small batches, as in, not 80 pounds! Grinding takes place from least spicy mix to most spicy. After each small batch of chopped meat is fed through the grinder, it's whisked away to be packaged.
Sausages are either packaged in one pound portions in freezer bags, or put into the old fashioned link maker that Dad used. This piece of machinery must be at least 100 years old. At least that's what I tell myself. Tom rescued it from Dad's old shop, cleaned and oiled it, and now it works just like it always did.
You place the ground meat into the contraption, swing the header over and screw it on, then place the casings on the nozzle at the bottom.  Casings are a bit icky, but you get over it quickly once you taste the sausage. One person slowly cranks the handle, while another makes the links by twisting the casings left or right every three inches as it comes out the nozzle. Presto!
Once each batch is ground, linked and packaged, Tom fries up a taste of the finished product. One taste and all of the memories of sausage from Dad's kitchen comes back.
I think he'd be proud that we're continuing that tradition.
Sage Pork Sausage
WTE NOTE TO EATERS: This recipe is a Benoni Allnutt original, and is the go-to one used by the Allnut family during their annual sausage-making gatherings. As some of the instructions are intuitive once you've been making sausage for decades, and the tips and tricks passed down become second hand, we've supplemented the instructions here with some from Food & Wine. 

About 55 pounds Boston Butt
1/4 pound salt (coarse grain)
1/3 pound black pepper (regular grind)
1 Tablespoon red pepper flakes
4 generous pinches of rubbed sage
About 20-25 sheep or hog casings (you can use synthetic casings, if you prefer!)

Remove meat from bones and cut into squares, trimming away excess fat. Mix the spices together till well combined. Spread out meat and sprinkle with the spice mix. Toss meat to thoroughly coat with spices. Chill meat in freezer for at least 15 minutes.

Grind meat using the medium-high speed setting with a course screen. Return meat to the freezer. (You want the meat to stay below 40 degrees. At 45 degrees, the fat begins to melt which can negatively impact the texture of the sausage.)

Using the paddle attachment of your mixer (or clean hands), knead the resulting sausage to full incorporate the lean and remaining fat. A sticky mass will form, letting you know it's ready … to be chilled again. Store in the refrigerator up to three hours until you are ready to process the batch into links or patties. Or a little bit of both.

If making links, you'll need to soak natural casings in warm water for about a half hour. Check the instructions on your package, then follow these instructions from Food & Wine, or check this video out … if only for the snappy music (plus, who knew the casings looked like spaghetti!)

If making patties, form by hand or use a round biscuit/cookie cutter for a more uniform shape.

Package in airtight containers, butcher paper or plastic bags and freeze. Or eat it immediately (as if you could resist…)