When I think "Small Town America," Greenwich, Connecticut isn't necessarily the first place that comes to mind. After being ranked by CNN/Money and Money magazine as one of the "100 Best Places to Live in the United States," it's no surprise that the population numbers more than 60 thousand. With all the trillion-dollar financial institutions and hedge funds in the area, it also ranks high up the "Biggest Earner" list.
But don't be fooled. As a big city resident (Washington, D.C.) and frequent traveler, I can attest that Greenwich still retains a small town feel.
During a recent stay in Riverside, one of the town's notable neighborhoods, it was only a short walk to find the shop-lined sidewalks that lend to that feel. Neighboring towns—from Stamford and their downtown concert celebrations to Norwalk and its small-and-humble, but amazingly delicious restaurants (like The Spread)—mirror this vibe.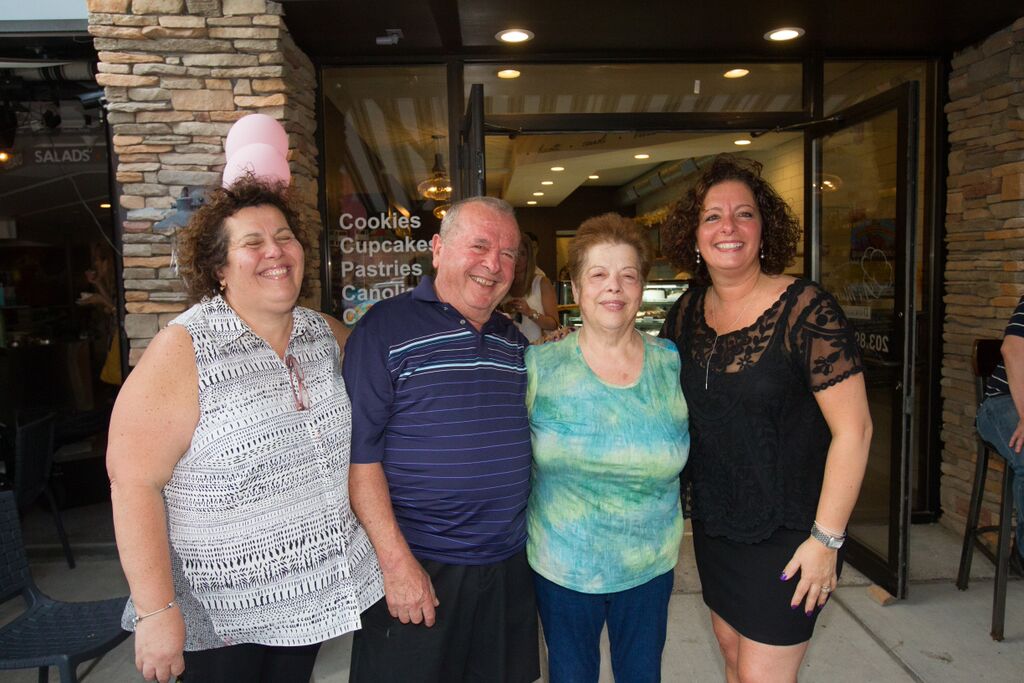 There's no place where that heart-and-roots hometown feel is more present than DiMare's bakery, an Italian pastry shop with locations in Greenwich, and now two in Stamford, including a new storefront downtown.
One of the reasons DiMare's is close to my heart is because it is family owned-and-operated—by MY family. Cousins Maria and Sabrina and their families, following in the footsteps of their mom and dad, Ugo and Bice, capture everything I know about Italian cookies and pastry into their creations. Every bite I've ever sampled sends me back to my childhood, reviving vivid memories of family gatherings overflowing with giant throngs of Italian aunts, uncles and cousins. I simply can't imagine anything better. During my recent travels to Stamford, I got the chance to connect with these cousins, and get in touch with my DiMare family roots.
In 1962, Ugo DiMare came to America from Italy to make a better life for his family. Living in Yonkers, he worked in different bakeries, starting in Egidio's Pastry shop. In '76, he started his own business in Greenwich.
"When they first started," Maria explains, "[We served] cannolis and people didn't know what that was. We were making biscotti and cappuccino before Starbucks. In the beginning, we'd sweat to reach $100 [in sales], and now we are closer to a $2 million company. For my dad, it's like the true American dream."
Thirty-nine years later, they're still going strong and deeply involved in their community.
"We live and work here and want to be able to hold our head up high and reflect it in how we work and give back to where we live," Maria says. They love doing anything to support community-based activities, whether it's the arts, library events or Stamford's "Dinosaurs Rule!" sculpture event. The DiMares see this involvement as a better and more rewarding way to earn customers than paid advertising.
And customers are happy. The bakery has won an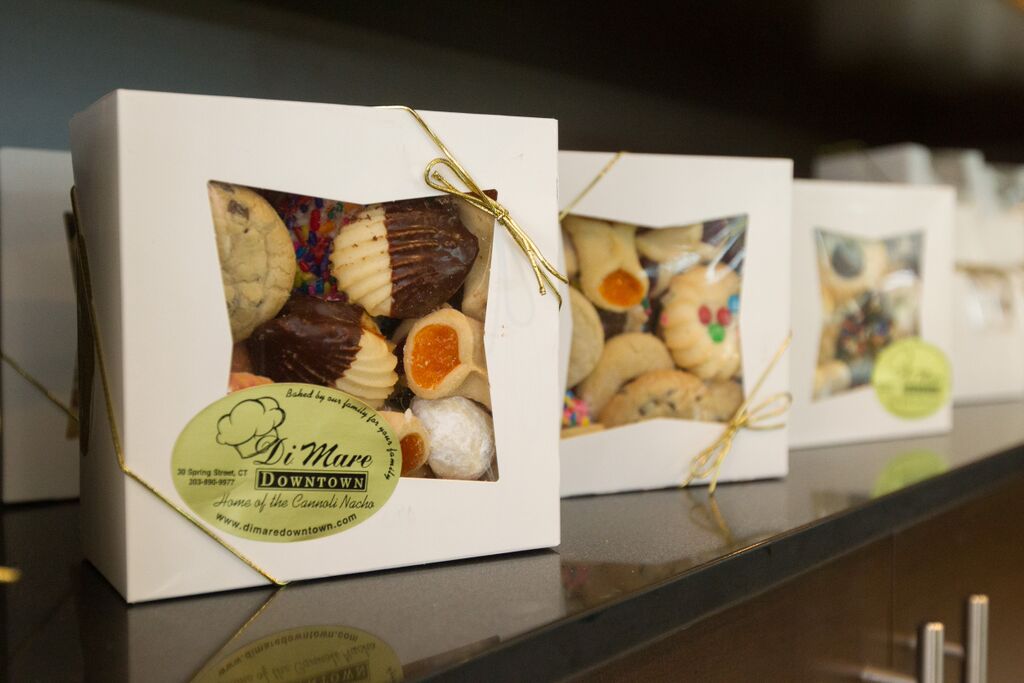 avalanche of awards, including best wedding cakes, best desserts and best bakery from Best Of The Gold Coast.
But, to be clear, it's that familial love and tradition that really makes DiMare's stand out. My wife is completely addicted to their Italian Wedding Cookies, though I have loved everything I've tried. It's hard to imagine how to pick a favorite. When I asked Maria hers, there was no hesitation.
"My dad's original recipes are most dear," Maria says. "Cannoli creams and custards—the originals are my favorites. The way things have changed! We used to have to buy cookbooks and go to the library. Now, things have changed so much you just have to google it and get a [new] recipe. The things my dad used to make … that's what I hold true to who we are."
Maria says being a big-town bakery with a small-town heart presents some amusing challenges.
"Lots of crazy things happen. One of the craziest [was when] we were delivering a wedding cake and as we were carrying the cakes in, we came out to get a tier and saw someone running down the street [with it.] Happened thirty years ago. My husband was a cop at the time, and wanted to get a police report, but [the thief] was long gone. The venue was in the Bronx. We always give a big enough window and bring extra ingredients "just in case," so we had it covered."
I swear, it wasn't me! But if my cousins leave cannolis lying around, we might have a problem …
DiMare's Sponge Cake

Yields 2 10-inch cakes

30 eggs
750 g sugar (about 3 1/3 cups)
1.5 kg all purpose flour (about 6 cups)
1 tsp vanilla

Mix eggs and sugar together slowly. Stir in the flour. Add vanilla.

Bake at 325 degrees for 45 minutes. Make sure it's done by lightly touching the center to ensure it is firm.

Sponge cakes works well when filled or covered with strawberries and whip cream. Also, you can moisten the cake with simple syrup or a liquor.