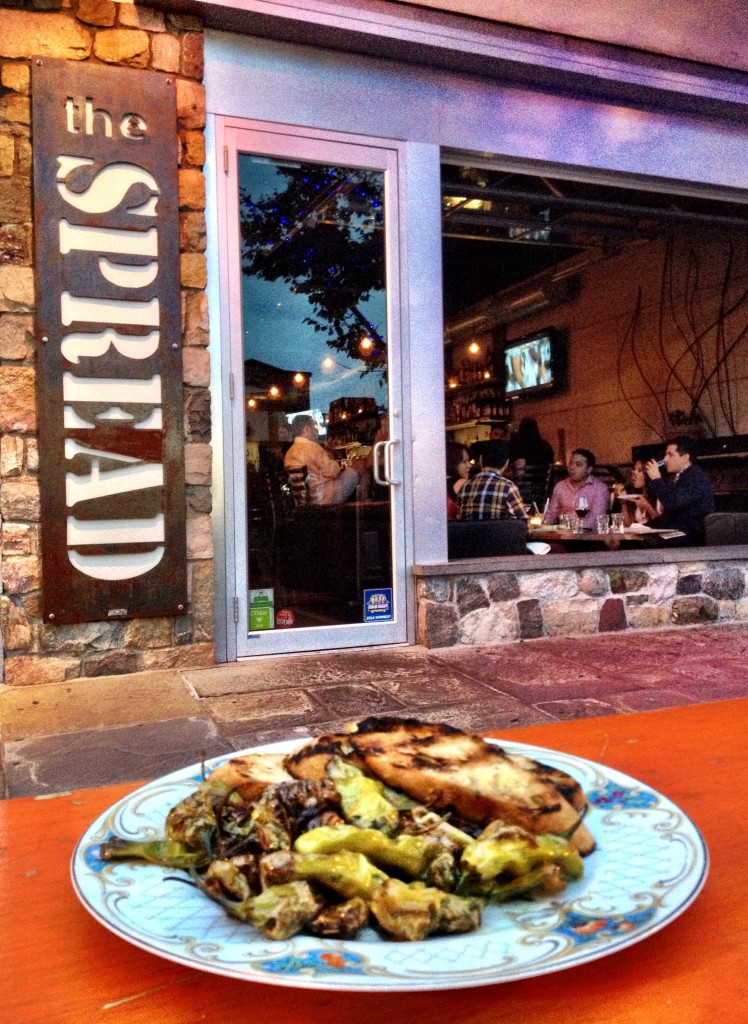 Whenever the hubs and I are on the road, you'll find me diligently Googling "best restaurant <INSERT NAME OF TOWN HERE>" to find the spots on other foodies go-to lists. That's exactly how we ended up in The Spread a few weeks ago.
I was accompanying my husband on a business trip to Stamford when my search-term BFF turned up an article in Connecticut Magazine: the 2014 Reader's Choice Restaurant Awards. The Spread, in Norwalk, was named "Best New Restaurant," and ranked no. 2 for "Best Overall Experience."
Done.
On both occasions we visit, the place is busy — surprising for a time of year when most people are stealing away to enjoy those last few moments of summer. And it's nothing short of inviting, with knives haphazardly stacked in glass mason jars and delicate vintage plates contrasting perfectly against the rough wood tables and somewhat industrial décor.
Then there's the food, which starts with a plate of warm, buttery corn bread. Now, I'm not a big cornbread fan, but The Spread's version has truly changed my mind. It absolutely melts in your mouth.
The establishment is the brainchild of four former bartenders –Andrey Cortes, Chris Hickey, Chris Rasile and Shawn Longyear – who collectively bring more than 80 years of drink-slinging awesomeness to the table. Or bar, as it were. Hickey, who greeted us on our first visit, joins us at a bright orange table on the sidewalk to chat during our second visit.
The last partner into the deal, Hickey says it wasn't money that motivated his business associates to approach him; it was location, location, location. They'd been looking to launch a few towns over in Greenwich, but hadn't found a good spot. Norwalk was Hickey's stomping ground growing up, and his expertise on the area led them to this location on Main Street. Now going on its second year, the business is thriving there.
When I ask about the inspiration behind the menu, Hickey says two things informed the tapas-style offerings that make up the bulk of the restaurant's bill of fare. The first was the partners' past experience.
"We're talking about four bartenders as owners — we were used to serving calamari," he says. And, he adds, those small plates mean big variety for diners: "Sharing is a good way to experience a lot more of the menu."
Plates begin to fill our table. There's veal and ricotta meatballs with Anson Mills polenta, grilled Portuguese octopus with crispy chorizo, burrata crostini with fennel and olivette peach-infused white balsamic. We dig in as Hickey tells me about the second source of inspiration: Chef Carlos Baez.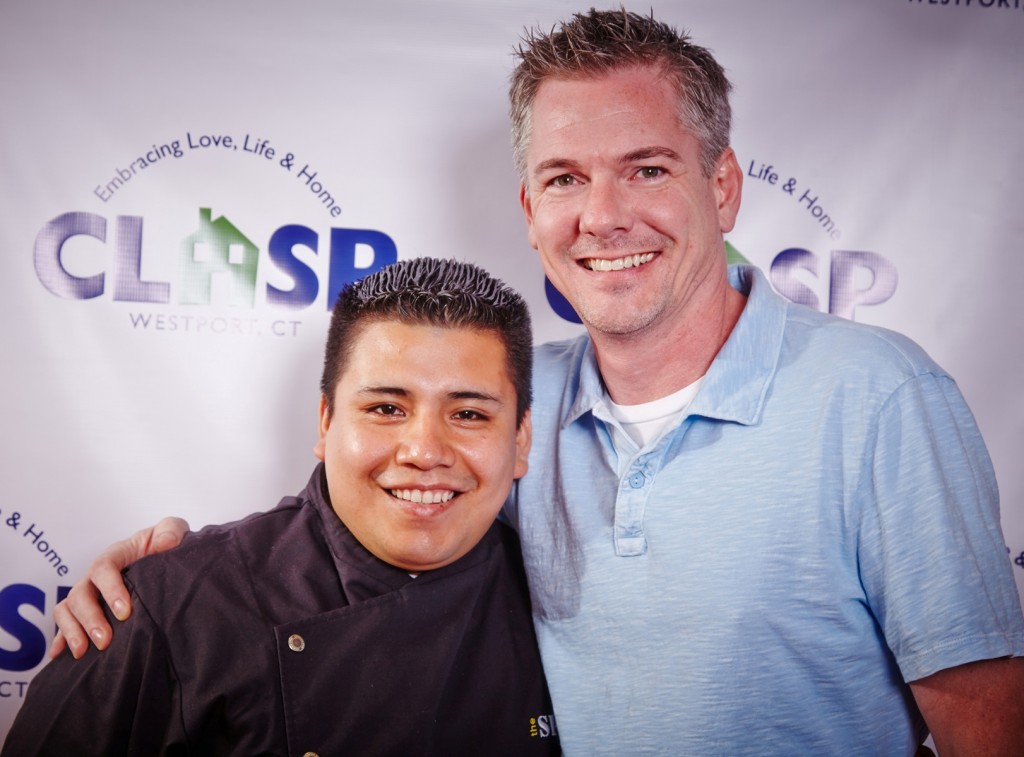 Born and raised in Mexico City, Baez grew steeped in the food industry, working in one of his father's three taquerias. He got experience working with fresh fish in a Japanese restaurant there before moving to the United States a little more than a decade ago. Eventually, he landed working under The Spread's first executive chef, whose talents lay in Jewish, French and Moroccan food.
It's an eclectic mix, but the owners have given him a lot of latitude, and the flavors are testament to Baez's culinary talent. He's taken all of that experience with flavors and truly made the dishes coming out of The Spread's kitchen his own.
Hickey says his favorite thing on the menu right now is the roasted shrimp with carmelized onion quinoa cake. Which is funny, he adds, because he doesn't like quinoa. When Baez suggested it for the menu, he thought he'd just eat around it. But one taste …
"That dish changed my mind about quinoa," Hickey laughs.
The quartet's next move will bring Baez even closer to his roots. The lower price-point establishment, which will also be in Norwalk, will serve humble fare like fish tacos and ceviche (you know how we feel about ceviche!) at simple, communal-style tables like this one gracing the sidewalk eating area of their flagship. The name? El Segundo. Look for it sometime next year.
Now I guess you're all wondering why we're talking about this restaurant for our cooling foods series. I won't keep you in suspense any longer: It's the dish that brought me back for this interview: grilled shishito peppers. I was pretty astonished when I read that peppers are considered a cooling food.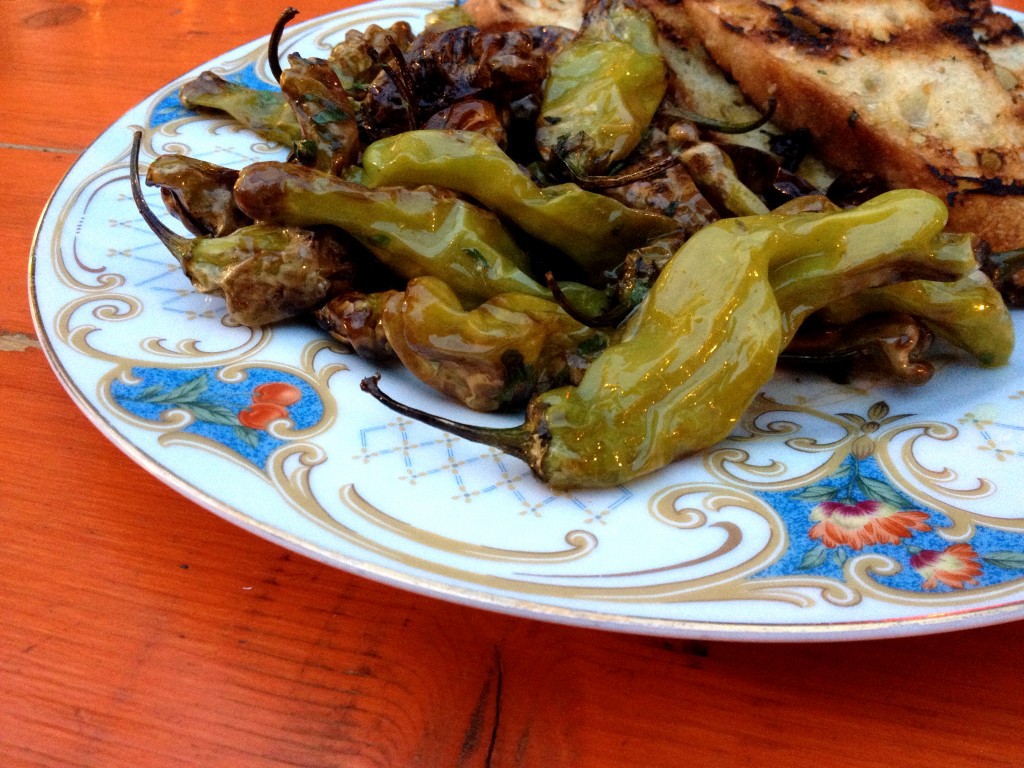 Apparently, capsaicin, the chemical in peppers that burns when it gets on your skin (yet, ironically, is used to treat pain), can lower body temperature. Peppers and other spicy foods get your blood circulating, which, in turn, raises your internal temperature. Sweating ensues, and as that moisture evaporates, you begin to cool off. There's a little more science behind it, but it's far too much detail to go into after talking about this fine establishment … so I'll segue back to those shishito peppers here.
It's a sweet Japanese-style pepper. Only one in every 10 is spicy, which Hickey playfully describes as "pepper roulette." They are so simple, fun to eat … and absolutely delicious. But don't take my word for it. The Spread was kind enough to provide the recipe below.
Make a batch. Improvise with other peppers. Make relish from the leftovers for burgers or chicken — or quinoa! And the next time you're in Norwalk — stop by The Spread.
Shishito Peppers

Recipe provided courtesy of Chef Carlos Baez and The Spread restaurant.

1 pound shishito peppers (or substitute padron peppers)
1/8 cup of EVOO
2 tablespoon lemon juice
1/2 teaspoon sea salt
2 tablespoon fresh parsley, chopped

Roast peppers in hot sauté pan over medium heat for 8-10 minutes with the olive oil.

When cooked through and tender to the bite, toss with lemon juice, sea salt and parsley.

Serve alone or with grilled country bread.

Serves 3 to 4 people