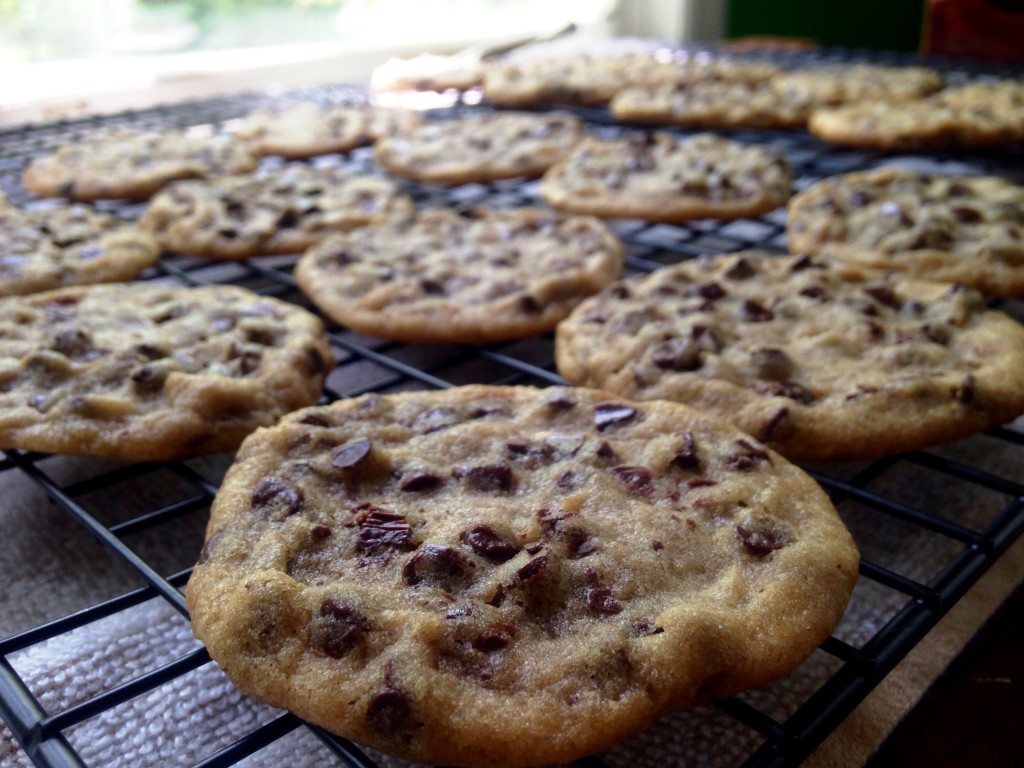 Growing up, my dad was known for a few standard meals. He was an expert with spaghetti and red sauce fresh from the jar, or his signature meatloaf made with a can of Campbell's Cream of Chicken soup (don't knock it until you've tried it). Breakfast by dad meant amazing omelets or perfect-every-time pancakes. But when it came to what he wanted to eat—Dad's favorite food—the answer was clear: Give the man a chocolate chip cookie and he was happy.
My mom would make mammoth batches of chocolate chip cookies and freeze big bags of them. My dad would eat a couple every night–and sneak a few more in the mornings and afternoons when no one was looking. While dating my now-husband I discovered that he, a dad himself, would also forgo the most elegant dessert in favor of a simple chocolate chip cookie (or 12).
I've never really liked chocolate chip cookies. I just don't understand eating dessert that isn't pie. So despite having made endless batches of cookies for my boys (the one I married and the little one who inherited the cookie eating gene from his daddy—but the baking gene from me!), until I started writing this post, I had no idea about the debates, research, and passionate arguments surrounding the quest for The Perfect Chocolate Chip Cookie.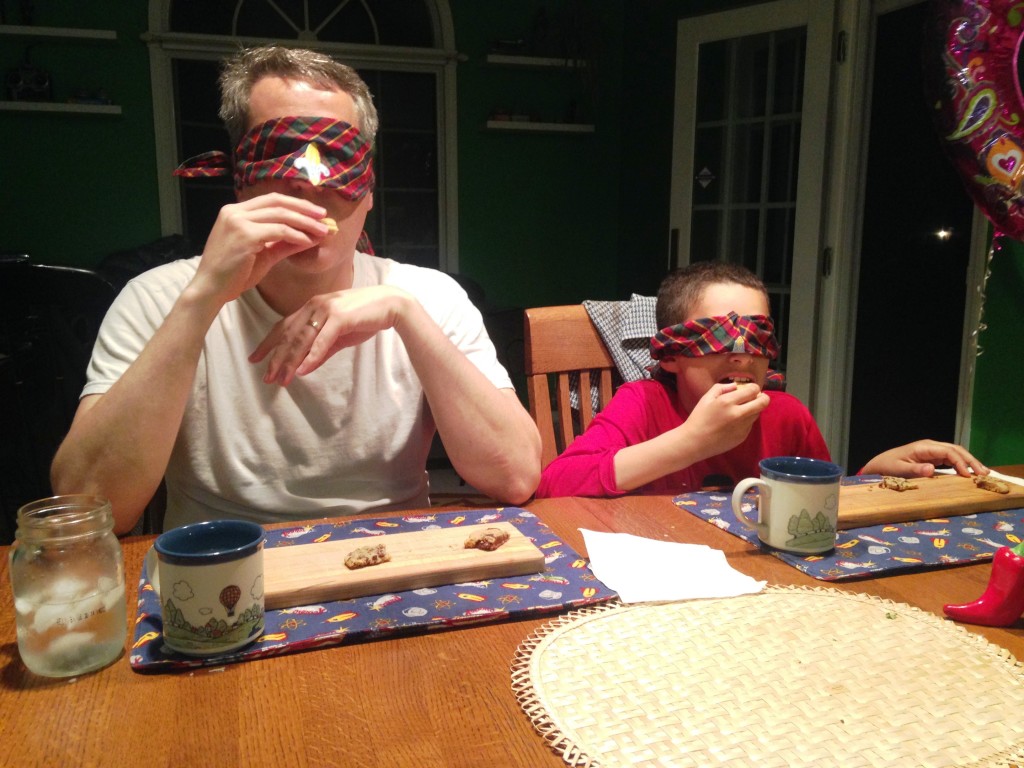 This post is not about my detailed experiments to create the ultimate chocolate chip cookie. While I would LOVE to quit my day job and play around with cookies all day (with the boys being more than happy to become professional taste testers), many others have already done the hard, tasty work for us. Handle the Heat has a four–yes FOUR–part series on every possible variation on the classic recipe to make the cookie of your dreams. There's also a Ted-Ed video, a Serious Eats 21-step program and some old school investigative journalism published by the New York Times to guide you on your quest to cookie nirvana.
Still, a little scientific method never hurt anyone, so we decided to do a comparative study of three different cookie recipes. Two veteran Eaters submitted the New York Times' chocolate chip cookies and a Serious Eats version using browned butter, while I made a less fancy cookie, using an adapted version of the recipe on the back of an M&M bag using semi-sweet mini chocolate chips instead of M&Ms.
We rated the cookies on taste and texture. My boys chose the M&M bag cookies as the best tasting. We tested blind so they couldn't tell which was which, but I think the taste was familiar so they weren't completely objective. The other judges rated the other two cookies a tie for first place on taste. The New York Times cookie calls for a liberal use of sea salt, which the boys thought made them too salty, but which the others thought enhanced the flavor.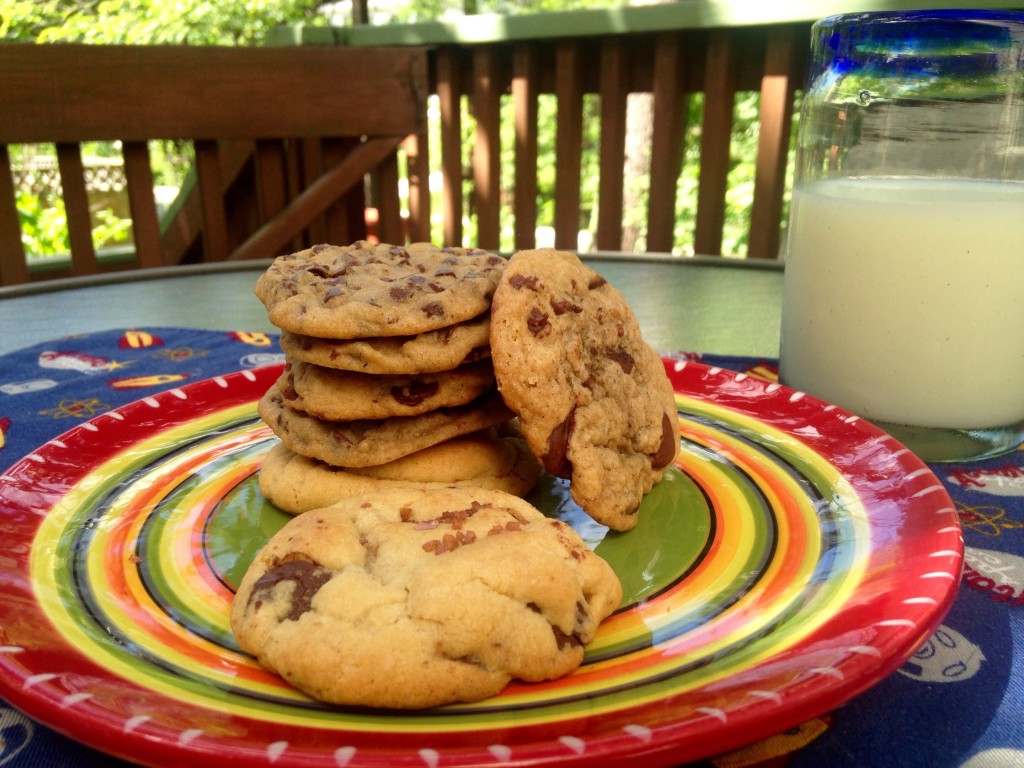 On the texture side, the boys picked the Serious Eats cookie as best, while the other judges picked the NYT cookie as the texture winner. I chilled my M&M bag cookie dough in rolls, slicing it into rounds rather than using dropped spoonfuls for baking, which made the cookies large and flat. The other judges felt that this made them perfect for ice-cream sandwiches, which, let's face it, would make any cookie better.
Fellow Eaters, do you (or your dad) have a favorite chocolate chip cookie recipe? What does a cookie have to have to elevate it to Perfect Chocolate Chip Cookie status? Add your comments below, and let the debate begin! And when you've had your say, break out the mixing bowls and make one—or all–of these tasty treats. But before you devour them, put a couple aside for that favorite dad in your life — it's the least you can do after all he's done for you!
M&M Bag Chocolate Chip Cookies
Adapted from the back of an M&M bag, and the link above.

2 sticks butter (I use salted butter, and slightly decrease the actual salt)
2/3 cup brown sugar
2/3 cup sugar
1 egg
1 1/2 tsp vanilla extract
2 cups flour
1 tsp baking soda
1 tsp salt
1 bag M&Ms or chocolate chips (I like Nestle's semi-sweet mini-morsels)

Preheat the oven to 350 degrees.

In a large bowl mix together butter and sugars. When the mix is creamy, add the egg and vanilla.

together butter and sugars. When the mix is creamy, add the egg and vanilla.In another bowl, mix together flour, baking soda, and salt.

Slowly add the flour mixture to the butter mixture and stir until combined.

Add the chocolate chips and stir until evenly distributed.

Chill the dough for one hour or overnight…or don't. (Full disclosure: I NEVER chill my cookie dough—and have never had any complaints from the cookie eaters. I only did it for this post because I didn't have time to make the dough and bake the cookies on the same day.)

Drop spoonfuls of dough onto parchment paper-covered cookie sheets, about 2 inches apart.

Bake for 8-10 minutes.

Eat joyously.