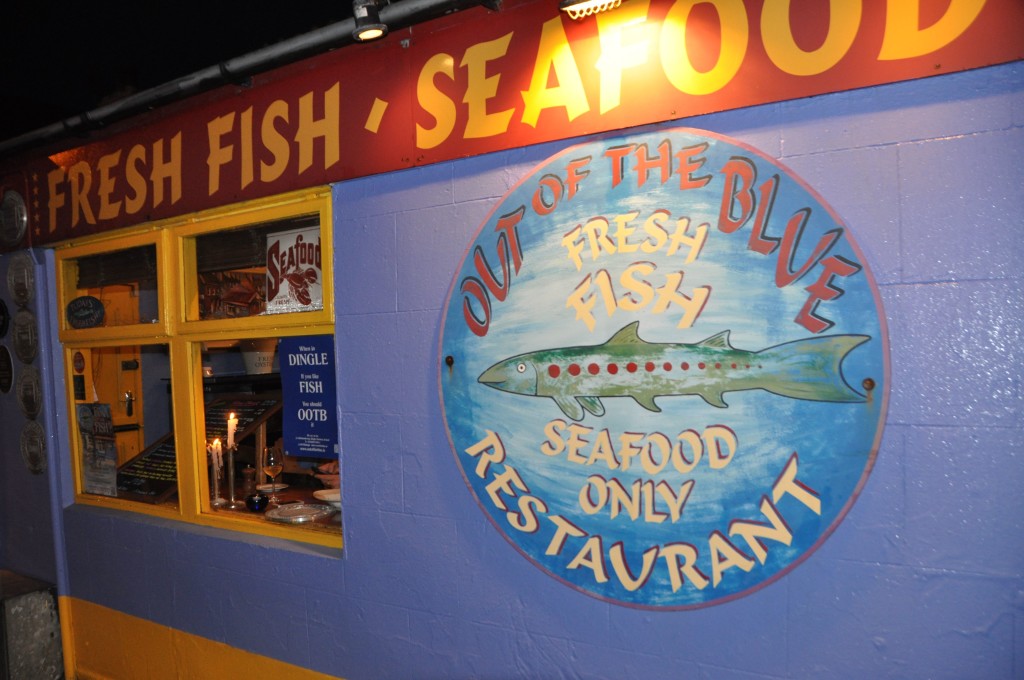 If I close my eyes and try really hard, I can transport myself back to the day I tasted my first Irish seafood chowder.
It was early April, a slightly rainy and gray day spent in the car exploring the coastline of County Kerry. As we pulled into a car park near a pier on Dingle Bay (yes, Dingle … insert funny joke here), four tummies rumbled in unison. We hadn't planned where to eat that evening, hoping to stumble upon a local pub or restaurant during our travels.
As luck would have it, right behind us was a little restaurant called Out of the Blue. Being right near the bay, the surrounding air smelled extremely fishy. I'll admit to being both skeptical — and hopeful — as we walked toward the door. A sign on the outside proclaimed that it was a seafood only restaurant. Pushing open the odor, I reminded myself that must mean and extremely fresh catch — I mean, the fishing boats were right there!
And it was fresh, with all the fish offered coming directly from the surrounding waters.  Though I can tell you it was also well prepared, I'd be misleading you if I tried to recount the entire meal. All I remember — and continue to dream about — is their chowder.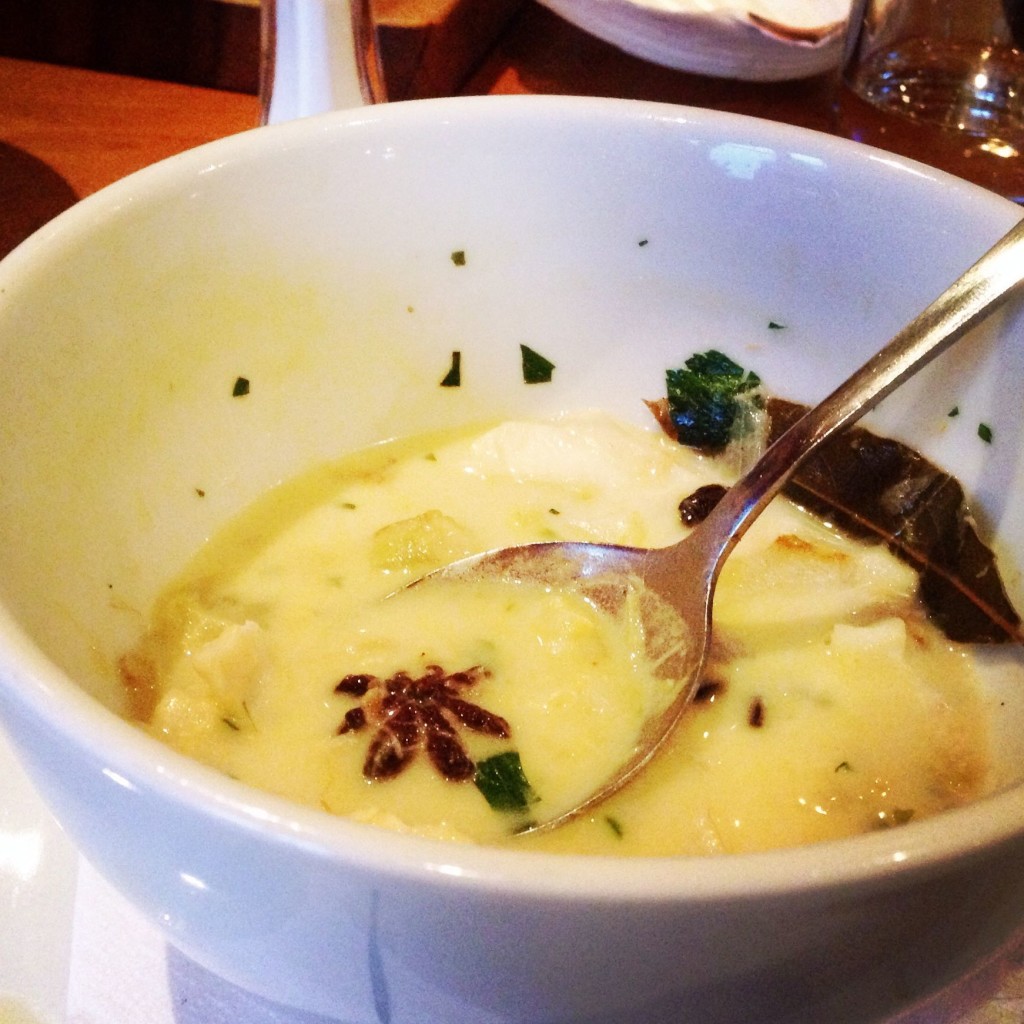 The aroma hit me as soon as out waitress put the bowl down on the table. I closed my eyes as my nose crept nearer … and nearer, breathing in the rich, herbaceous scent. But this was nothing in comparison to how it tasted. Every bite seemed to bring something new to my palate: different fish, shellfish, potatoes and leeks. Floating in the creamy broth were herbs, a bay leaf and a whole star anise pod.
This truly was my favorite meal of the entire trip.
But how could I recreate it? That chowder was different than most I'd ever eaten. While the sauce was cream based, it wasn't heavy. My gluten free husband was able to sample it, so there was no flour to thicken it. I could figure out most of the ingredients, and what I couldn't … well, there are a ton of Irish seafood chowder recipes to be found for cross-referencing.
There is one inevitable failing of my chowder that I'm willing to accept: I live in Virginia …  and not off the coast of the Dingle peninsula. Try as I might, the selection of fresh seafood just wasn't the same! On top of that, I wanted to choose seafood that had a good balance of conscious sustainability and sourcing, having learned what I learned during We The Eaters' month celebrating fish last year.
I wasn't quite sure which seafood Out of the Blue served in their chowder when I ate it last spring, but I guessed that their recipe changed depending on what was available at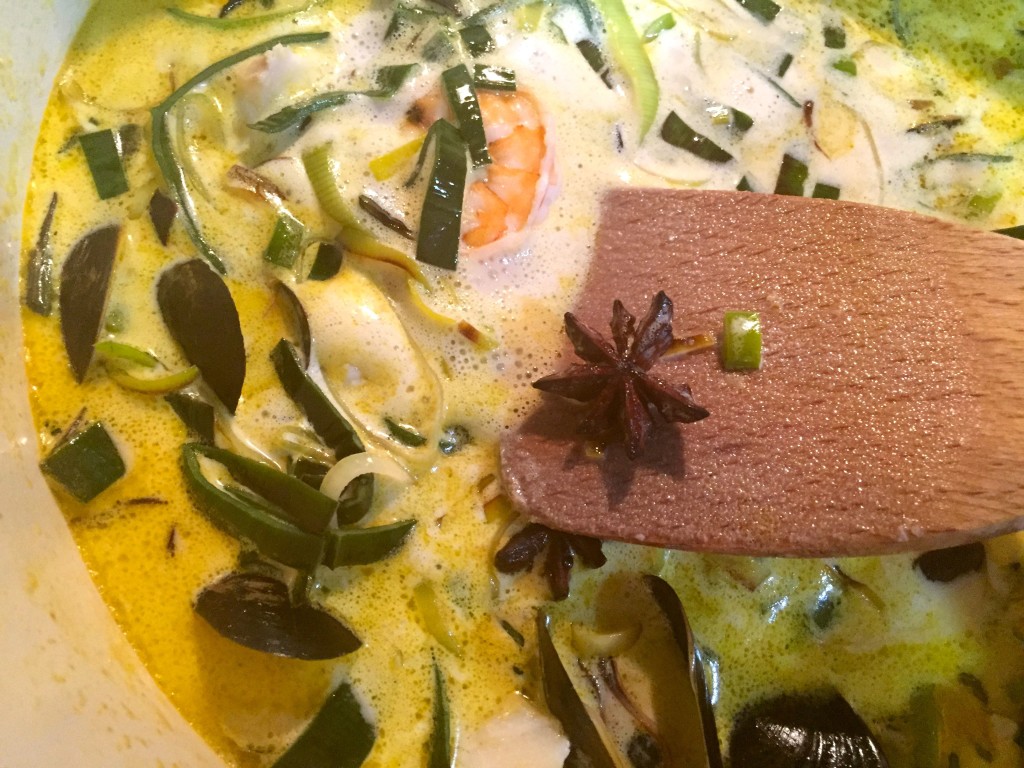 the docks that day. The recipes I found were pretty loose on the subject, too. The Dingle Food & Wine Festival's published chowder recipe references "mixed locally landed fish from Dingle cut into small pieces (pollack, hake, whiting, smoked cod)". Add to that a mix of any shellfish I could get my hands on, such as clams, mussels, lobster or crab — and I soon felt like I couldn't go wrong.
And though it's hard to meet such high expectations, especially when you're competing with a Dingle chowder, it wasn't bad for my first attempt. The beauty of chowder is how the flavors can change bite to bite or even season to season as the available seafood changes. Fill your pot with whatever is available to you and a good base takes care of the rest.
Thankfully, I have this to fill my belly until the next time I can make it back to Ireland.
Irish Seafood Chowder

I found two recipes online, one from the Dingle Food & Wine Festival and the other from the Good Food Channel. While neither were exactly what Out of the Blue served, I relied on my memory to tweak this into my best approximation. The seafood choices below represent what were available to me in February in Northern Virginia … alas, again, not on the Dingle Peninsula.

1 tablespoon olive oil
4 ounces smoked bacon, diced
1 medium onion, finely diced
1 large carrot, finely diced
1 small fennel bulb, finely diced
200 ml dry white wine
32 ounces (or 1 liter) seafood or fish stock
2 star anise
2 stalks parsley
1 bay leaf
2 saffron strands
1 large leek, thinly sliced
butter
300 ml heavy cream
1 lb shellfish (clams, mussels or lobster)
1/2 lb shrimp, peeled and deveined
1/2 lb cod, sliced into bite-sized chunks
1/2 lb new potatoes, halved and cooked

Heat the oil in a skillet or frying pan, add the bacon and saute for 2 minutes. Add the onion, carrot and fennel, heat until soft and translucent about 5-10 minutes. Add the wine and reduce.

Transfer this mixture to a medium or large saucepan. Add fish stock, star anise, parsley stalks, bay leaf and saffron. Simmer for about 30 minutes, until the stock looks pale orange from the saffron. Sieve the stock into a slightly smaller saucepan. Boil the soup base until it's reduced by half.

Saute the leek in butter until it's soft and add to the stock, along with the heavy cream. Reduce the heat to a simmer and add all the seafood. Allow to cook for 3-5 minutes or until the fish is cooked through – opaque and the clams or mussels have popped wide open. If they are still closed, simmer for a few more minutes. If any are still closed at this point, discard them.

Add salt and pepper to taste, then add the new potatoes.

Serve while warm with a garnish of rosemary. And don't forget the bread to sop up that broth!