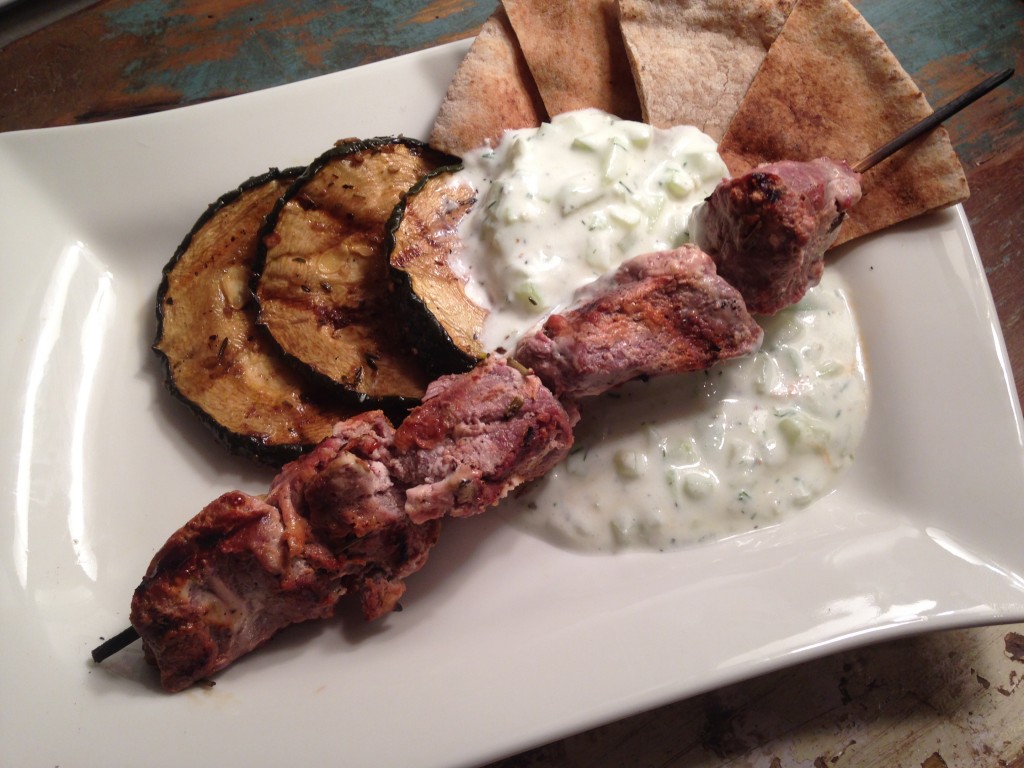 This summer has been HOT! And before you start to argue about the awesome low humidity – at least in the Washington, D.C. area – I'm not talking about the weather. For me, the heat has been on as I've been burning the candle at both ends with travel for work.
It makes me melancholy for simpler summers. Back in the day, I worked for a paper in Boston with a tight knit bunch of folks who enjoyed getting together outside the office. One of the people I was friends with back then was Steve Kyriakidis. His family owned a little Greek restaurant – more a hole-in-the-wall – where he'd have a bunch of us meet for delicious ethnic dishes and maybe an Ouzo … or three.
Back then, before I met my favorite chef, my taste buds led a sheltered life. Trying something new was an effort. Steve would bring something out, I'd look at it funny and he'd say, "Dude! Just shut up and try it." And it was great every time. So, when I had to come up with a cucumber dish to cool, it was easy to reflect back on those chill times to get some inspiration.
Being a relatively new cook, even this "easy" dish was an experience for me. Italian I've done, but Greek was a new undertaking! I'd never de-seeded a cucumber before, though it turned out to be way less complicated than I imagined. On top of that, as I tasted the developing dish, I decided it was way too mild and tweaked the ingredients to amp up the flavor.
In the end, it was foodie approved, and extremely versatile. I served it with lamb kabobs and grilled zucchini the first night, then with grilled salmon and arugula the next, and finally, inside a pita with some leftover skirt steak, and veggies, feta and olives. It worked with every dish, and I even caught my wife eating it by the spoonful!
I like to think I've come a long way – as an Eater and a cook – since those nights spent at Steve's restaurant. But those memories, and his efforts to introduce me to Greek food, inspired me to try something new here … and helped me cool my jets during one crazy summer.
Tzatziki

Adapted from the recipe found at NancyCreative.com

3 tablespoons olive oil
2 tablespoons lemon juice
3 to 5 cloves garlic, finely minced
salt and pepper to taste
1 cup full-fat Greek yogurt, excess liquid drained
1 cup sour cream
2 cucumbers, peeled, seeded and diced
2 to 3 tablespoons finely chopped fresh dill (start with less and add to taste)

Combine olive oil, lemon juice, garlic, salt and pepper in a medium-sized bowl,

In another bowl, whisk yogurt and sour cream together. (We prefer full-fat, whole foods at We The Eaters, but you may opt for low fat yogurt or sour cream, or use 3 cups of Greek yogurt and forego the sour cream.)

Add the olive oil mixture to the yogurt-sour cream (or yogurt only) and mix well. Stir in the diced cucumbers and dill. Some folks may prefer a more blended texture and can use a food processor, but I diced my cucumbers to a fairly small sized and served it chunky. If you prefer a more mild flavor, dial back the lemon to 1 tablespoon, dill to 1 to 2 tablespoons and garlic to 2 or 3 cloves.

Chill the dish for 2 hours and mix it up before serving. Simply serve with toasted pita, or as a sauce with any kind of vegetable or meat dish.