Anyone who knows me well knows I'm a huge fan of '80s/early '90s movie nights. A cheesy flick, a few friends, some takeout and a good beer — that's all I need for a perfect Friday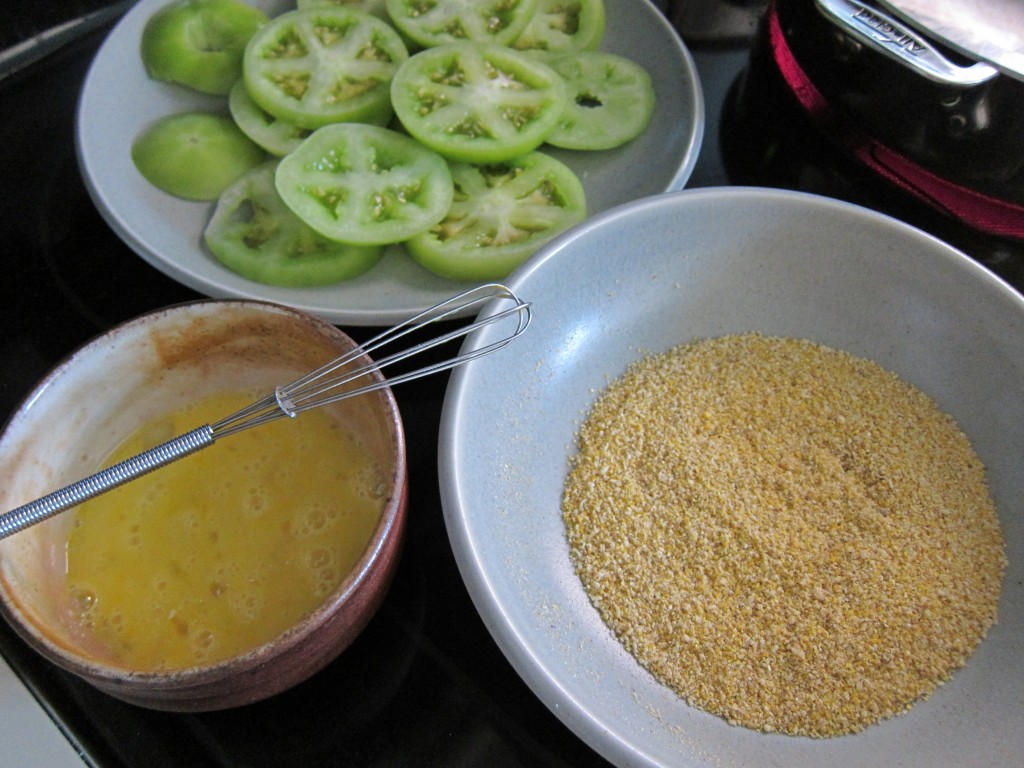 evening at home.
So when I dreamed up this month's theme, I assumed my favorite childhood movies would be the perfect starting place for some film food fodder.
Alas, even after reviewing my old Netflix queue, I was stumped. The Lost Boys had maggots and blood. No thanks. Indiana Jones and the Temple of Doom — nope, nothing tasty there; I like most foods, but I don't do monkey brains. Other bloggers have already tried their hand at the delectables from Babette's Feast. My memory is too rusty to recall any particular dishes from Like Water For Chocolate or Eat Drink Man Woman. And while I desperately wanted to tackle lanky Basil Fawlty's Waldorf salad, my Eater pals (rightfully) insisted that, no, TV shows are not movies.
So there I was, tied up in knots of VCR tape, when Amy saved the day. A few months back, for one of our WTE recipe showdowns (and, if you'll recall, my contribution featured green tomatoes), she suggested linking to the food fight scene in Fried Green Tomatoes. You know the clip — Mary Stuart Masterson throws a glass of water at Mary-Louis Parker's face … and then the berries, chocolate and flour fly at the Whistlestop Cafe. (By the way, did you know the director intended that scene to serve as a metaphor for sex? While that makes perfect sense now, it certainly didn't occur to me when I was 15).
The most memorable dish in Fried Green Tomatoes centers around barbecue, but, well, that's not the kind of barbecue I have any inclination to tackle. (And if you don't know what I'm talking about, I'm not going to give it away here, but … well, suffice it to say, it's not pleasant — go ahead and Google it.) But, naturally, one of the cafe's signature dishes is, yes, fried green tomatoes.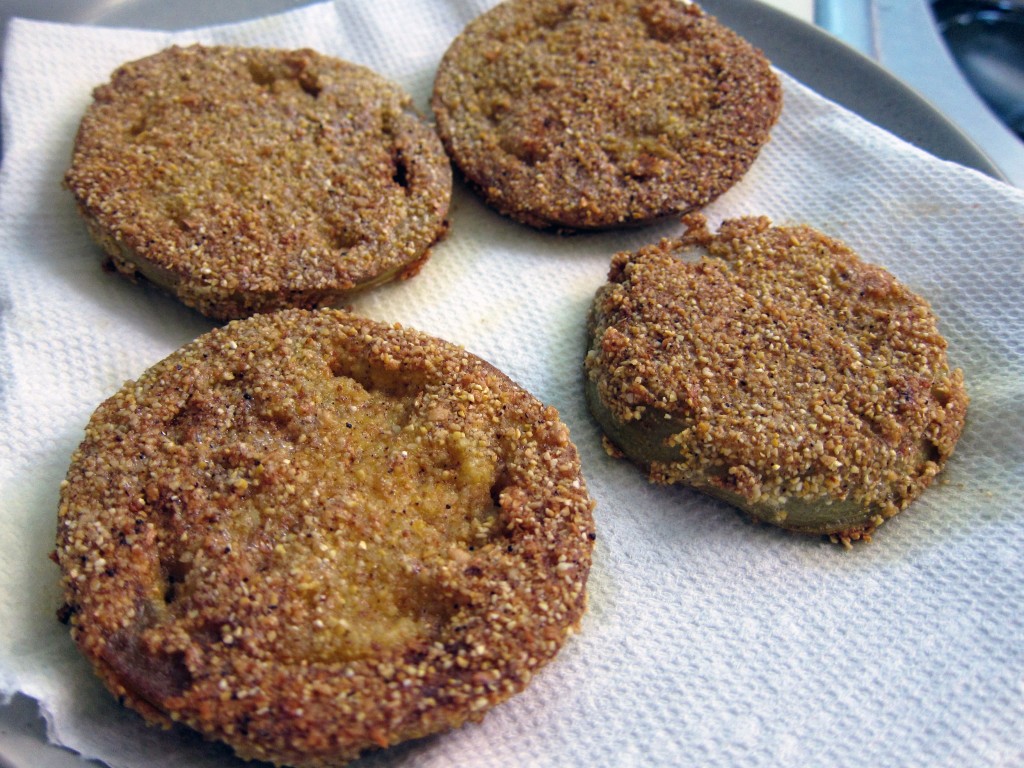 Now, I'm from the Pacific Northwest, where — at least 20 years ago — you rarely saw fried green tomatoes on a menu. So when I first saw this film, it struck me as a pretty exotic dish. But, truth be told, I found them a bit underwhelming when I finally tried them. They're tasty, sure, but most iterations I've had have been, well, a little bland.
When Amy suggested Fried Green Tomatoes as the answer to my movie menu woes, I saw a fun challenge: take a dish I've always really wanted to love and make a version that I actually do.
If you're a regular WTE reader, you know that when I'm stumped on a dish, I always fall back to South Asian flavors. So why not give fried green tomatoes an Indian kick? I've already brought you my green tomato chutney — may as well give green tomatoes another spin.
With a little Googling, I cobbled together just what I was after: green tomatoes, dredged in spicy almond meal and cornmeal, rather than bread crumbs (yup, this recipe is gluten-free). For even more flavor, you could try these with tomatillos instead of tomatoes (I would have, but couldn't find any tomatillos in time to give it a whirl).
Sure, these aren't particularly Southern. But give them a try next time you sit down for a Fried Green Tomatoes movie night. They'll warm your belly while those feisty, food fighting ladies melt your heart.
Curry-Kicked Fried Green Tomatoes

I checked out numerous fried green tomato recipes online, and was particularly influenced by this one, from Paleo Leap.

Use the biggest skillet you have for frying, because you'll want to fry as many slices at once as possible. That's because it's easy for the ground spices to burn, so you don't want the spice sediment from your first batch frying up in the oil too long. I fried one batch, then poured off the oil, wiped out the pan and heated new oil before starting the second batch. 

4 large green tomatoes
Salt
1/2 cup almond meal
1/2 cup cornmeal
1 teaspoon ground cumin
1/2 teaspoon ground fenugreek (optional)
2 teaspoons coriander powder
1 teaspoon amchur (dried mango powder, optional)
1 teaspoon red chili powder
Pinch sugar
1 egg
1/2 cup oil (I used coconut)

Slice the tomatoes into 1/4 inch slices. Lie them in a single layer on paper towels and sprinkle both sides with salt. Let sit for 10 minutes or so.

While you're waiting, mix together the almond meal, cornmeal, spices, and sugar in a shallow dish. Beat the egg in a separate bowl.

Heat oil in a large pan (even better if it has tall sides) over medium heat. While it's heating up, dry the tomatoes as best you can by pressing on them with fresh paper towels, then dip each in the beaten egg, then dredge on all sides in the meal/spice mixture, then put each slice in the skillet to fry. Flip when they're golden brown (or darker, if you prefer) and fry on the other side. Then remove them and drain them on paper towels.