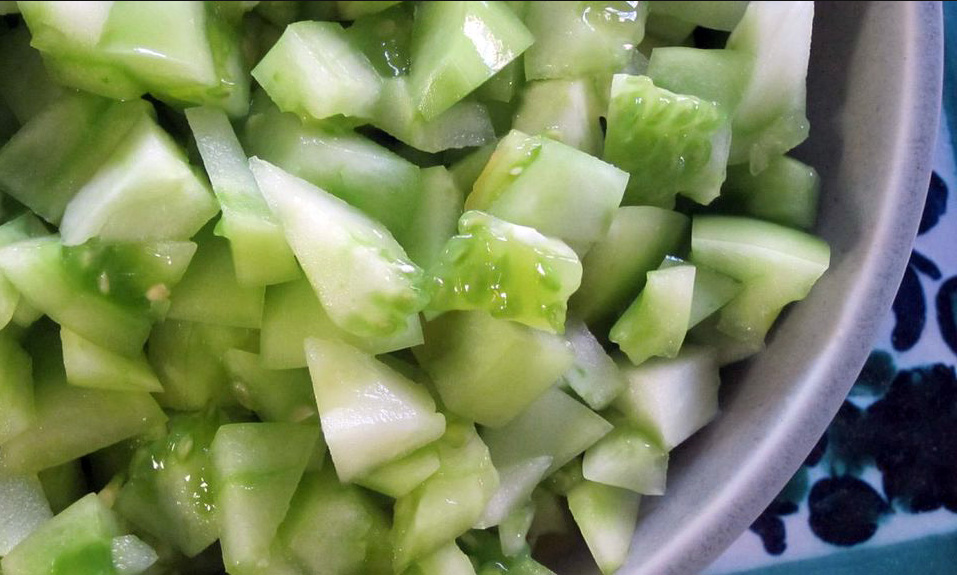 Being from Seattle — about as far as you can get from the South — green tomatoes were not part of my childhood food repertoire. It never occurred to me that tomatoes could be anything but red until the movie Fried Green Tomatoes made it to Showtime.
But in India's beautiful desert state of Rajasthan, where I lived more than a decade ago, green tomatoes were as ubiquitous as onions and eggplant (and boy, did I eat a lot of eggplant).
I was incredibly fortunate that a feisty woman named Manori Bai, a culinary alchemist if ever there was one, cooked lunch for me every day while I lived in India's lovely "city of lakes." (Actually, she cooked loads of food — enough for at least two meals daily. I'm pretty sure she thought Indian cooking was beyond me, and wanted to be sure I didn't go hungry at dinner time).
Like many Indian women who make their living cooking and cleaning, Manori could prepare multiple dishes — and a stack of fresh chappatis — in the time it would take a typical American cook to muster just one. She made several incredible dishes that I've all but given up hope of replicating, including a vegetarian kaali daal (black lentils) that was somehow heartier than any non-veg food I ate in India. But one of my favorites was her green tomato chutney.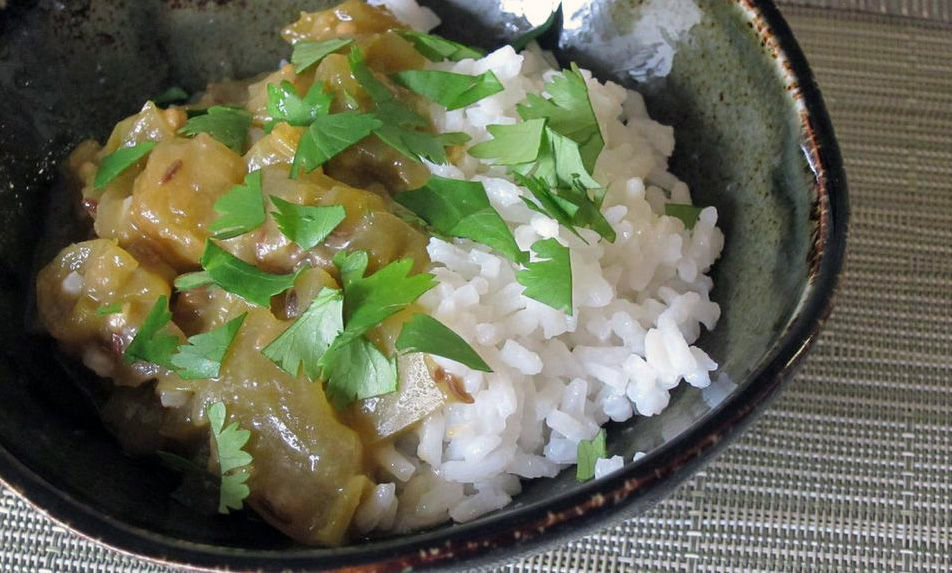 I've spent a decade trying to re-create it, and I think I've come as close as I'm ever going to get. It's super-simple, delicious alongside pretty much any Indian dish and heavenly on its own with rice and cilantro. It's also wonderful atop broiled or grilled fish (although I never had it in India that way). And tasty cold, hot or at room temperature — it's even better the next day.
I recall Manori making it with roughly equal amounts of salt and sugar, but that's never tasted quite right to me here in the U.S. But if you like the general flavor profile, tinker away.
Lucky for Sarah and I, Manori Bai isn't in on this little competition, because there's no besting her in the kitchen. This woman can pick up hot pans with her bare hands! So while we "Ameriki" (American) Eaters may be evenly matched in this food fight, believe you me, if Manori were here she would clobber us both.
Manori's Green Tomato Chutney

VERY IMPORTANT SAFETY NOTE! Canning a chutney recipe containing oil using the boiling water bath method is risky, and tomatoes also need added acidity to be safely canned. Therefore, I've provided two versions of this recipe here. The first is to be eaten fresh, and/or stored in the fridge for several days or in the freezer for three months. The second recipe will taste a bit different. It has more sugar, vinegar for additional acidity, and its flavor comes from roasting the spices, rather than tempering in oil. That recipe should fill about three 8-ounce canning jars.

Also, there's not too much to this stewy concoction, so it should go without saying that if you're not a fennel fan, this may not be your thing!

2 tablespoons vegetable oil and/or coconut oil
2 teaspoons fennel seeds
1 1/2 to 2 pounds green tomatoes, roughly chopped into small pieces
1/2 teaspoon salt (or to taste)
1 1/2 tablespoons sugar (or to taste)
1 teaspoon ground cumin (optional)

Heat the oil (you can also add a splash of coconut oil, if you like the slight coconut-ty flavor) in a large saucepan over medium-high heat. Add the fennel seeds and reduce heat to medium. Fry fennel in oil until the seeds brown and sizzle, but don't burn them. Keep your eye on them — they go from brown to black in no time!

Add the chopped tomatoes, salt and sugar. Stir well, cover, and reduce heat to medium low. Cook, partially covered, for about 30 minutes, stirring occasionally, until tomatoes have broken down. Remove lid and continue cooking on medium low 15 to 20 minutes, until chutney thickens and is still wet but not soupy.

Remove from heat. Stir in cumin, if you're using it, and adjust salt if you'd like it saltier.

Not-Quite Manori's Green Tomato Chutney, For Canning

Adapted from Food In Jars: Preserving In Small Batches Year-Round, by Marissa McCellan

4 teaspoons fennel seeds
2 teaspoons cumin seeds
3 pounds green tomatoes, roughly chopped into small pieces
1 teaspoon salt, or to taste
3/4 cup brown sugar
1/2 cup apple cider vinegar
3 sterilized 8-ounce canning jars

First, roast fennel and cumin in a heavy pan over medium-high heat, swirling occasionally, until toasty and fragrant — about three to five minutes (be careful not to let it burn). Cool and grind in a coffee or spice grinder.

Combine ground spices, tomatoes, salt, sugar and vinegar in a large saucepan over medium-high heat. Stir well, reduce heat to medium-low and cook, stirring occasionally, for about one hour, until chutney thickens and is still wet but not soupy.

Remove from heat and pour into prepared jars, leaving 1/2 inch of headspace. Use a plastic knife or wooden chopstick to remove air bubbles. Wipe the rim, seal and process in a boiling water bath for 20 minutes.