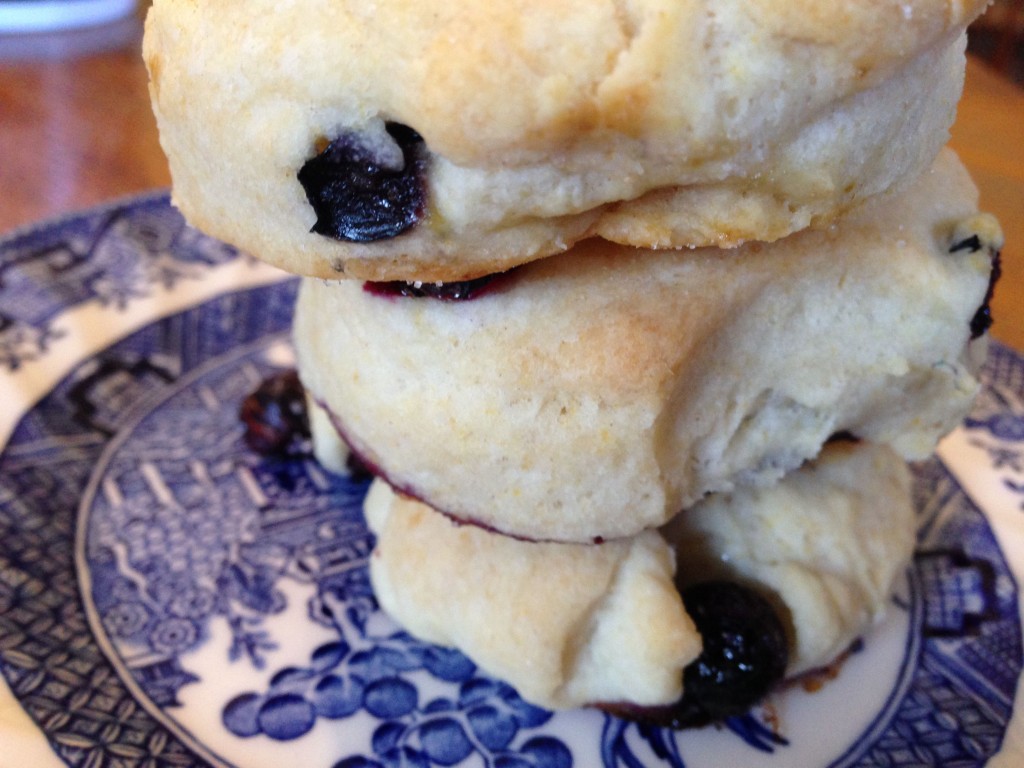 It is true that many of my favorite foods are pastry based, but the scone is right there, all fluffy and sweet at the top of the list. Not just any scone though. It has to be the light, airy, sometimes gargantuan scone. Most often scones found in the bakery aisle or larger chain coffee shops are harder, triangular and heavy.
The qualities of scone I look for do exist! Here in DC, the Scandinavian/Slavik inspired Domku Bar & Café bakes one of our favorites, available only on Sundays. The traditional UK-scone also tops my list, which I've had in both Edinburgh and Dublin tea shops.
I am still dreaming about the scones we had at The Queen of Tarts in Dublin last month. I swear they were the size of my head, bursting with the juiciest raspberries. Served alongside clotted cream and homemade preserves, this was one of my favorite meals from that trip. (Well, and all the Cadbury chocolate bars and pints of Guinness, which contributed to my clothes feeling a bit snugger on the return home.)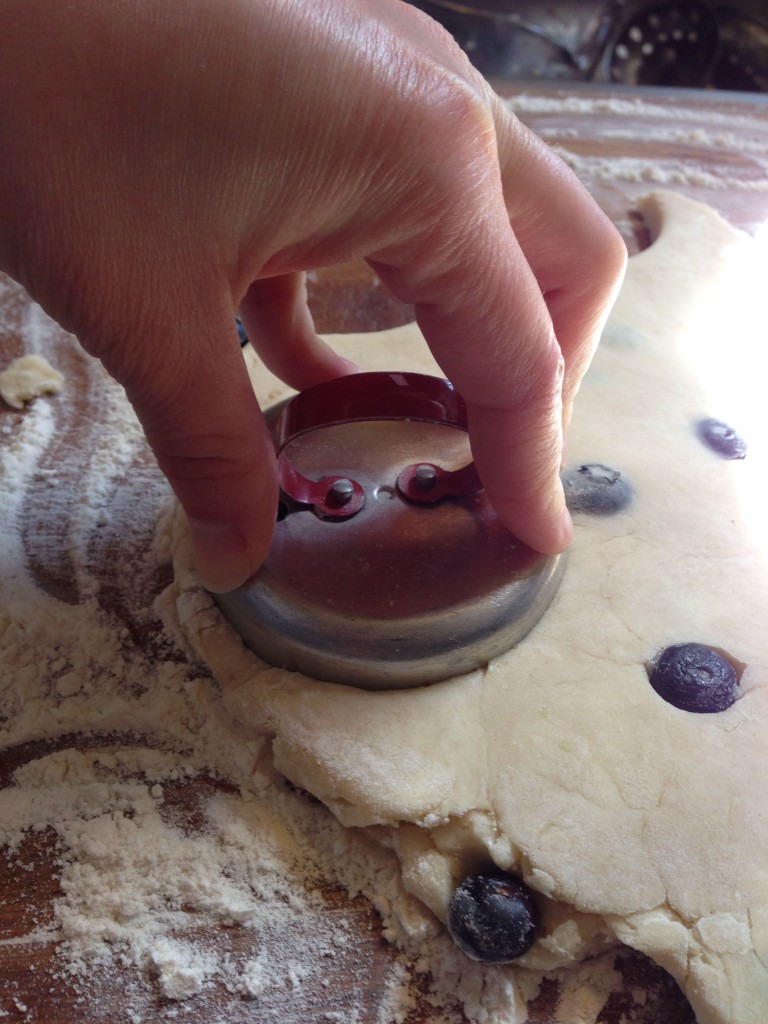 I have never made  scones in my life: The perfect scone seems intimidating to tackle. It boggled my mind that it could be achieved in so few ingredients. It must be all in the hand work. But because I'm still looking for a place to properly satisfy my scone cravings state-side, I decided to give it a go myself.
I found a great article on the Guardian, a British online publication, describing the various methods and techniques to make the perfect British scone. While some recipes the author mentions pledged allegiance to certain types of flour, it seemed to come down to dough. Specifically, how little one worked it, and how thin the dough was rolled out. The less work, the higher the scone rises and the lighter the texture. Overwork the dough and you end up with a hockey puck.
I enlisted the help of the best baker I know—my very own queen of tarts, a.k.a. mom. We set about on our mission, giggling over how silly that even sounded. How could my little librarian mother be queen of the tarts?
What further boggled my mind was that my dream scone might be achieved in so few ingredients.
Surprisingly, we used two new to both of us: self-rising flour and lard. If you don't have self-rising flour, it's simple to recreate. It's just flour mixed with baking powder and salt. You can even make a gluten-free version. Now, that would have put us over our five ingredient limit this month, so we stuck to the rules. And the second is… lard. We found it next to the butter at the grocery store. It was easy to measure out and work with, albeit a little strange to use the first time.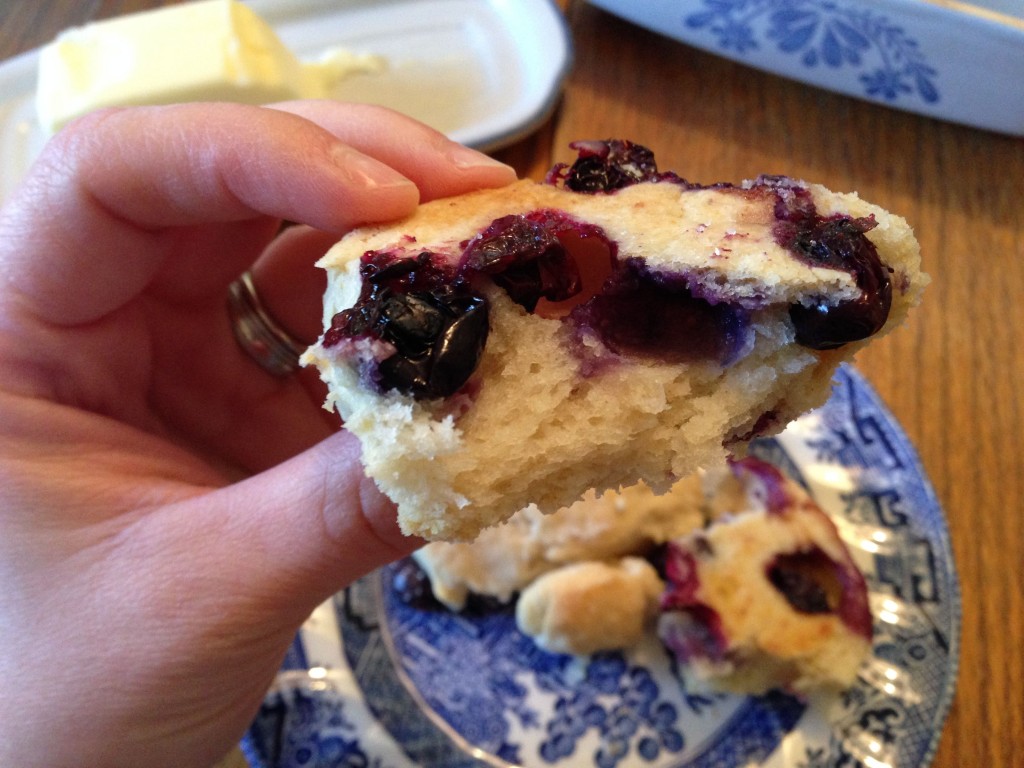 The scones turned out to be a good experiment, one I intend to try again soon. My mom (and her infamous sweet tooth) said she would have added sugar or some sweetener to the batter to perk it up a little. Using a sweeter berry might help with this. Or you could simply add a bit of jam or honey on top as you eat. Personally, I liked them as-is.
As for the texture, it was light but not to the level I'd envisioned. This tied to how we worked the fats into the flour and how much the dough was worked overall. Next time, I'd use a lighter touch, perhaps even my hands instead of a fork or pastry tool  to ensure the ingredients combined with as little effort as possible.
They weren't perfect. Certainly not Queen of Tarts level. But they were yummy enough that we both ate several. And there was enough potential in the recipe that I intend to practice my scone baking again
And again.
Blueberry Scones

I followed a recipe I found on The Guardian where the author was in search of the perfect British scones. I converted the grams and milliliter measurements as best I could using online conversion tools.

1 1/2 cups self-rising flour, sifted
1/4 cup butter, softened
1/4 cup lard, softened
3.4 ounces milk
blueberries, half a pint or so depending on taste

Preheat oven to 375 degrees.

Cut the butter and lard into the flour as quickly as possible. There are many methods you can use, such as a pastry cutter or knives. We used a fork, but the article suggested using your hands to rub or work the fats into the flour, ensuring your hands were cold.

Add enough milk to get a soft, bread like texture to the dough. Note: You may not use all the recipe calls for, or you may need a little more.

Roll the dough out onto a floured cutting board to about 1/2 inch thickness and cut out using a round cutter. Place onto a greased or parchment paper lined baking sheet. Bake for about 15-20 minutes, until golden brown and slightly raised. Allow to cool on wire rack.