This is the story about the most delicious short ribs on earth.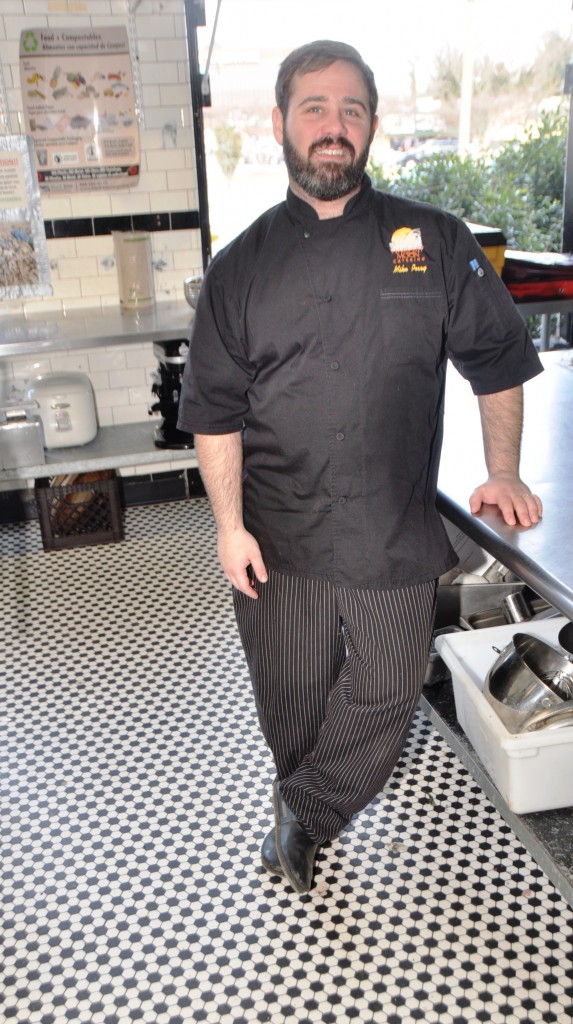 No, wait. That's my stomach getting the best of me as I type. Although you'll hear more about those ribs in this post, we're really here to meet a chef — Chef Mike Perry.
You usually hear about great chefs by way of the restaurants that showcase their talents. Clearly this was not the case with Chef Rock Harper, who works at D.C. Central Kitchen. Mike is another exception to that rule.
That's not to say he hasn't worked in restaurants. He got his start more than a decade ago. Mike, now 33, moved to Virginia from Colorado at 17. Without a degree, he saw two options: the construction site or the kitchen. He chose the latter.
His first foray into the food industry was a sandwich shop, but it wasn't a good fit. He was eating at a local diner while mulling over his next step when saw a guy he describes as looking to be near the end of his rope. Mike – who's just that kind of guy – put a hand on Mark Hahn's shoulder and asked if he was alright.
Mark replied, "Can you cook?" When Mike said yes, his now-boss responded, "Do you want a job … and can you start in a few hours?"
His Second Job
The position Mark offered was with Hahn Gustafson Catering – now Harvest Moon Catering – as a short-order cook in their restaurant, Blue Moon Diner. It was there he learned how to pull a rabbit out of a hat … or pull a delicious meal out of a very tight area.
"You have a whole line of tickets, and this much space," Mike says, indicating a small area with his hands. "It was ballsy. To this day I have a lot of respect for [being able to do] that."
He stayed for several years before moving on to Bistro, his first experience in a formal kitchen, and the now-defunct OXO. There, Mike got his first experience working with a professionally trained chef.
Mike says he had no clue on his first day at OXO – which led to an interesting conversation with Chef John Haywood … and the realization that he had a long way to go.
Chef: "You said you could cook."
Mike: "Can you show me what you mean by cooking?"
As the chef began to show him a whole new way of food preparation, Mike absorbed as much as he could. He pored over cookbooks, trying to figure out how the author thought and why they approached their work a certain way. All told, he was at OXO on-and-off for six years, working with Haywood and other chefs that would influence his outlook on food: Levi Mezick, Ben Thompson and Tucker Yoder – who Mike says was way ahead of his time.
"[OXO] opened my eyes to what was really happening with food," says Mike.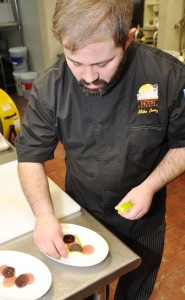 Where He Is Now
The father of three eventually landed back with Mark Hahn at Harvest Moon Catering as the chef de cuisine. That's where we met him in early 2013, when we came in to do the tasting for our wedding, and then again nearly a year later to talk about his craft.
While we chat about my fascination with sous vide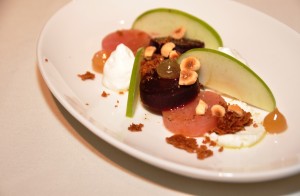 cooking, Mike never loses focus on the composed beet salad he's preparing. He's talking about slow-poached eggs, which is the first thing he made in the kitchen's immersion circulator, and how he pairs them with parmesan baked grits and a bacon-onion relish. At the same time, he's intensely focused assembling the dish at hand: a smear of chèvre, perfectly round-cut salt-roasted beets and crisp granny smith apples, a sprinkling of toasted hazelnuts and crumbled sable. The salad is finished after he pipes out neat white balsamic and honey gelèe dollops across the plate.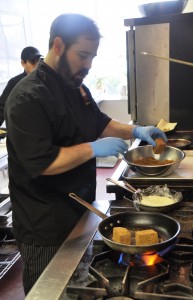 He explains as he sets it down in front of us to sample. The messy elements – the sable and hazelnuts – balance the clean lines he's made with the apples and beets. Depending on what you put on your fork, each bite of this salad is different — and delicious.
He moves on to his main course: espresso-encrusted short ribs with a parsnip puree, which is what we ended up serving at our wedding. We chose this cut of meat after I expressed concern at our tasting about ruining a beautiful piece of meat by overcooking it, and the chance it might get cold quickly in our outdoor venue. Mike said short ribs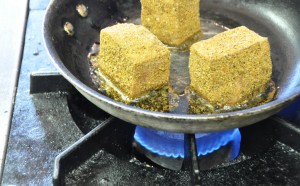 were the perfect solution. He was right: perfect and delicious. His are slow-cooked for 48 hours at 64 degrees Celsius in an air-tight bag and seasoned liberally with tallo, thyme, rosemary and sage.
The crust is composed of brown butter powder, coffee, espresso, salt and coriander. He coats the cooked short ribs, then sears all sides before popping them in the oven and turning to talk to me about how he fell in love with vegetables.
Vegetables: A Love Story
Mike got an appreciation for where food comes from after helping Planet Earth Diversified's Mike Clark – someone he describes as a sort of mad hydroponic scientist – with a root vegetable harvest.
He describes the difficulty of pulling each vegetable from the soil while also keeping the greens intact. Then the bounty had to be washed – four times. "I could not believe the amount of work to get these ready to send in to a restaurant," Mike says.
The experience gave him a holistic view of what food is, and the relationship between that and feeding people. "I didn't see [cooking] as a really import thing to do," he explains – not like a doctor. But that harvest brought him to a really thoughtful place about food and he began to care more for the food he prepared.
"All the sudden a carrot became a big deal for me," he laughs. "Don't burn the carrots!"
Back To The Future
Mike says he never stops learning, which is what drew him to his current position. The chance to learn how to cook for 200 people at the same time – and do it well – was a new experience. He has ideas for what's next and has talked to Harvest Moon's Mark Hahn about the possibility of future restaurants. But for now, he's just happy to keep growing.
Mike's Tips On How YOU Can Grow In The Kitchen
Taste. You should try your dish through every process: raw (not meat, obviously!), while it is cooking and before you serve it. This will give you an idea about how the flavors develop.
Challenge yourself. Try new things. You can find inspiration in books, but ultimately don't get stuck thinking about food in a singular way. Growing means getting out of your comfort zone by doing something that makes you feel uncomfortable. There's only one way to find out, says Mike. "If you don't try, you never know."
Care about your food. It came from somewhere. Whether it grew from a seed or an egg, know that there was a process behind how it got to you and respect it.
Espresso-Encrusted Short Ribs
A special thanks to Harvest Moon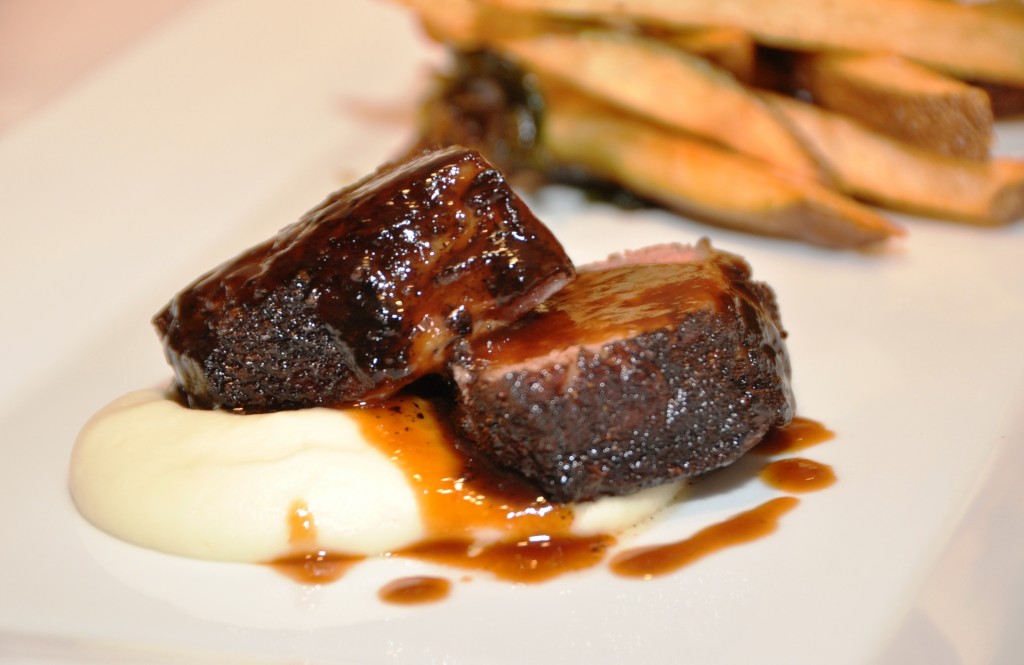 Catering and Chef Perry for their gracious hospitality, and allowing us to reprint this yummy recipe on We The Eaters.

2.5 pounds boneless short rib
1 cup demi-glace (very cold)
salt
ground black pepper
2 sprigs fresh thyme
1 sprig rosemary
2 sprigs sage
Espresso Crust
2 cups instant milk powder
1/2 cup brown butter
3 tablespoons salt
2 tablespoons toasted coriander
3/4 cup espresso, finely ground
Clean, portion, and season short ribs with slat and pepper. Wrap tightly and set aside in the fridge overnight.
Place short ribs in a vacuum-seal bag with the herbs and demi-glace. Be sure the demi-glace is cold so it is gelatinous. Seal the bag. Set up a water bath with an immersion circulator in a sturdy heat-proof container or appropriately sized stock pot. Cook at 64c for 48 hours.  You may need to refill the water periodically throughout this process. Keep an eye on it.
While waiting for ribs to cook, prepare the espresso crust. Preheat the oven to 275 degrees. Make brown butter. Mix together warm brown butter and instant milk powder. It should feel like damp sand. Spread out on to a nonstick baking sheet and toast, stirring occasionally until the mixture is evenly golden brown. Allow to cool, then add salt, coriander, and espresso grounds to the brown butter mixture. Taste and adjust seasoning as desired.
After 48 hours, pull the short ribs from the water bath and let rest for a minimum of 30 minutes. Once the short ribs have adequately rested, evenly coat on all sides. Heat a heavy cast iron skillet to medium heat and sear the ribs on all sides. Be careful not to burn as the espresso can become bitter. Once the short rib is seared, transfer to a rack to allow any excess fat to drip away, then place the hot short ribs on a plate or platter. Serve immediately.
IF DESIRED, once you cut open the bag of ribs, and strain the jus into a small sauce pot. Reducing to desired consistency. At the very end, you can add a little nob of butter to emulsify. Spoon the the jus over encrusted ribs before serving.