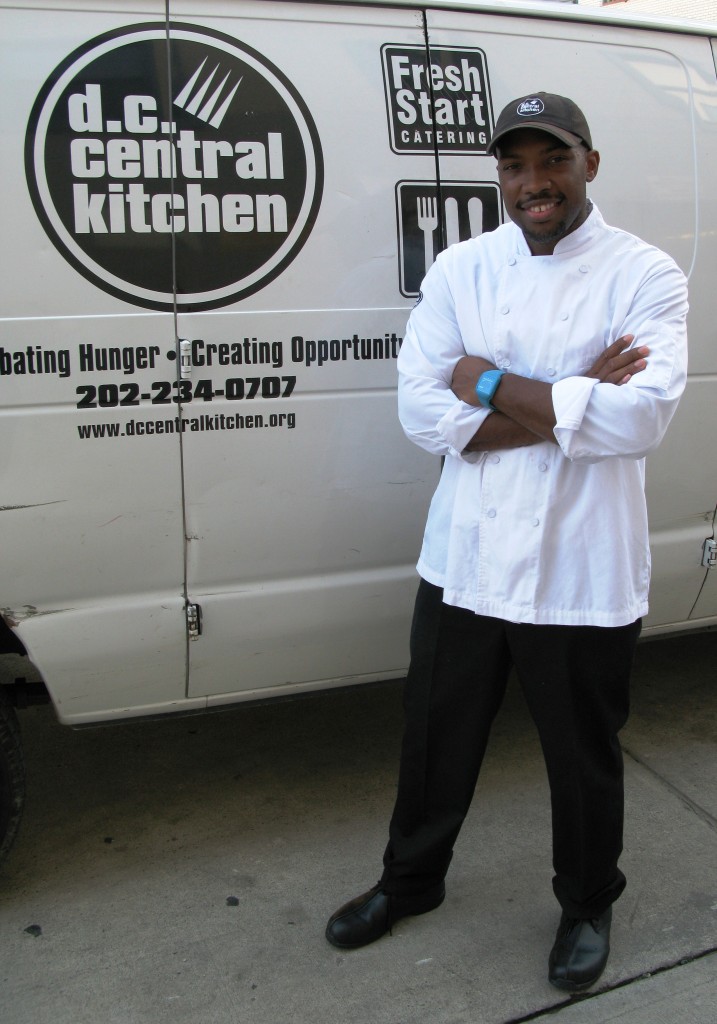 D.C. Central Kitchen (DCCK) prepares 5,000 meals a day. A day. With  just more than a dozen employees, and dozens more volunteers, these meals are served on-site or delivered to homeless shelters, rehabilitation clinics and kids programs throughout the city.
The man who makes sure all this magic happens is Chef Rahman "Rock" Harper, whom some of you may know better as the winner of the third season of the Fox TV program Hell's Kitchen.
"It's my job to make sure we're doing what we're supposed to be doing … better, and more efficiently," says Rock.
And in the DCCK environment, that's critical. I mean, what does one do with a pallet full of green peppers and eggplant? Much of what comes in is donated, so it's not like ordering food for a restaurant. So you make those donations work, says Rock. Which means you've got to be prepared — and creative.
"I have no idea how it looks or how it's going to be," Rock says. "I have to make use of [what comes in] every day."
The peppers are easy, he says, but sometimes a donated product can be completely random. Like 100 pounds of purple basil. The amount that gets added to sauce and soups only makes a dent, so Rock preserves the rest or makes flavored oils.
It's this resourcefulness that landed him the spot on Hell's Kitchen in the first place. He was working as the executive chef at D.C.'s B. Smiths when he decided he needed a change.
"I'd reached a certain level and I was plateauing," says Rock. "I felt like I had to do something radical — I'm a radical dude."
The Hell's Kitchen producers later told him they weren't wowed by the guy who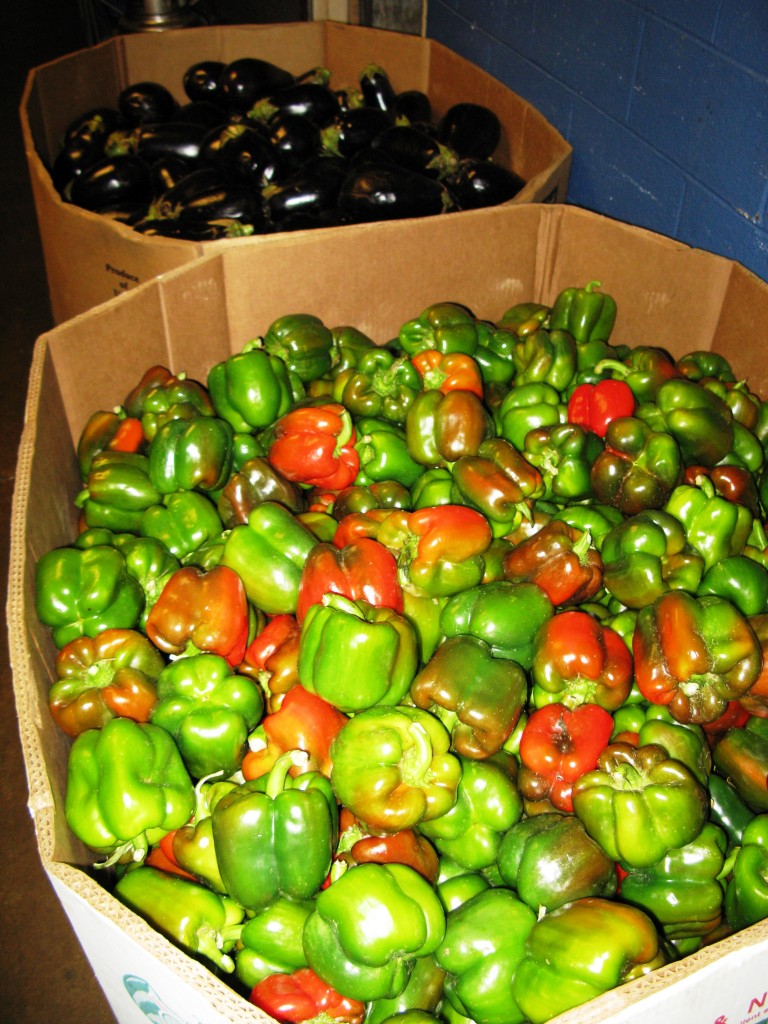 showed up at the New York audition, dressed in slacks and a nice shirt. When they asked him why he wanted to be on the show, he said, "Because I'm going to win."
Even now, he cringes a bit at the thought. He says he was sure he'd botched it when they said "we'll call you." He didn't wait for the phone to ring. He went to another casting — Atlanta, this time — clad in jeans and a t-shirt. He laughs, remembering the other applicants he sat between: the manager at a Red Lobster and a ventriloquist wearing a kilt.
"Black guy in the middle? I'm gonna stand out!" he laughs.
He seems surprised when I ask him to share the one question he's never asked about being on the show, dominated by chef Gordon Ramsay, a man not known for being calm and collected. Rock says people mostly want to know about the drama.

"Nobody really asks about the cooking," he says. "I didn't think it would be as hard as it was." Describing how hard Ramsay works in the kitchen, Rock says the chef is in amazing shape to be doing what he does. It was that work ethic that Rock took away from the show.
"If you keep working hard at whatever it is you do — and you keep believing — you will have success," Rock says. "You just have to expect greatness from yourself."
These days, greatness comes in the form of serving others at DCCK. Rock was teaching at Stratford University in Woodbridge, Va., when the position came open. He felt he was young enough that he could take some time in his career to give back by working for a nonprofit.
"I love challenges. I love people. This place is about the people — how we can change lives through the power of food."
And a challenge it is. Cooking thousands of meals a day for people who don't get to choose what they're eating can be incredibly trying. But Rock takes it all in stride, musing about the possibility of one day making enough fried chicken to serve at least the onsite residential program. It's one of the most requested items from the homeless people the kitchen serves, Rock says.
That's not to say that his "customers" aren't happy with Rock's meals. There are plenty of thanks and compliments. Rock says it's the moments when someone names a specific meal, like thanking him for "that gumbo you did like my mother used to make," that really stand out.
But as much as he appreciates doing what he's doing here at DCCK, he says don't worry: He's a restaurant chef at heart, and he'll be back there soon.
Chef Rock, we can hardly wait.
Chef Rock's Tips for Eaters: What Every Kitchen Needs

A good, sharp knife. "Spend a little money," he says. You can get a good one for anywhere from $50 to $200. Then, keep it sharp. Rock's favorites? Wusthof or Henckels.
A cast iron skillet, Rock's "all-purpose pan." They conduct and retain heat well, are inexpensive and last forever.
A pepper mill. He looks really serious about this one, and I agree: it tastes much better when you grind your own.
A wooden spoon. Rock says they're incredibly versatile, since you can use them on a Teflon surface and they won't impart a metal taste to foods when you are sampling.

"I could take over the world with  those four things," says Chef Rock. "It's on my to do list!"