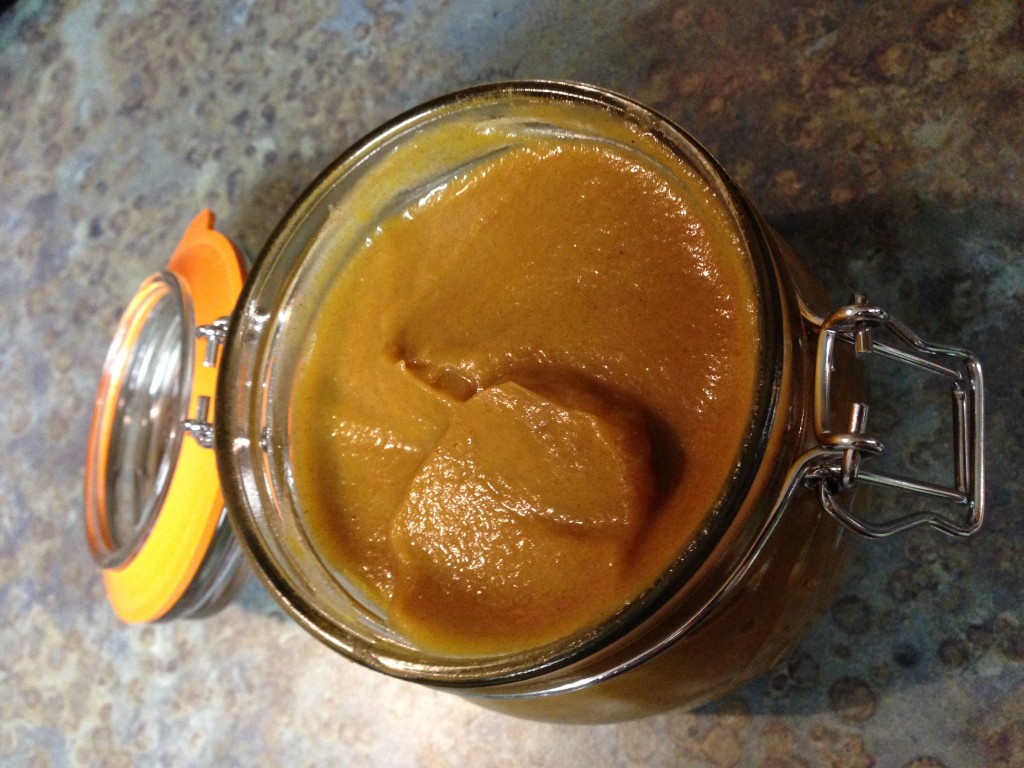 I have to admit, I've never really eaten pumpkin butter before. Pumpkin pie – yes. Pumpkin spice latte – yes, just the other day. Pumpkin beer – oh hell yes. It sounds amazing. I love pumpkin. And I love butter. It's almost a better union than peanut butter and chocolate (almost).
It turns out my assignment was almost too easy. Once I read up on the basics of roasting a pumpkin and discovered how simple a pumpkin butter can be I had to figure out how to challenge myself. How do I use this stuff, other than just eating it by the spoonful? It turns out I could satisfy two concerns with one pumpkin.
Over the last year, my husband has discovered he's gluten intolerant. How is he going to enjoy his favorite part of Thanksgiving – pumpkin pie? This set me on a quest for a gluten free pumpkin pie recipe which, as luck would have it, lead me to a simple, home-made pumpkin butter recipe.
I had recently found Jules Gluten Free, a maker of GF flour and baking mixes. She runs a great blog and Facebook page that shares recipes and tips for baking sans gluten. She recently posted a recipe for a GF pie using this butter recipe.  And it makes so much sense.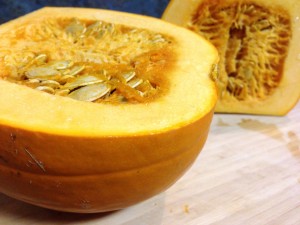 Traditionally, the filling is made from canned pumpkin and spices, such as cinnamon and nutmeg. This recipe still includes all of the ingredients, replacing the canned with fresh of course. While the canned is definitely a "shortcut", I have to admit that roasting and pureeing my own is so much more fulfilling. It's really not that hard! And it can be done days ahead of time. The hardest part was cutting the pumpkin — just make sure you use a sharp knife. While I didn't follow the recipe exactly, I found Oh She Glows's pumpkin roasting method to be the easiest.
I then followed Jule's butter recipe. Very few ingredients, all mixed up in a blender. Too easy right? And the proof was in the butter. Upon tasting it, my husband exclaimed "It tastes just like pumpkin pie!" Victory was mine.
Well, almost. It turns out there are a ton of ways to use pumpkin butter, gluten free or not:
Spread it on toast or crusty, earthy bread. You could even try it with peanut butter.
Stir it into plain oatmeal. It will add a kick of seasonal taste.
Add it to your smoothie. Think pumpkin spice lattes.
Stir into your Greek yogurt. Much better than plain when berries are out of season.
Think beyond pie baking – bread, cake (or cupcakes), scones – any recipe that calls for pureed pumpkin. You might need to adjust the spice amounts since the butter is already spiced.
Spread it onto Brie … then bake. Similar to the yogurt, but earthier and more decadent.
Basic Pumpkin Butter

I found this on the Jules Gluten Free blog . While her recipe describes roasting your pumpkin with a slow cooker, I took the quicker oven method.

1 sugar or pie pumpkin, roughly 2 lb, roasted and peeled
1/4 cup apple cider
4 tablespoons pure maple syrup
1 tablespoon ground cinnamon
1/4 teaspoon ground nutmeg
1 teaspoon apple cider vinegar
1/4 teaspoon sea salt

Pre-heat oven to 350 degrees. Before roasting, prep your sugar pumpkin. Ensure your knife is freshly sharpened. The rind is quite tough! Cut the top off to remove the rough stem, then cut in half. Remove the seeds and stringy pulp using a spoon. Note, don't forget to set aside the seeds for roasting.

Spread olive oil on the flesh of both pumpkin sides. Place flesh down onto a parchment lined baking pan. Roast in oven for 45-55 minutes. Pumpkin will be done when a fork easily pierces the skin.

Remove from oven and allow to cool, about 10 minutes. Peel off outer skin and discard. At this point you can save the roasted pumpkin for use in the next day or so by sealing in a container and refrigerating.

Add roasted pumpkin to a blender (I used a Vitamix) and puree to a good smooth consistency. Add the remaining butter ingredients and blend to well combined. Put the butter into a tightly sealed container or jar and refrigerate up to 2 weeks.