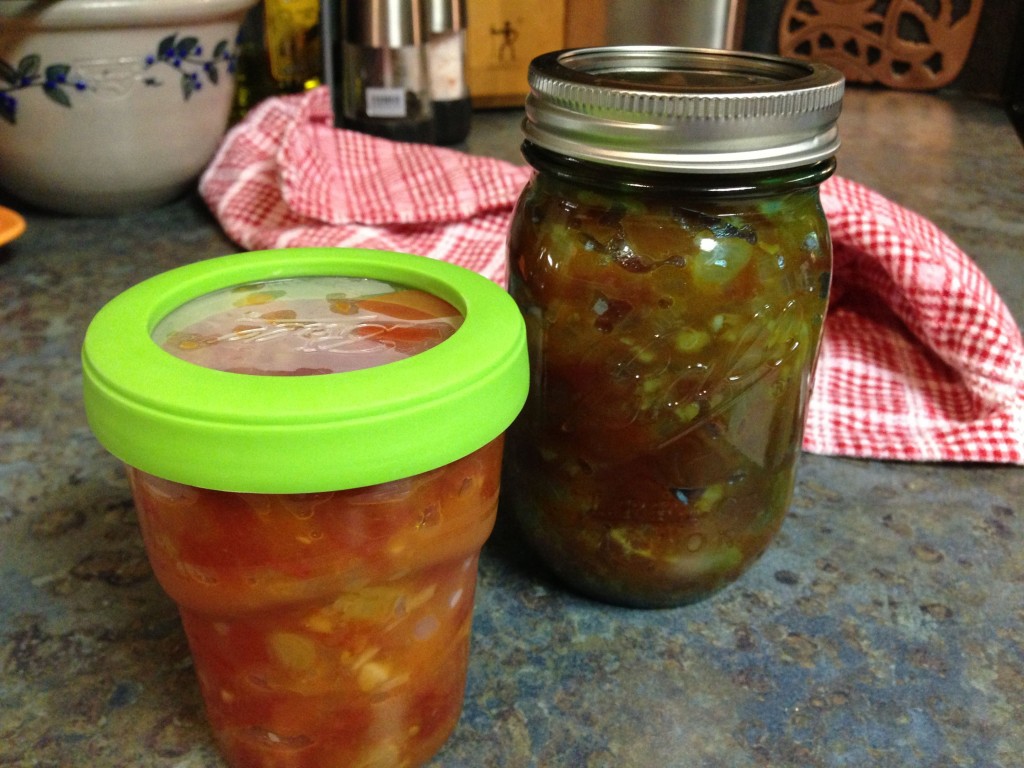 Ok, Eaters … hold on to your pants. This is a first for me: I've never made chutney, and I've never canned anything. But I really want to get into the whole preserving … and pickling … and jamming scene. While it may not be particularly sexy, it's becoming hipper.
There's something about doing things by hand — things our mothers and grandmothers did in their kitchens — that warms my heart. The good news is, it's not that hard. The only thing to fear is … well, botulism. OK, pretty scary! But if you follow the proper sanitization techniques, you wont kill yourself or anyone else.
As I looked for a chutney to experiment with, it occurred to me just how versatile chutneys can be! First, there are so many varieties of tomatoes alone, each imparting different levels of sweetness and texture. Then, by adding other fruits (peaches, dates, raisins) and sweeteners (agave, brown sugar, raw sugar), you can play with that sweetness and texture even more. But don't neglect spices and savory notes!
The combination I tried had a good balance, perhaps a little on the sweeter side. Luckily, the red-wine vinegar brought in a nice tartness to balance it out. And wow — the ginger gave it a sassy little kick under that sweet veneer.
So, if you're new to chutneys, what do you do with them (besides spooning them directly into your mouth over and over again)? There really are so many uses. It's considered a condiment, after all. What can't you do with them? Use them as an accompaniment to curry, alongside a meat and cheese plate, to top hamburgers … or halibut … or tilapia … or mahi mahi. You can spread on grilled cheese sandwiches, or mix it in meatloaf. The list goes on.
Whew … let me catch my breath! Any other ideas, Eaters?
A Little Sweet, Ginger Tomato Chutney
This is a simple, sweet, but tart version I found in Martha Stewart's Everyday Food magazine. For the tomatoes, you can use almost any that grow in your garden or from your farmer's market. You could even use your canned tomatoes from last year!

2 tablespoons vegetable oil
1 medium onion, chopped
2 garlic cloves, minced
1 tablespoon fresh ginger, peeled and minced
2 pounds fresh plum tomatoes
1/2 cup golden raisins
1/2 cup red-wine vinegar
1/2 cup packed light-brown sugar

Heat oil in a medium to large saucepan over medium heat. Add onion, garlic and ginger. Cook, stirring regularly, until the onion is soft and slightly caramel colored — about 5 to 7 minutes. Stir in the tomatoes, raisins, vinegar and brown sugar. Lower heat and simmer until mixture becomes thick and jam-like. This takes about 35-45 minutes. Remove from heat and cool completely.

If canning, transfer to sterilized jars.Chutney will store for 3-6 months in a cool dark place. Once jars are opened, use within 2 weeks.

If you don't want to bother with the whole canning thing (and sterilized jars), simply transfer the chutney to a clean glass jar, cool and store in the fridge for up to 2 weeks. Or, you can freeze up to a year in BPA-free plastic Ball jars, as pictured. I was surprised to find these at my grocer next to the traditional glass. Giving them a try with a little of my chutney!