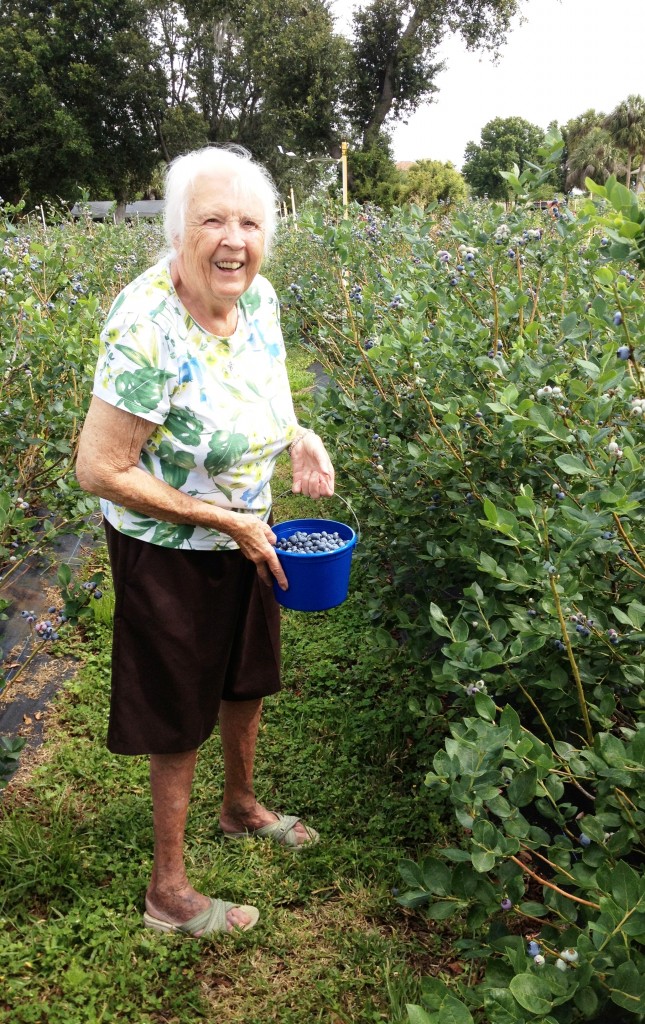 It's that time again: hot days, balmy nights, Fourth of July and Red, White and … Blueberries!
Blueberries, those tiny, juicy purple orbs that liven up a muffin as easily as they dress up a bowl of cornflakes.
We love Blueberries in our Florida household. We put them in waffles and pancakes. We cook them down into compotes to put over ice cream. We pop them in the freezer and eat them frozen.
Until last year, we had always bought our berries at the farmers market or the grocery store in little plastic boxes. Two years ago, we discovered the joys of visiting our local blueberry farm, where you can pick your own.
I have to admit that I was skeptical at first. I am not "outdoorsy," and the thought of crawling along the ground, or bending over for hours in the hot sun to pick blueberries didn't sound like a great idea. Then I made a miraculous discovery after talking to a friend: Blueberries grow on bushes, and said bushes are quite tall – some reaching more than four feet high. Oh, glory! I wouldn't have to bend much, and neither would my nearly 90-year-old mother.
Apparently, as I found out, my mother LOVES to pick blueberries! We chose a date and invited my friend, and fellow blueberry enthusiast, Betsy, and off we went to Punta Gorda.
When we first arrived at the Berry Best Farm, we were greeted by the owners. We each received a spritz of hand sanitizer (to keep germs off the bushes,) and a small bucket large enough to hold approximately four pounds. Before us were rows and rows of blueberry bushes.
Now, it's not easy to see a blueberry on the bush until you are right up on it. But when we got close enough, we were stunned to see hundreds of big juicy berries right there before our very eyes!
We shared the field with pickers of all ages … and sizes. It was fun to see all the young children out for the day, picking berries from the bottom of the bushes, while Mom and Dad gleaned from the top.
At first you tend to pick one at a time but as you move from bush to bush, you learn to grasp a cluster lightly, pull ever so softly, and viola – you have an entire handful. It's surprising how fast you can fill a small bucket when the fruit is the size of a dime!
It's a good thing they didn't weigh us before we ventured out, as I'm relatively certain we ate almost as much as we picked.
An hour and a half later, as the sun rose high overhead, we each marched our buckets back to the tent to weigh and pay for our bounty.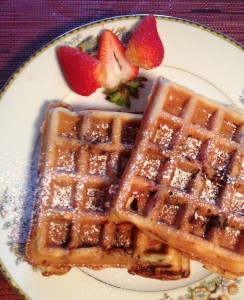 Picking your own blueberries is not very pricey compared to picking them off the shelf. We had the added benefit of having only the biggest and best berries, and pounds – not pints. Mom and I picked eight pounds of berries ourselves, which we take home and freeze in quart size bags to use all year.
Berry Best Farms doesn't use any pesticides or sprays on their berries, something you might want to check before venturing out. That's important, because if you pick your own berries for freezing, don't wash the berries first. Lay them out on a cookie sheet, pick out stems and any that might not be totally ripe, and then put the choicest berries in a quart-size bag in the freezer. If you wash the berries first they will stick together once frozen and not thaw well.
Once your berries are frozen you can make delicious waffles at a moments notice. What a yummy way to start your day! At our house, my Mom's waffles have quite a following. She gets her ingredients all together, mixes them up, and adds her secret ingredients. Well, not so secret, 'cause we'll tell you, Eaters! We like to add pecans. Pretty soon, you'll have a breakfast that will everyone will rave about!
 
Grammies Best Waffles

2 cups biscuit mix (Bisquick, Jiffy, etc)
1 teaspoon of salt
1 teaspoon of baking powder
2 tablespoons light brown sugar, packed firm
2 eggs, beaten
1/4 cup vegetable oil
1/4 cup sour cream
1 teaspoon vanilla
1 cup carbonated water (we sometimes use calorie-free vanilla flavored seltzer water for an extra kick!)
1 cup blueberries, frozen or fresh

Pour wet ingredients into dry ingredients and mix well. Do not overbeat. Gently fold in blueberries. If desired, add 1/2 cup pecans.

Mix and bake according to your waffle maker instructions.

Makes 12 4×4″ waffles

Like any good Eater, one of our favorite things to do for a light summer meal is have a waffle and egg breakfast for dinner!