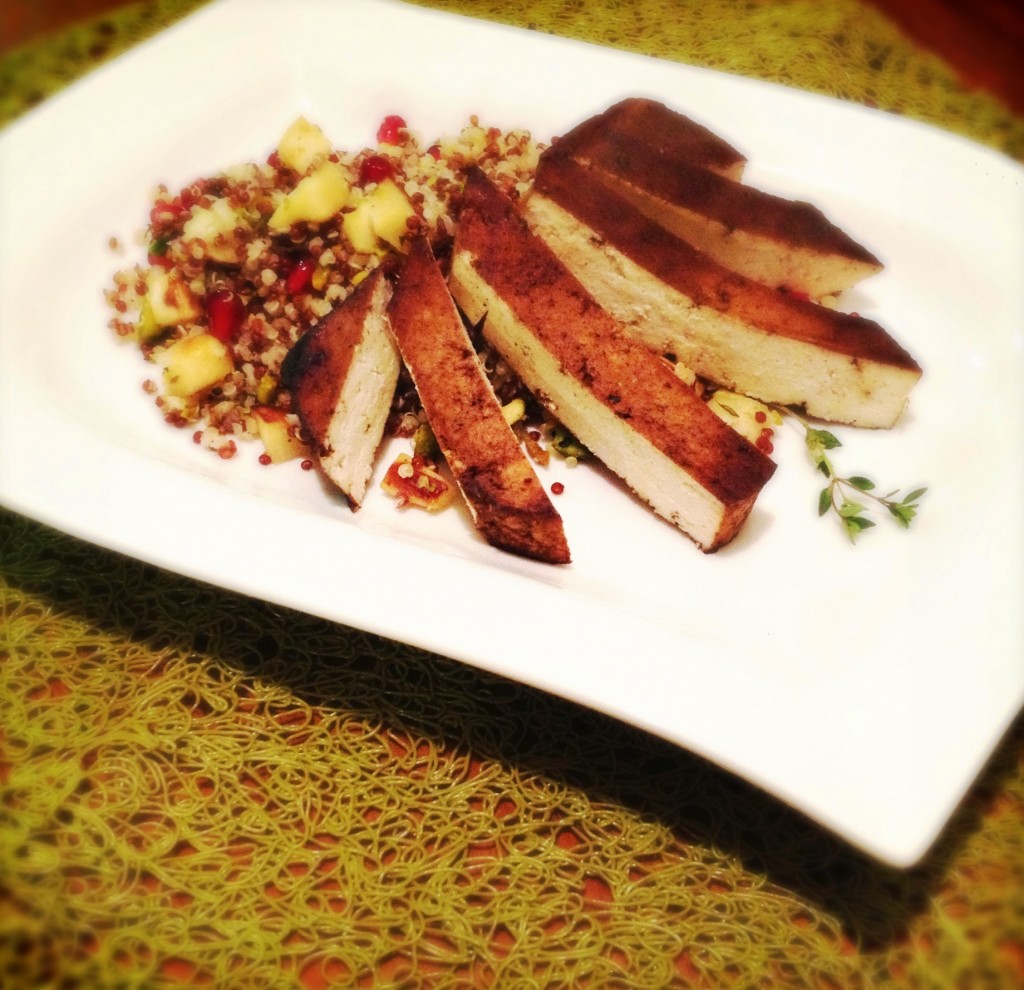 This Week's Basket: Tofu, Quinoa, Parsnip, Pomegranate & Pistachio
Suggested by Sheri in Cambridge, Vermont
My experience with parsnips is lacking, but when it comes to root vegetables – je suis dans l'amour (that's French fried for "I am in love"). And quinoa? Big fan. This supergrain is a staple in my house. Pistachios? No brainer. And I've loved the secret seed treasure buried in the flesh of a colorful pomegranate since I was a kid.
So it was tofu that made the first basket in our Chopped-esque series a bit of a challenge for me.
I'm a meat eater. As such, I don't even understand the concept of tofu, and thus have no real clue what to do with it. My experience with the stuff has been limited to the occasional Thai fried tofu, which I actually enjoy. Of course, what's not to like about anything deep fried? I've come to appreciate the finer fried delicacies – like pickles – but admit, I draw the line at deep-fried twinkies.
Deep fried fat and sugar on a stick just seems wrong.
My first thought was to make a silken tofu and parsnip puree, but … baby food gone bad. It reminded me of a recent hot Valentine's Day date, during which I was whisked away to a restaurant that seemed quite taken with this food format. Every plate had a smear or two of unrecognizable mush that ranged from interesting to …  inedible. I suppose it didn't help that the food was cold and the service sucked. Interesting idea, but nope.
Okay. How about a flan-type pudding? I liked this plan, but the execution fell a little flat … meaning that it didn't set, but rather dribbled out of my ramekin with a sad little plop.
Consistency violations galore.
After a little research, I opted for another shopping trip to pick up some extra firm tofu, thinking we'd at least avoid the consistency issues going forward. I decided to just let the ingredients speak for themselves, with a little nudge in the form of a balsamic marinade, as you'll see below.
The results were actually pretty surprising. I thought maybe I was just starving after the first several botched attempts, but as it turns out (upon independent verification!), this was really, really good. The flavors worked well together. The taste is unique. It could be eaten hot or cold (leftovers for lunch!) And best of all — it's super healthy.
I would definitely make it again, and would love to hear your thoughts – especially our vegetarian and vegan Eaters. What would you change or do differently?
Quinoa & Parsnip Salad With Balsamic Glazed Tofu

1 package extra-firm organic tofu
1 cup balsamic vinegar
1 1/2 cups quinoa (I used a mix of red and white for color)
2 medium-sized parsnips
1 medium to large pomegranate
1 cup pistachios, chopped
2 tablespoons sesame oil
2 tablespoons lemon olive oil (or use regular olive oil and a little lemon extract)
1 tablespoon lemon thyme
Salt and pepper

Slice the tofu into half-inch slices and place in glass pan. Pour balsamic over, turning tofu to coat. Marinate for at least one hour or overnight, turning occasionally.

Get your grill set up if you plan to use charcoal, so it can heat up as you prepare the other ingredients. Preheat oven to 400 degrees.

Peel the parsnips, chopping into small bite-size chunks. Toss with sesame oil (which will bring out the earthy flavor), a teaspoon of the lemon thyme and some salt and pepper. Place in the oven for about 20 to 30 minutes, tossing occasionally to brown evenly. You want the parsnips soft, but firm.

Rinse quinoa, then prepare according to these instructions (if you need a little help). I made 2 cups, which yielded much more. I used about 4 cups of the prepared quinoa and froze the rest. It's great for breakfast in place of oatmeal with a little chopped nuts and dried fruit, tossed into soups or as a replacement for rice in stir fry dishes.

Grill tofu, turning occasionally. It helps to oil the grill a little bit to prevent sticking. Cut pomegranate in half and carefully pick out seeds. You'll want about one cup. Rough-chop pistachios to yield about 1 cup.

Combine quinoa, pistachio and parsnips, letting cool slightly before adding pomegranate. Stir in remaining lemon thyme, adding salt and pepper to taste. Add olive oil and/with lemon and toss to coat.

I initially served the tofu sliced on top of the salad, but these flavors are really meant to go together. I'd suggest chopping into bite-size chunks and incorporating. Can be served hot or cold.

Enjoy!