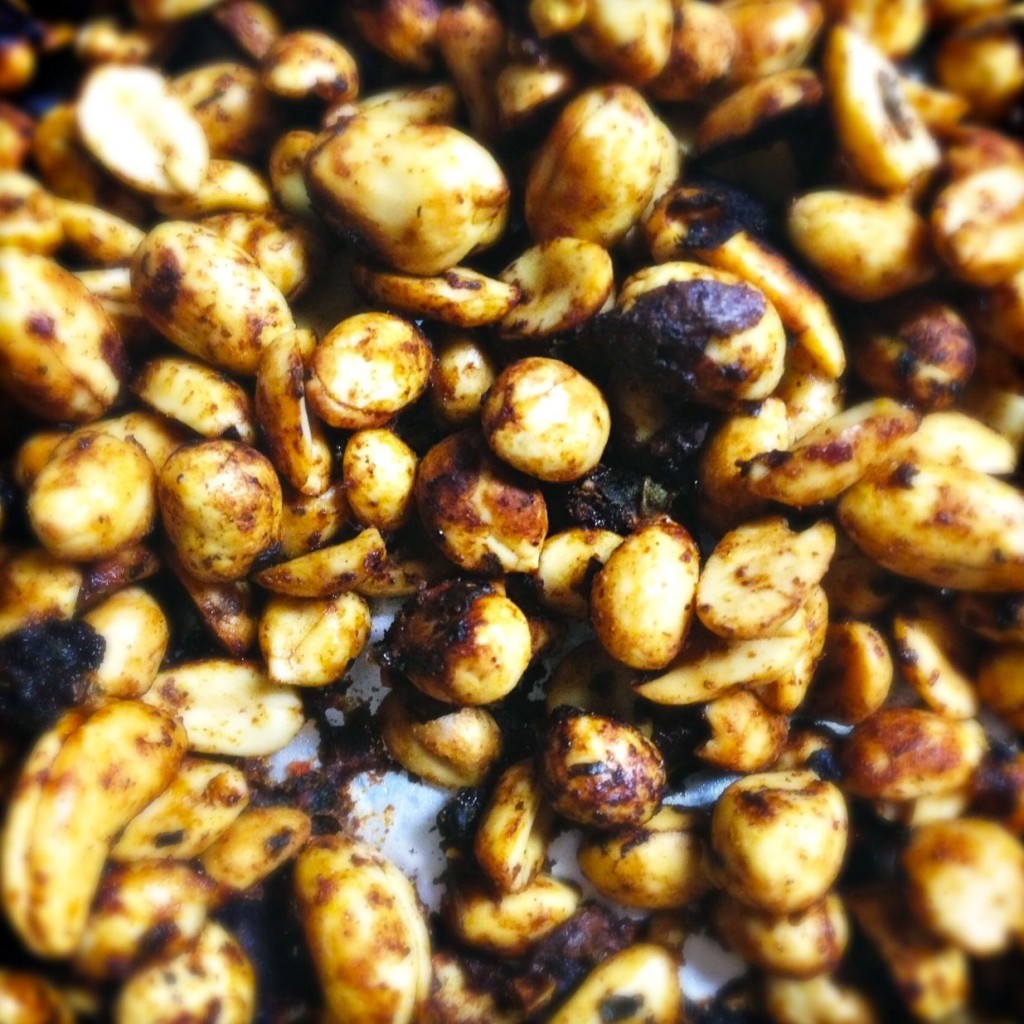 This time of year, "spice" usually refers to those traditional holiday staples in our cabinet — ginger, cloves, cinnamon, nutmeg.  So naturally, when talking spiced nuts, those are the flavors that typically come to mind. That sweet, shiny, candy coated mix fits right in with fudge and sugar cookies.
But that's just it: Treats this time of year are usually sweet. Too few holiday snacks have any real kickin' heat to them.
Challenge accepted!
Nuts are an amazing blank canvas to experiment with flavors. Each one lends a different earthy, even meaty taste to anything you mix them with. You can roast them, stir-fry them and smoke them. All the options are seriously ridiculous, but enough to inspire me to get a little creative and translate one of my favorite flavor combos into nut form.
Thai dishes can have a good amount of heat, but also some very interesting flavors — lime, lemongrass, basil, chili, coconut, peanuts. Wait … Ah-ha! Peanuts!
Chopped up, peanuts are traditionally the garnish on top of pad thai. Throw in some chili and basil, a fresh squeeze of lime … and I just might be onto something.
I ran to the Thai section of my grocery store to see what I could concoct, grabbing a bag of limes on the way.  Most items in the aisle were pre-made mixes, soups and sauces. There were a few items that stood out to me: dried Thai basil, Sriracha and fish sauce. I will admit to never cooking with fish sauce. Ever. But I know that it's a base in most Thai dishes.
With no recipe to guide me, I simply threw ingredients into a bowl, whisked it all together, tasted and then adjusted here and there for more spice. After thoroughly coating the peanuts, I spread them out on a foil-lined pan, making sure there were no large clumps so they could all roast evenly.
They turned out pretty good! Next time, I would adjust some of the ingredients, maybe even adding ginger or lemongrass. Also, even though I turned them periodically as they roasted, some of them burned, which can happen quite easily if you're not careful. The coating on the nuts can burn and char.
The great news? It's really easy to mix up a new batch. Try more heat, less lime and different little additions till you get the perfect flavor combination. And the more you make, the more hot gifts you can give out!
Thai Spicy Lime Peanuts
I cobbled together the ingredients from my knowledge of traditional Thai cooking. It's a great starting point to adjust or add to the flavors, depending on what you like. Want it hotter? Add more chili powder or Sriracha. Want it sweeter? Add more sugar.

16 oz roasted, unsalted peanuts
3 large limes, juiced
Zest from 1 lime
3 tbsp fish sauce
1/2 tsp Sriracha sauce
1 tbsp chili powder
1/2 tsp dried thai basil
1 tsp kosher salt
2 tsp sugar

Heat oven to 250 degrees. In a large bowl, mix the lime juice, lime zest, fish sauce, chili powder, kosher salt, sugar, thai basil and Sriracha sauce until combined.

Add peanuts and stir until fully coated. Spread the nuts on a foil lined pan and roast on the middle rack for about 40 minutes, stirring occasionally and making sure the nuts do no burn.

When done, remove and allow to cool. Store in an air tight container,  or package into small containers for your spice-loving friends!