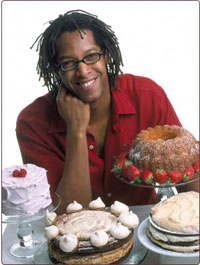 It all started in 1999, when Warren Brown began honing his baking skills by experimenting in his home kitchen. He was a full-time lawyer by day, so how did he find the time to fine tune all those cakes? Do all the trial and error that goes into getting the ingredient ratios and the temperatures just right?
By basically giving up his social life, he says, baking every night and on the weekends. He was entering his 30s at the time, the age when the bar scene starts to get a little old and the desire for different pursuits and challenges springs up.
"Life was about to get really boring unless you introduced something," Warren says. "Everyone was complaining about their quality of life."
And CakeLove was born.
Since opening the business in 2002, that initial spirit of experimentation has continued. It's fueled by a passion for staying true to the homemade and natural, in keeping with the "cakes from scratch" mantra emblazoned on the company's T-shirts. But not cutting corners on ingredients or methods, Warren says, can be a tough balancing act.
CakeLove's signature — what really sets it apart — is Warren's Italian meringue buttercream icing. When Warren tasted his creation for the first time, memories from his childhood returned. He and his sister loved to eat a certain chocolate roll cake made in a bakery outside of his hometown, Cleveland, Ohio. It was like a giant Ho Ho. His new creation was reminiscent of that icing. Warren swears it was the same kind of European buttercream — smooth and light.
The base for his Italian meringue buttercream, and the cake itself, is butter. And this is what creates an issue. The cake can't be eaten straight out of the refrigerator, because the icing would be too hard. It needs to sit for about 10 to 15 minutes to give the butter ample opportunity to soften. Warren says this is when his cakes are at their best, but that doesn't necessarily work for some of the companies CakeLove serves. Customers order instant gratification. They want to eat it now.
"I feel sorry for people who are so resistant, who don't want to wait. I know a lot of people who don't like it wham-bam," he adds with a wicked grin. It doesn't seem he's referring to the texture of the cake here.
Warren used to work as an educator in reproductive health. He says students used to ask him, 'What am I supposed to do [with] 15 minutes?' Again, he smiles.
Hmm … our imaginations are all aflutter now! Sadly, girls, Warren met the love of his life at CakeLove — and we're not talking about that buttercream. He and his lovely wife are celebrating their fourth anniversary on the day we visit. She's not into sweets, so clearly the man knows more than one way to a woman's heart.
I digress.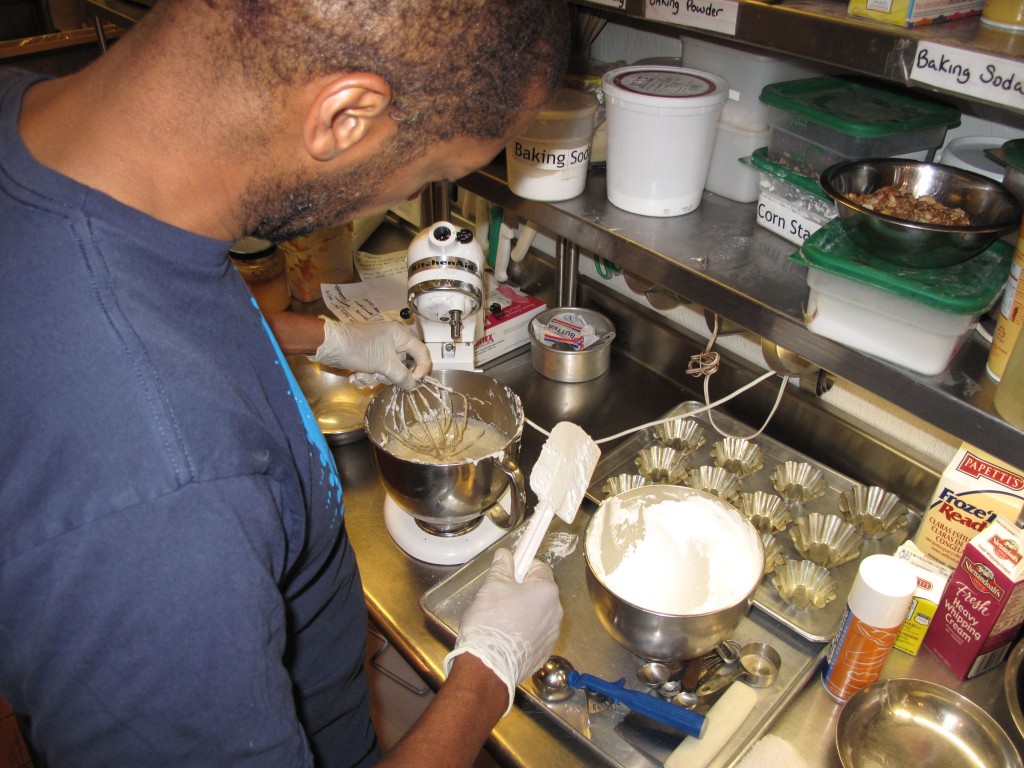 So, Warren is looking to alter his recipe into something that tastes good and has the right texture/consistency, straight from a cooler case. His personal preference is to use butter in his recipes — he says it's his "aesthetic." And he doesn't want to completely compromise by using an ingredient like Crisco. His happy medium has been experimenting with vegetable oils, which he already uses in his vegan recipes.
On the day we visited his store at the National Harbor in Maryland, he was doing some more experimentation, and asked We The Eaters to help taste test for him. Oh, drats.
As he offers us layers from his test cakes, he analyzes the cake's appearance. He's like a cake geologist — or cakeologist — inspecting the striations for clues on what he needs to tweak next.
This is natural for someone who likes chemistry and science. His dad, who passed away last year, was a pathologist. Warren watched him do his own prep work at home. This seems to have sparked his love of baking, which we see first-hand in how he measures and mixes his ingredients, and in his critical appraisal of the test cakes.
Holes in the cake, says Warren, mean the flour measurements were off. He stresses the importance of measuring by weight, not measuring cups. All flours weigh different amounts, so it's even more important when a recipe calls for something like pastry or almond flour. He experienced this first hand, measuring with cups in the early days. It's one reason why you'll find the baking recipes in his cookbook offer measures in weights. You can definitely tell the difference, he says.
"You absolutely HAVE to measure by scale," he says. "If the recipe calls for more than 2 tablespoons — use a scale!"
Warren Brown's Tips for Eaters

Scale – If measuring by weight, you must have a scale! Warren recommends a basic digital scale, nothing fancy. A little detail like an angled front is important, too. It keeps you from straining your back as you try to read it.
Adequate amount of space – This one seems too simple, but is the most important for any cook and applies in all aspects of the kitchen. Large prep bowls allow you to mix and stir without any spills. Removing any clutter from your workspace not only lets you focus on your tasks, but also gives you plenty of room to spread out.
Thermometer – Heating to a proper temperature, whether you're cooking or baking, makes a big difference. Warren recommends the Taylor Classic Candy thermometer and we saw him using it in his kitchen when making his meringue.
Hitting the right temperature –  Play with the heat during cooking. Take the food off the heat or out of the pot. Food will keep cooking when off of the heat, so timing can be key.