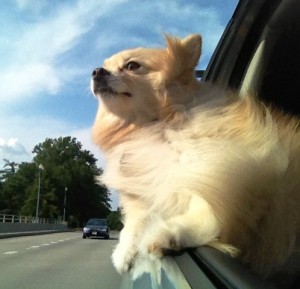 Unless you're counting my incredibly adorable and perpetual sidekick Pomeranian, Sake – I don't have kids. So when it comes to packing a lunch I would eat that would also make a half-pint smile, I was a bit perplexed.
Sure, I make a mean PB & J. But aside from rather cliché hotdogs and chicken fingers, I'm unsure what kids will put up with. And how about a little nutritional value? Even Sake eats strawberries and most vegetables, so I'd like to think I could give a kid anything, too. But that's an idea that usually draws gales of laughter from my parenting friends.
Time to call in the cavalry.
Enter Rahman "Rock" Harper, third-season winner of Fox TV's Hell's Kitchen and director of kitchen operations at D.C. Central Kitchen, where we're cooking together today. But it's his other role — perhaps his most important — that drew me here: "Chef Rock" is dad to Elijah, Leah and Jaiden — 12, 9 and 2, respectively. Oh, and he's written a book on the subject (check out a video about that, here.)
A chef with a trio of picky palates to feed? I'd say that pretty much makes him  an expert on the subject of what kids will — and won't — eat.
Three Strategies
Rock agrees. He says he's learned a lot as a father. But even he admits, with a full-time job and family life, getting his brood to eat well can be a challenge. He tackles it with a three-prong approach.
First, he says, don't ruin their taste buds. I cock my head to the side. What does that mean?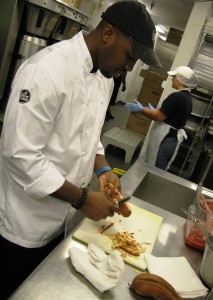 "Once they eat regular stuff — chicken fingers, spaghetti and meatballs, hotdogs — their palates are altered," Rock says, dicing sweet potato, green pepper and onions.
Flavor, he says, is what tastes good. Salt, fat and sugar all fall into that category, and when kids get accustomed to those flavors, they start to recognize and expect sodium and fats. Other things — like a simple, grilled chicken — begin to taste flavorless. Now, there's nothing wrong with crispy, or with sugar, he adds. But it should be in the context of a full, balanced meal. His suggestion: start kids young — the younger the better — and keep them eating a variety of foods.
While some parents try hiding nutrition in something tastier, Rock says that approach isn't helping anybody. Kids grow up thinking they hate cauliflower, he says, only to find you've been sneaking it into their food for years. Rock is into full disclosure.
"I'm not really a sneaky chef — I'm not like that. Tell them after they taste it and say it's good."
As he pours a Ziploc bag of bright red tomato sauce (you can try this one from WTE) into a pot on the stove, Rock says the key is to experiment, experiment, experiment. Talk about food with your kids, ask for their feedback and be open to hearing it. If you're not, they'll just throw it away and never tell you, he says.
"They're not going to like everything. You can't take it personally." But, he concedes, laughing, "It hurts. Sometimes the kids are just mean."
Chef Rock says you can turn that thumbs down around with his second strategy: Get the kids into the kitchen early — the earlier, the better. With two-year-old Jaiden, that might mean making an apple pie. Wash the apples together and offer a taste. Then sprinkle flour in their hands and give them dough to play with. Play pat-a-cake. Do this, Rock says, and the kitchen won't be so foreign when they are 4 or 5. And with kids this young, don't forget the most important ingredient: Patience.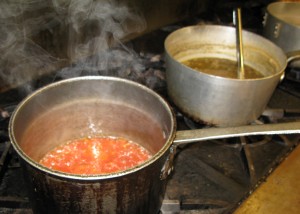 "They're going to make a mess," Rock says. "Let them have fun with the food. Food is about texture and smell."
Finding tasks for nine-year-old Leah is a bit easier than for her younger brother. And like her daddy, she loves to cook. Her reading skills are excellent, Rock says, so she can retrieve items for a recipe herself. Leah's also good at counting measures — like bringing three apples to the counter — and helping with basic prep like stirring and rolling. Rock says you can even help a child of this age use basic kitchen equipment, like a mixer, if you feel comfortable.
Rock expects a lot more out of his eldest, Elijah.
"You're talking to a chef," he jokes. "My 12-year-old should be able to debone a turkey by now!"
Rock uses his kid's strengths in the kitchen. Since Elijah likes math, he gets assigned lots of measuring. He also enjoys figuring out how to cut a recipe in half. He cracks eggs and cuts softer things with a butter knife, and, because he also likes to direct, Rock lets Elijah guide him through recipes in the kitchen.
"He's a control freak. I don't know where he gets it from," grins Rock, who admits that giving up control in the kitchen is a real challenge. "As a chef, I don't want anyone in the kitchen with me when I'm focused," he says.
What he means by anyone is anyone incompetent. And while a screaming 9-year-old isn't necessarily competent, says Rock, for the most part, the kids are really engaged when they cook. They like being able to say, 'I made this.'
On that note, Rock reveals his third tactic.  He calls it, "one of the best ideas I've come up with."
His kids make dinner.
I nearly drop my pen in the lentils he's simmering on the stove.
It's true. Both Elijah and Leah each make dinner one night a week. Leah whips up mac 'n cheese on Wednesdays, while Elijah makes spaghetti and meatballs on Sundays, Rock says, dropping a handful of pasta himself into a waiting pot of boiling water. That makes two meals and two nights of leftovers. Add in the family's "breakfast for dinner" night, and he's only cooking two nights a week.
Even a childless person can recognize brilliance when they hear it.
Rock ladles some lentils out of the pot, drains them, and puts them in the fridge to cool slightly. Then it's back to the sauce simmering on the stove.  For added nutrition, Rock has added those diced sweet potatoes, onions and green peppers to the pot, and the smell of the steaming sauce is beginning to make my taste buds do cartwheels. Rock explains that he'll puree it all later, since unrecognizable chunks can mean mutiny in his household. "Down goes Daddy," he laughs.
Making Lunch Fun
As he expertly rolls his lentil concoction into small spheres, Rock offers more ideas for building good kids' lunches.
Include small components, Rock says, so kids can mix and match. Think homemade Lunchables: Pack small pita chips you toast yourself — or whole wheat crackers if time is tight — with a good quality cheese and meat. Chips and dip. Do-it-yourself sandwich wraps.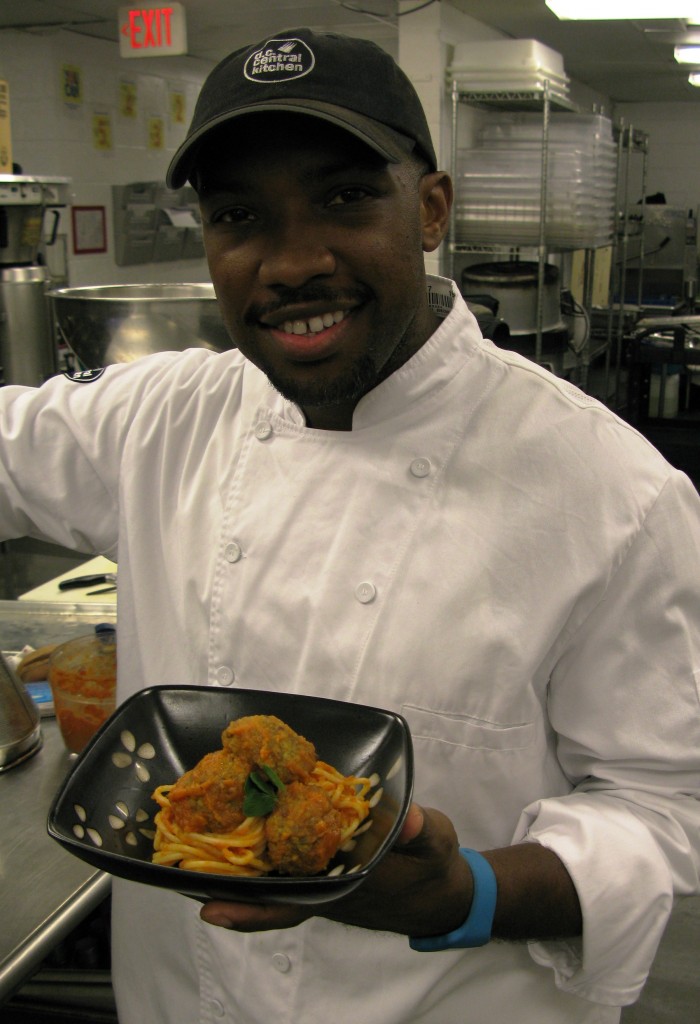 Rock pulls his now-beautifully browned lentil meatballs from the oven and offers me a delicious bite. 
You want to make kids' lunches fun, he says. Crudite doesn't necessarily fit in the "fun" category, but if you create fun shapes with a cookie cutter, it can. I mean, who doesn't like crispy little shoestring carrots or cheddar in the shape of a star?
Too often, adults don't think creatively, Rock says. "We're sticks in the mud. [But] kids have fun with their food."
He also suggests using fun names, like "Leah's Cheesy Meatballs." (Makes total sense — "Lentil Meatballs" doesn't sound particularly yummy to me, either.) Make "Carrot Coins" with carrots to dip in hummus, or "Ninjago Nuggets" with baked chicken tenders you bread with panko crumbs.
But, Rock warns, don't surprise the kids at lunchtime or you are going to lose. Test the new eats out beforehand.
If they still want chicken fingers and pizza, Rock says, educate them on what will happen if they eat that all the time. Then challenge them to work together with you to come up with a healthier, tasty version.
"You gotta give them what they like," he says. But, he adds, what they want, and what you want them to eat, can meet halfway. Wheat bread or a mini pita with some homemade sauce (or a nutritious, store-bought version), and a flavorful, healthy cheese, can put a smile on both of your faces, he says.
Believe me … these lentils put a smile on mine. Adult-tested, kid-approved? Let us know, and try a few more recipes from Chef Rock below.
Many thanks to the DCCK team, and especially Chef Rock, for inviting We The Eaters into your kitchen. We are so grateful to Rock for sharing the recipes below with our readers. You can find his book — 44 Things Parents Should Know About Healthy Cooking for Kids — here.

Chef Rock's Lentil Meatballs with Spaghetti & Tomato Sauce

Serves 8

2 cups lentils
1/4 cup plus 2 tablespoons olive oil
1 large onion, chopped
2 carrots, chopped
2 celery stalks, chopped
1 garlic clove, minced
1 tablespoon chopped fresh thyme
2 teaspoons salt
3 large eggs
1/2 cup grated Parmesan cheese
1/2 cup bread crumbs
1/2 cup chopped fresh parsley
Cooked spaghetti
2 cups tomato sauce


Combine the lentils, a pinch each of salt and pepper, and 2 quarts water in a pot and bring to a boil over high heat. Reduce heat to low and simmer until the lentils are soft, about 30 minutes. Drain the lentils and allow to cool.

Add 1/4 cup of the olive oil to a large frying pan and sauté the onions, carrots, celery, garlic, thyme and salt over medium-high heat, stirring frequently, for about 10 minutes, until the vegetables are tender and just beginning to brown. Transfer the mixture to a large bowl and allow to cool to room temperature. When cool, add the lentils to the vegetable mixture.

Add the eggs, Parmesan, bread crumbs and parsley to the cooled vegetable mixture and mix by hand until thoroughly incorporated. Place in the refrigerator for 25 minutes.

Preheat the oven to 400°F.

Drizzle the remaining 2 tablespoons olive oil into a 9×13-inch baking dish and use your hand to evenly coat the entire surface. Set aside.

Roll the mixture into round, golf ball-size meatballs (about 1 1/2 inches), making sure to pack the vegetable mixture firmly. Place the balls in the prepared baking dish, allowing 1/4-inch of space between them. Place in even rows vertically and horizontally to form a grid.

Roast for 30 minutes, or until the meatballs are firm and cooked through.

Allow the meatballs to rest for 5 minutes in the baking dish before serving with your favorite pasta and sauce.


Chef Rock's Chocolate Milk Mix

1/2 cup cocoa powder
1/2 to 3/4 cup sweetener (agave nectar, turbinado sugar, honey, sugar cane juice, brown rice syrup)
1 cup water

Mix all ingredients, boil for a minute and cool. Add to milk and that's it!

Chef Rock's Homemade Applesauce

4 pounds peeled, cored and quartered apples.
4 strips lemon peel — use a vegetable peeler to strip 4 lengths
Juice of one lemon (about 3-4 tablespoons)
1 teaspoon cinnamon
1/4 cup dark brown sugar, packed *ONLY if you have apples that aren't sweet!*
1/2 cup water
1/2 teaspoon salt

Put all ingredients into a large pot. Cover and bring to boil. Lower heat and simmer for 20 to 30 minutes.

Remove from heat. Remove cinnamon sticks and lemon peel. Mash with potato masher or run through a food mill.

Ready to serve hot or you can chill and enjoy later.


Recipes for chocolate milk and applesauce from Chef Rock's book, 44 Things Parents Should Know About Healthy Cooking for Kids, reprinted here with his permission.