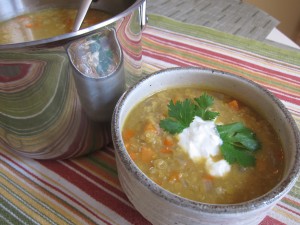 There's no way around it: There's nothing sexy about leftovers. But as any frugal food lover knows, they're an excellent way to stretch your lunch dollar.
I almost always cook more food than I need for a given meal, just to squeeze an office lunch or two out of it. On lazy weekends, I often cook two big meals at once: one for dinner that night, the other for lunch and/or dinner later in the week. And I always feel a wee bit disappointed when I leave a restaurant without a doggie bag. Though my servers may disagree, even a few bites of something delicious are well worth taking home.
Given my penchant for salvaging foods, creating a leftovers-related post for our "Lunch Box" series seemed simple enough. Still, I floundered a bit when it came time to actually come up with something. While repacking the last portions of a meal may be savvy, it's not particularly groundbreaking. But transforming scraps into something new? That's a serious challenge for a home cook!
After much mulling, I remembered a friend's delicious lentil soup recipe, shared a few years ago as we tried to recover from a gluttonous trip to Istanbul (there were no leftovers on that trip — we absolutely stuffed ourselves at each meal). The soup is wonderful as-is, and freezes brilliantly for a simple leftover meal in its own right. But it also lends itself to some entirely new, office-friendly, iterations.
I'm always on the lookout for good snacks to help get me through the work day. If I don't have something relatively healthy on hand when I want to munch on something salty, it can be hard to resist the lure of the vending machine. Granted, the sweet potato corn chips on offer aren't a bad choice, but they're also right next to those oh-so-delicious (and not exactly health-conscious) Doritos. But when I plan ahead and pack myself an easy work snack, that pesky machine down the hall doesn't even cross my mind.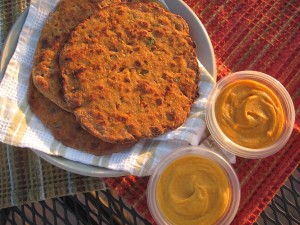 So this week, I offer you four recipes. The first, a wonderful red lentil soup. With a recipe that yields approximately 7 cups, you'll have plenty left to try the recipes included below:  two different hummus options and dal parathas (Indian lentil flatbreads). The parathas are perfect for eating with the soup or hummus, but are also great served with plain yogurt. Or, if you're really lucky, eaten with that to-go box of chicken tikka masala you brought home last night. 
Finally, before the recipes, a few tips for making the most of your leftovers:
Take advantage of your freezer. When colleagues see me eating leftovers for lunch, they

 

sometimes say they get tired of eating the same thing for days on end. But if you start freezing your leftovers at home in serving-sized containers, you'll be able to mix it up from day-to-day in no time.
Restaurant leftovers are great for re-purposing. Even a small piece of a well-prepared meat can make for delicious fried rice (

made even e

asier if you happen to have some leftover rice, as well). I once ordered a slightly-seared beef dish at an Ethiopian restaurant that was far too rare for my taste. I didn't eat it, but I 

took

it home, where I cooked it (fully!) into a delicious curry.
And speaking of fried rice, it's a classic way to make even the smallest leftover tidbits go a long way. You can throw in just about anything — cooked veggies or meats, those last bits of fresh herbs and scallions — as long as it's chopped up small

.

 Toss in some soy sauce and any other Asian seasoning you like, and you're well on your way to another meal.
Rubina's Lentil Soup 

1 1/2 cup red lentils, washed and soaked for 30 minutes
1 cup diced onions
2 tablespoons butter
3 cloves garlic, finely chopped
1 tablespoon ground cumin (or more to taste)
1 tablespoon paprika
Salt & pepper to taste
5 cups vegetable or chicken broth
1 cup diced sweet potato
1 cup finely chopped carrots
Yogurt, for serving
2 tablespoons chopped parsley or cilantro, for serving

Saute onions in butter. Add garlic and saute a little more, but be careful not to burn the garlic. Add cumin, paprika, salt and pepper.

Add stock, lentils and veggies. Bring to a boil and reduce heat to simmer. Cover with a lid just slightly off and cook for about 35 minutes, until the lentils are tender.

Adjust seasonings and top with your herbs and yogurt. Makes about 7 cups of soup.

Leftover Red Lentil Hummus

1 cup leftover lentil soup, drained with a sieve (reserve liquid*)
1 clove of garlic, chopped, or to taste
1 tablespoon almond butter (leftover from figgy AB&Js!) or tahini
Juice from half a lemon (about 2 tablespoons), or to taste
2 tablespoons olive oil
Salt and pepper, to taste

Blend all ingredients in a blender or food processor until smooth, adjusting drained lentils and liquids for thickness and taste. That's it! This makes just over 1 cup, but if you're willing to sacrifice more of your soup, it doubles easily (just go easy on the garlic.)

*Pour the strained liquid back into your soup pot or use to adjust the thickness of the hummus — it's too flavorful to throw out!

Leftover Red Lentil Chipotle Hummus

1 cup leftover lentil soup, drained with a sieve (reserve liquid*)
1 clove of garlic, chopped (or to taste)
1 tablespoon almond butter (leftover from figgy AB&Js!) or tahini
1 teaspoon ground cumin, or to taste
Juice from half a lemon or lime (about 2 tablespoons, or to taste)
2 tablespoons olive oil
Chipotle pepper, chopped, and adobo sauce, to taste (I used about 2 teaspoons, but preferences vary wildly)
Salt and pepper, to taste

Blend all ingredients in a blender or food processor until smooth, adjusting drained lentils and liquids for thickness and taste. The recipe makes just more than 1 cup, but doubles easily (just go easy on the garlic).

*Pour the strained liquid back into your soup pot or use to adjust the thickness of the hummus — it's too flavorful to throw out!

Leftover Dal Parathas
Adapted from Shumaila at Bon Appetit (not the magazine).

1 cup lentil soup, drained (reserve liquid*)
1 cup whole wheat flour plus 2 tablespoons whole wheat pastry flour (or regular whole wheat flour, if you don't have the pastry variety)
½ teaspoon cumin seeds
2 tablespoons cilantro, chopped
¼ cup finely chopped onion
1 teaspoon thyme leaves or ajwain seeds (optional)
1 to 2 teaspoons finely chopped ginger
1 to 2 teaspoons finely chopped fresh pepper of your choice
2 tablespoons butter or ghee, melted

Mix all the ingredients but butter or ghee into a smooth dough. This is easiest with your hands. Add more flour or drained lentils (or their liquid) to get a consistency that holds together and can be rolled out. Refrigerate for about 15 minutes or so to firm it up.

Roll the dough into a ball just a bit larger than a golf ball. Flatten slightly with your hands, and then roll it out to about one-quarter inch thick on a floured countertop, spinning it one quarter-turn with each roll to keep it even.

Brush the paratha with melted butter or ghee, fold it back in on itself, reshape into a ball and then roll out again (don't forget to keep flouring your work surface).

Cook in a medium-hot skillet until its nicely browned on one side. Brush the top with melted butter, then flip. Cook until the other side looks nicely done.

Repeat! You should have enough to make about four parathas. These are quite firm flatbreads — don't expect to roll them like tortillas. You can tear the parathas or cut into wedges for dipping in your hummus, yogurt, soup or whatever else strikes your fancy.

*Pour the strained liquid back into your soup pot or use to adjust the paratha dough