Chimichurri. It's a word I can barely pronounce, let alone spell. But, oh Eaters, do I thank my lucky stars the day I was first introduced to this luscious Argentinian sauce.
It's easy to make. It is easy to swap ingredients. It easily goes on just about any dish, from topping a grilled skirt steak, to an egg breakfast burrito. Or marinate chicken and pork in it. Or dip chips in it. Or toss fresh veggies in it to roast or grill. I love this stuff.
Since we are talking about how to get more fresh herbs in your diet, this was one of two recipes that are fresh herb-chocked staples in my kitchen that I had to pull out. (Don't worry — I'll be back again next week to talk about this other nut and herb topping you can throw on fish, or chicken, or whatever…)
The recipe I use from Allrecipes.com includes loads of fresh parsley and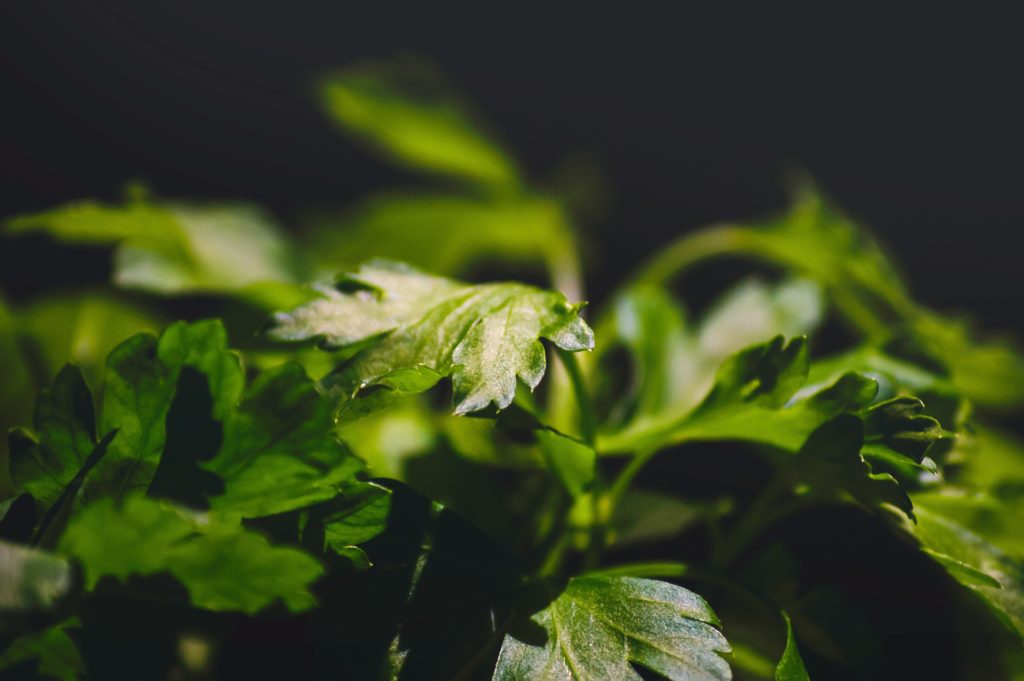 oregano. Parsley is full of vitamins A, B6, B12, K, C and E, as well as plenty of calcium, magnesium, iron, and zinc. This is not an inclusive list. The point is, Parsley is really, really good for you. It can help control cancer and diabetes. It is a great way to relieve gastrointestinal issues. And all that zinc aids in bolstering the immune system.
Then there's the oregano, which also has cancer-fighting effects and is an antioxidant that helps support your immune system. Plus, it has antifungal, anti-inflammatory and antibacterial qualities. Or you can just use it to fight upper respiratory infections.
As if that were not enough, I added  cilantro to my version. Because I like cilantro. A lot, actually. And for good reason: It contains a bunch of dietary fiber, which may help to reduce LDL, commonly referred to as "bad cholesterol", levels in the blood. Oh yeah, and it also cleanses the body of toxic metals. So there's that.
Our point this month is really that herbs don't need to just be the garnish on your dish. They can be the foundation for making the dish really sing. The pièce de résistance, as this chimichurri recipe really, truly is.
Roasted Red Pepper Chimichurri

INGREDIENTS:

Salmuera:
3 tablespoons kosher salt
1 cup warm water

Sauce:
1 bunch Italian Flat Leaf Parsley
8 large cloves garlic
1 cup extra-virgin olive oil (light in flavor)
1 cup roasted red peppers (packed in water)
2 tablespoons smoked paprika
4 tablespoons fresh oregano
1 teaspoon crushed red pepper
1 teaspoon fresh ground black pepper
1 teaspoon cumin
½ cup distilled white vinegar
2 tablespoons red wine vinegar

METHOD:

Make salmuera by dissolve the kosher salt in warm water and set aside to cool. and warm water until the salt dissolves, set aside and allow to cool to room temperature.

Carefully clean all herbs. I find this is easiest by dunking upside down in cold water, changing water until no grit is left in the bowl. Allow to dry fully on paper towels.

Remove most of the stems from the parsley and cilantro. I use the tops from where the leaves begin on the stem and discard the rest. Pulse these with garlic and olive oil in a food processor until chopped.

Drain, roughly chop and add the roasted red peppers along with the paprika, oregano leaves (remove all stems), crushed red pepper, black pepper, cumin, white vinegar and red wine vinegar. Continue to pulse the food processor until the ingredients are combined, but remain slightly chunky.

Scrape the sauce into a large mixing bowl. Stir in about ¼ to ½ cup of the cooled salmuera. Continue to add until the sauce is smooth, but not runny. I used about ½ cup total. It may taste salty at first, but it will mellow.

Cover and refrigerate for 2 hours. Chimichurri sauce can be kept refrigerated in an airtight container for two weeks.
Save
Save