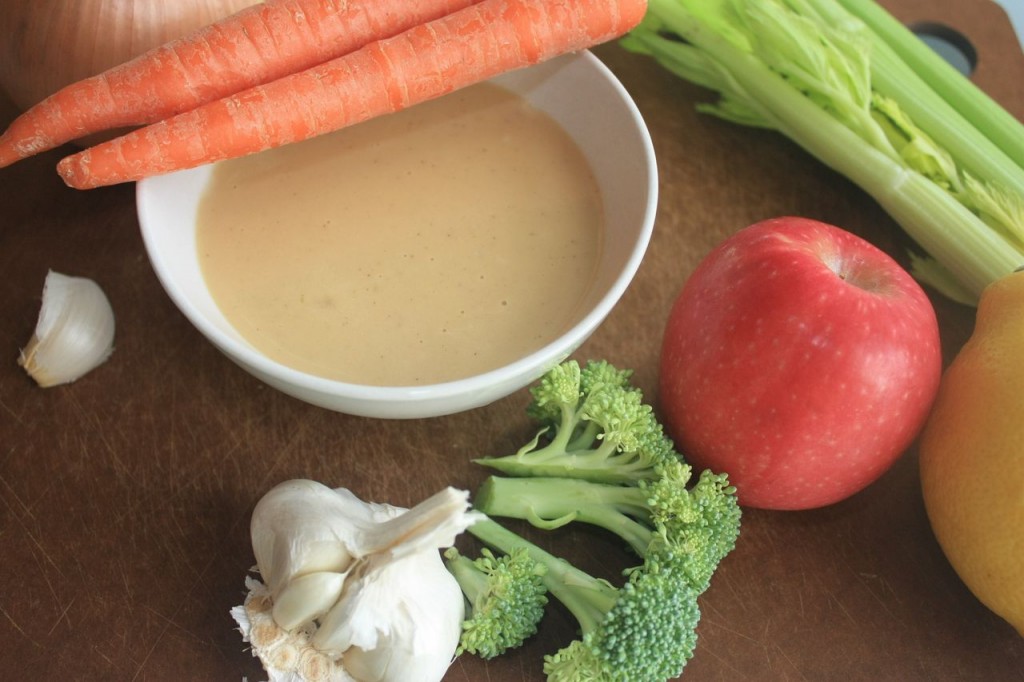 Spring may be an opportunity to clean house, but you can take it beyond dusting shelves and organizing closets to freshen up your eating habits too. Eating fresh vegetables and fruits isn't just a tasty idea.  The USDA's Dietary Guidelines for Americans suggest that all Americans should boost their intake of fruits and vegetables (and not only in springtime). Studies show that a raw food diet —  and thus vegetarians and vegans (no meat, dairy or eggs) — can lower incidences of heart disease and cancer, as well as the risk of obesity and diabetes.
A Spunk-Infused Spring Dipper
As soon as the earliest hints of spring arrive, you won't find me indoors much, which means less time spent cooking (a.k.a. warming myself by our oven, stove or toaster.) More sunshine – and, admittedly, rain – inspires my return to the fresh juicy foods I love. These are foods that are easy to eat outdoors, with feet in the not-quite-warm-enough-yet grass. It's picnic season.
One great recipe for spring is a savory dip-and-vegetable combo with a tahini-based sauce called John Robbins Dressing. It's a bright, full-flavored dunking sauce that coats the ends of carrot sticks and celery spears with tastes reminiscent of the fading winter (maple syrup, tahini and soy), but bursts out the front door and into the fresh air with hand-squeezed lemon juice, sharp garlic and smooth olive oil.
And since I've planted the picnicking seed — it's also easy to take this dressing along with you. The spunky, thick maple-tinted dip easily knocks ranch dressing or that tired, gloppy chive-soaked-dill-mash-up stuff out of the picture.
John Robbin's Dressing

Adapted from the Community Farm of Ann Arbor Cookbook, created by the members of the Community Farm Of Ann Arbor

This recipe is vegan, gluten-free, raw … and tasty.

Dressing ingredients:

2/3 cup tahini
2 tablespoons soy sauce or Braggs Liquid Aminos
2 tablespoons maple syrup
Juice from 1 fresh lemon, squeezed, or substitute about 1/3 cup lemon or lime juice
2 cloves fresh garlic, pressed
1 tablespoon yellow onion, chopped
1/3 cup oil of your choice, like olive or canola oil
1/4 to1/3 cup water (use to mellow out the flavor or thin dip)

Suggested dipping ingredients:

4 carrots, sliced in thirds
4 stalks celery, halved length-wise
1 head raw broccoli, cut into bite size pieces
OR … grab a baguette (perfect for your picnic basket). Slice and layer with halved cherry tomatoes halved, fresh basil (one leaf on each slice of baguette) and drizzle John Robbins Dressing over each slice for a tasty hors d'oeuvre.

Toss all the ingredients into the blender until well mixed. You may need to stop once or twice, mixing it up with a good wooden spoon, to make sure the tahini isn't too thick at the bottom. Once blended, pour into a small bowl or mug and dip your chopped bite-size veggies a mouthful at a time. Or, pack up John Robbins Dressing into an old peanut butter jar, seal the lid tightly and take it on-the-go. (If this recipe is stored in the fridge, you may want to add 1/4 cup of water the second day and shake it up – it thickens at it sits!)
Enjoy the fresh air!
Additional resources:
Supertracker.usda.gov is a government-created online tool to help you start thinking about and tracking your food intake and exercise efforts and how they balance out.
Additional vegetable and fruit recipes that turn out reliably delicious can be found in the cookbook Veganomicon (this Eater's personal favorite!)
Save
Save
Save