You say flavored, I say compound. To-may-to, to-mah-to. Po-tay-to,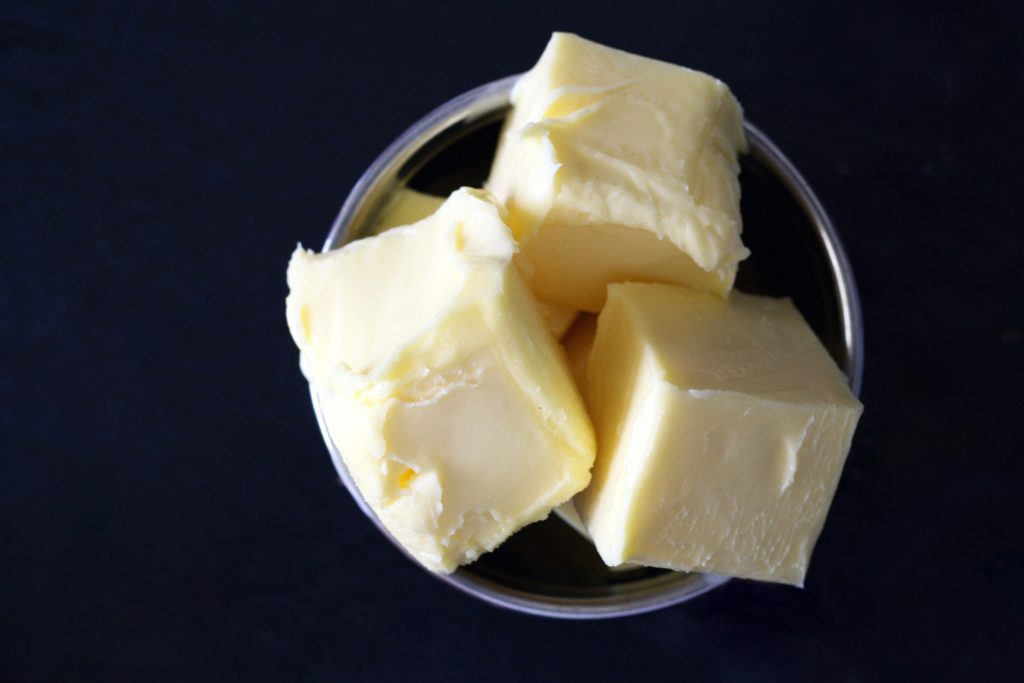 Po-tah-to.
Do yourself a favor: Don't call this one off.
There's something completely magical about flavored butter that can elevate a dish in a subtle but magnificent way. Take a hot-out-of-the-oven dinner roll. So delicious! Now add honey butter. Grill the best steak money can buy. Add garlic butter. Top your fluffy Sunday morning pancakes with cinnamon-maple butter.
<Writer sighs hungrily.>
It perfects perfection.
So now that you know how to make your own butter after reading last week's post, why on earth would you stop there?
The answer is you don't. And the best part about it? With all the amazing flavor combinations, it's really just another excuse to play with your food. But don't be daunted if you are not the creative type. There's just as many articles out there with all kinds of suggestions across the sweet and savory spectrum.
Try She Knows, for example. I'm dying to try the Citrus Tarragon butter on a light, flaky fish en papillote. I'm completely obsessed with Food52, who has a feature on spring compound butter flavors that inspired my recipe below. And I dare you to try not to fall too deeply into the Pinterest hole. Plus, you've got The Pioneer Woman, who starts off strong with a Smoked Paprika & Rosemary Butter to saute shrimp in, but also offers tips on swapping butter for flavored coconut oil for the dairy adverse and lactose-intolerant.
In fact, like the coconut oil tip, you can learn a lot and pick up great techniques from reviewing different blogs or recipes. Take Alton Brown's recipe for herb compound butter on the Food Network's website suggests flavoring oil and then adding it to the butter. One of my favorite bloggers, Katie from Wellness Mama, suggests olive oil, too — but for a different reason. She says it makes the butter more spreadable.
It is creative. There are endless flavor combinations. You can have it for breakfast. Or lunch. Or dinner. It can make the dish (I refer you back to my aforementioned steak comment above), or quite literally BE the dish (think al dente pasta, naked save for an intensely flavored compound.) Plus, it makes a great gift for any occasion. Which is super easy to make. Did I mention it makes your food delicious?
Really…
What are you waiting for?
Fresh Sage & Garlic Butter

This is great with chicken or vegetable dishes, or for pasta with a little Parmesan cheese. Or try cooking eggs with it for breakfast. I kept it super simple here so you could swap in your own herbs, or try adding lemon zest and a little juice in place of the other liquid ingredients in the recipe. Have fun experimenting!

1 pound unsalted butter (homemade is always preferred, but not necessary if you are in a jam)
2 tablespoons heavy cream or light olive oil
2 tablespoons fresh sage, finely chopped
2-4 cloves garlic, finely minced
1 pinch sea salt

Allow butter to come to room temperature.

Place butter in a food processor or the bowl of your stand mixer using the spatula attachment and whip until fluffy, about five to seven minutes. Add the oil or cream, whipping a few minutes more. If using a food processor, transfer to a bowl, or remove the bowl from the mixer.

Scrape the garlic clove against your cutting board to release oils and form a paste. Use more or less depending on your preference (we love garlic!) Add that along with the sage to the bowl and fold in gently with a spatula.

Spoon gently onto parchment paper and roll into a log using the edge of your cutting board or a baking sheet until tight.

Chill for two hours prior to serving.
Save
Save