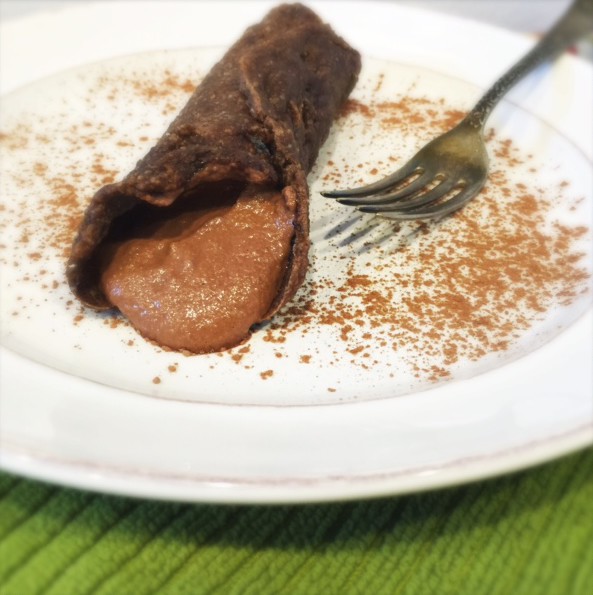 I'm sure many of you are thinking "why in the world is he writing for WTE's raw dessert month"? It's funny, because I was thinking the same thing. If you recall the prior story of my adventures in raw cooking, I was able to nail the mains – but my dessert was a green sea of infamy.
Nonetheless, with surprising faith my Favorite Foodie asked me to bat cleanup for raw dessert month. After overcoming several sleeplessness nights of raw-food fretting over this task, I decided to take things back to the Italian side of my cooking roots and replicate one of my all-time favorite desserts, a cannoli.
Don't get me wrong: I didn't have aspirations of one-upping the delicious pastry filled with chocolate chip enhanced cream assuming it would be impossible to recreate the shell in a raw medium. I was shooting for sweet and tasty…and not green.
I found this recipe at The Rawtarian and it sure sounded achievable. Of course, if I'd really read it, I might have chosen a different path due to my innate fear of dehydrators.
I'll admit to freestyling a little, adding a little extra cocoa and maple syrup for sweetness. Also, I realized my understanding of macadamia creme was extraordinarily lacking, so I referenced a recipe at Forks And Beans to help me figure out that I'd need to soak the nuts for a while, drain them and then include some water when I blended it together with the sweet ingredients. And the cream. Tastes. Great.
That shell I was worried about? Yeah…the dehydrator is not my friend.
When questioned by my far-more-raw-food-knowledgeable spouse about the shells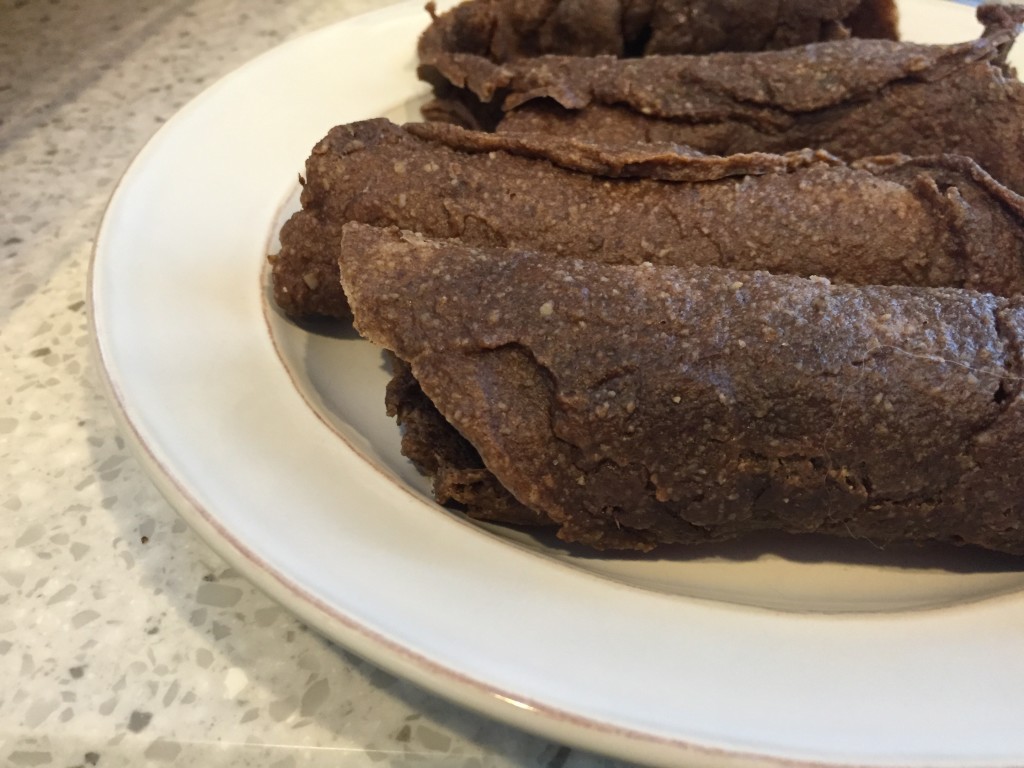 taking a long time I said, flipply, "Nah! It says about an hour before I roll them and then 3 more to finish them in the recipe." Right. Sure.
I also figured I'd reduce the moisture by adding more walnuts and flax. The best laid plans.
I had those suckers in the dehydrator for several hours (3 to be exact) before I ran out of daylight (and energy to stay awake), so I stuck 'em in the fridge and started it back up the next day. After about an hour and fifteen minutes at a higher-than-suggested dehydration temp, I had the shells at a consistency to roll them. I rolled foil into tubes and wrapped the shells around it to help them keep from collapsing. Add another 3 hours and I decided it was time to eat them.
Hopefully, my mom and cousins running DiMare Pastry shop aren't feeling pangs of distress!
The filling was the saving grace for sure.The outer shell had more of a nut-and-fruit-rollup texture – which surprisingly did not taste as bad as it sounds. It was almost crunchy but it definitely didn't provide that delicious, crunchy shell you'd get with a cannoli out of the North End of Boston.
The real win was that nothing had a green hue, so my second attempt at a raw dessert was far more successful than my previous pistachio disaster.
Not My Mom's Cannoli
I based my recipe on the Rawtarian's Holy Cannoli recipe. I was heavy handed with the cocoa and maple syrup as well as upping the cinnamon, walnuts and salt. I also referenced a Forks And Beans recipe to help make the macadamia cream.

1 cup macadamia creme
2 tablespoons cocoa powder
2 tablespoons maple syrup
2 large bananas
3/4 cup walnuts
1 tablespoon ground flax
2 teaspoons cinnamon
Pinch of salt

Make the macadamia creme by, first, soaking 1 cup of macadamia nuts in
room temperature water for 3o minutes. Drain and add to food processor with 1/4 cup of filtered water. Add the cocoa and maple syrup to the food processor as well. Blend for 5 minutes until it forms a smooth cream. Transfer cream into a small Ziploc or plastic bag and place in the fridge. Later, we'll cut the corner of the bag and use that to pipe the cream into the shell.

Clean out your food processor and add the bananas, walnuts, flax, cinnamon and salt. Pulse and blend until mixed into a batter. Form 4 equal and thin (really thin!) pancakes. I used a spatula to spread the batter out, but mine could have been thinner (probably resulting in my shells taking forever in the dehydrator). Place them in the dehydrator set to 110 for an hour – or until the shells are firm and pliable so you can roll them into a tube. Depending on how cooperative your dehydrator is, you might increase the temp a bit.

Once you are able to roll them, keep an eye on them to make sure they do not collapse and leave them in the dehydrator for another 3 hours. Again, this is more a process of monitoring doneness versus a set time.

Cut a corner off the plastic bag with your macadamia filling and pipe the cream into the shells. Sprinkle with cinnamon and cocoa and serve.