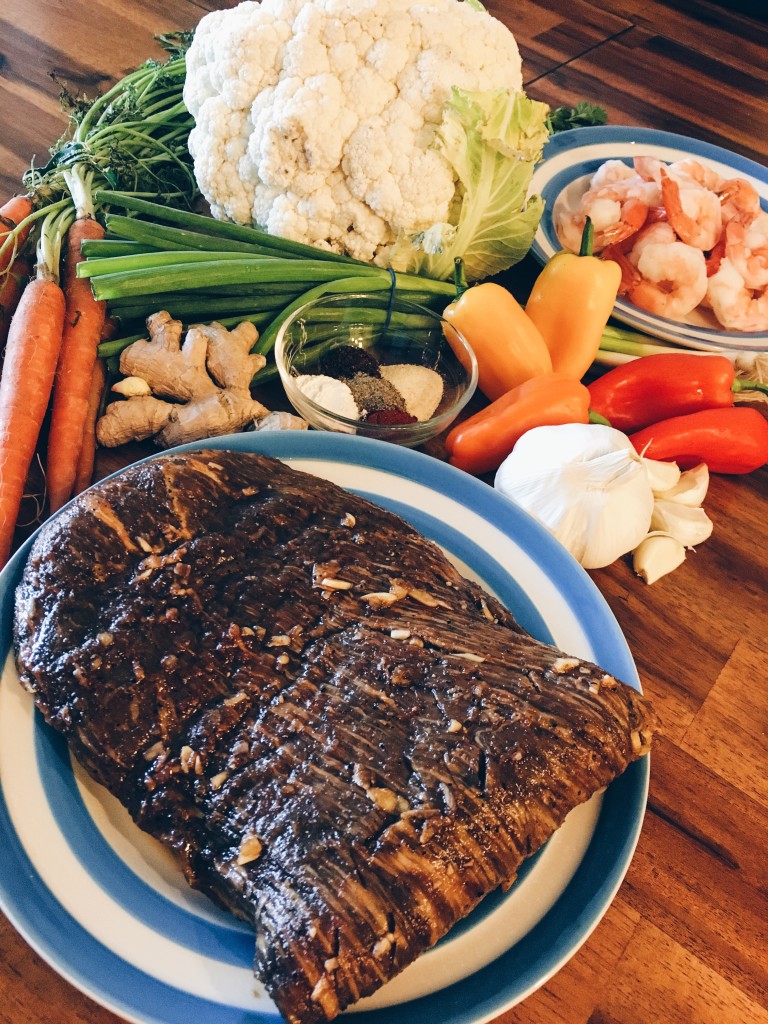 Dictionary.com defines brunch as a meal that serves as both breakfast and lunch. The thing is, I'm not much of a breakfast guy. Before Whole30, I almost never ate it except for the occasional pouch of maple sugar flavored instant oatmeal once I got to the office.
If you're going to force me to eat breakfast routinely, it had better be something more substantial than eggs. In fact, why stop there? Do eggs need to be the focus of my meal just because the clock happens to read AM? How about dinner for brunch? Drunch? A quick Google search tells me that drunch is already in use for "drunk brunch". Since alcohol is a no-no during Whole30, we'll keep it family friendly. Dibreakfunch? No search results. I'm sure it'll catch on.
While on Whole30, the one food genre I missed most was Asian. For the old me, hardly a week went by when I wasn't ordering takeout from one of DC's many Chinese restaurants or feasting on all-you-can-eat Korean BBQ. In particular, I sorely missed PF Chang's Mongolian Beef. I longed for those salty sweet soy-soaked crispy morsels of wonderful. Unfortunately the dish has just as much brown sugar as you'd put in an entire batch of chocolate chip cookies.
And then it happened…completely by accident.
Somewhere around week 3 of the diet, my wife and I failed to meal plan. Huge mistake! No longer can you throw a couple chicken breasts in a pan of Rice-a-Roni, or crack open the all-too-familiar blue box of mac 'n cheese. Scrambling, I opened the fridge and began digging through it. I had the makings of a salad, but that wasn't going to tame the ravenous hangry beast that was rapidly emerging. I needed protein. Get out of the way, eggs! Move over chicken and apple sausage! And then, there it was, nestled deep in the back corner. I had been marinating strips of steak with the intention of turning them into beef jerky and had completely forgotten about their existence! The meat sat in the fridge for nearly a week, absorbing a bath of coconut aminos, crushed garlic, and peppery spices.
Since soy is off the menu, I purchased the coconut aminos after reading that it was a soy sauce substitute. I tasted it when it first arrived and thought it too sweet to be a true replacement. So it sat in the pantry until I found a recipe for beef jerky that called for soy sauce, so I figured, why not? I love beef jerky. What else am I going to do with this stuff?
I tossed the steak strips in a frying pan and they were good. No, better than good. Delicious! It was the Asian flavor I had been missing and it didn't taste overly sweet. So I started thinking: this could be my answer to Whole30 Mongolian Beef!
The key to knocking this out of the park with a punch of flavor is marinating time. Overnight won't do it. I'd recommend 3 days or more,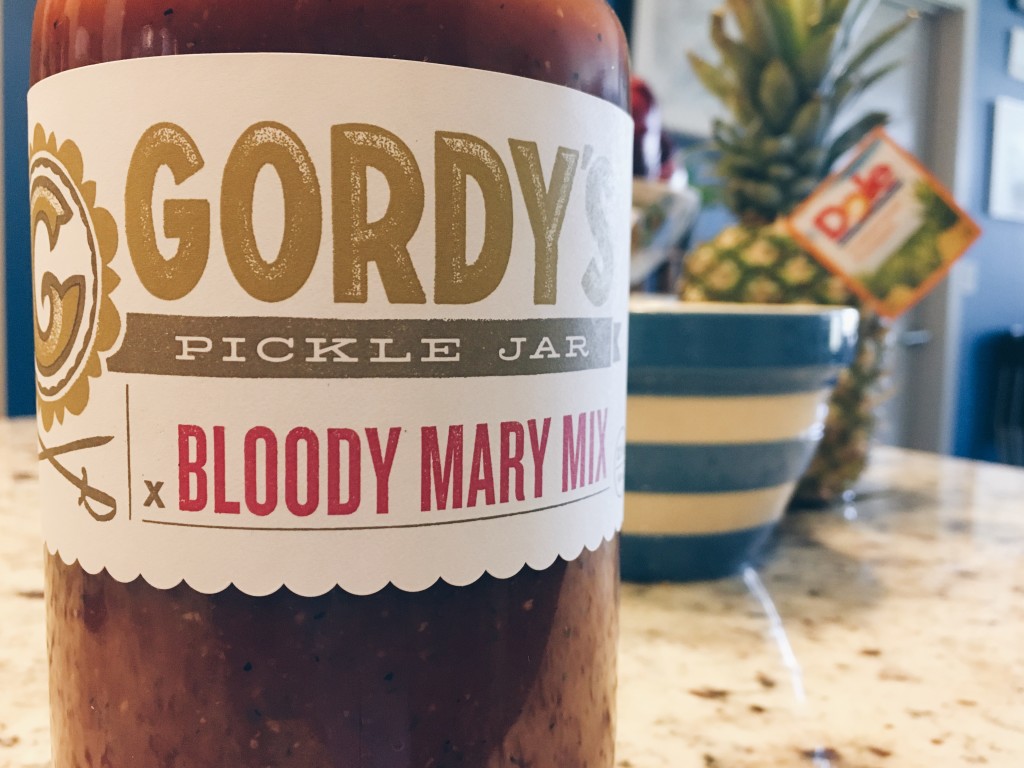 allowing the meat to truly soak up the marinade. It might be a hassle, but I promise you it'll be well worth the wait. The steak will absorb the liquid and spices, and become a rich brown color. Add garlic shrimp and seasoned cauliflower rice, and this surf and turf dish is sure to help you forget how much you're missing takeout Chinese during your Whole30 journey. No sugar needed!
And to wrap it up in a bow, brunch isn't brunch unless there's a Bloody Mary in my hand. And just because you can't add any alcohol doesn't mean it's not worth having. DC based Gordy's Pickle Jar has created a great Bloody Mary mix using their pickle brine. Take one cup of their mix and cut it with a cup of your favorite Whole30 approved vegetable juice. Gordy's pickle brine brings a little extra zip to the party, and just the right amount of heat.
And there you have it. Dibreakfunch.
Surf & Turf Dibreakfunch

Bloody Mary
1 bottle of Gordy's Bloody Mary Mix
1 bottle of any Whole30 approved vegetable juice.
Prepared horseradish

This really should be the first step. It makes getting through the rest a little easier. Whole Foods has a Whole30 approved spicy veggie juice that's very good. Depending on how spicy you like things, you can even add some prepared horseradish. I like a little chew to my Bloody Mary the way some people like pulp in orange juice, so I add almost a tablespoon.

Fill the glass with ice, add in half a glass of the mix, finish with the vegetable juice, add in the horseradish, and stir until combined. Now you're ready to cook!

For the Turf:
1 Flank Steak (1-2lbs)
1/2 cup coconut aminos
5 cloves of garlic, smashed and roughly chopped
1 teaspoon chili powder
1 teaspoon onion powder
1 teaspoon smoked paprika
1 teaspoon salt
1/2 teaspoon black pepper
1/4 teaspoon cayenne pepper

Using a chef's knife, poke the steak, front and back to allow the marinade to full absorb. Salt and pepper the steak, then press it in with your hands. Add the rest of the ingredients to a bowl and whisk together. Pour over meat and seal in the refrigerator for 3-5 days – the longer, the better. The meat will become a rich dark brown color. You can even press some of the garlic into the slits.

I prefer to grill flank steak, though you can always do it on a cast iron skillet or in a regular frying pan. Fire always tastes better in my opinion. Get the grill really hot, 500-600 degrees, and let it sit for a bit, so the grill rack gets nice and hot. When it's ready, throw the steak on for 45 seconds, rotate it a quarter turn and let it go for another 45 seconds. Flip and repeat; you'll come out with a nice medium rare steak.

For the Surf:

1/2 pound of cooked shrimp
2 cloves of garlic, minced
2 tablespoons of coconut aminos
1 tablespoon coconut oil

Heat the oil in a pan over medium high heat. Add the garlic and stir for 30 seconds to a minute. Throw in the shrimp and let it warm. It's already cooked, so we're just looking to warm it through. After a minute or so, add in the coconut aminos, and let it warm.

For the Cauliflower Rice:
1 small head Cauliflower
1 tablespoon coconut oil
1 egg
1/4 cup diced sweet peppers
1/4 c Diced Carrots
1 teaspoon grated ginger
1 bunch of green onion, chopped
3 tablespoons coconut aminos
1 teaspoon chili powder
1 teaspoon smoked paprika
1/2 teaspoon black pepper

Break up the cauliflower and add it in batches to the food processor. A small head will probably take 4 batches. You don't want to overcrowd, otherwise it won't process well and you'll end up with some big pieces. Just pulse the machine a handful of times and check the consistency. You want it to be rice-sized, but try not to overdo it. You'll end up with mush.

Put your pan over medium high heat and let it warm for a half a minute. Add the coconut oil. Once the oil is ready to go, add the garlic and ginger, stirring constantly for about 30 seconds. We want the oil to pick up the flavors, but we don't want the garlic or ginger to burn.

Add the peppers and carrots, cook for another minute. Add the cauliflower and mix it all together. After another minute, add the coconut aminos and spices. Blend it all together.

Put your egg in a dish and whisk it. Once the cauliflower and spices are blended well, move the mixture to one side of the pan. Pour your egg into the pan and scramble. Add a touch of salt and pepper to the egg while it is still runny. As it scrambles, incorporate it into the rest of the rice, and continue to cook until the cauliflower is tender. Right when you think it's done, mix in the green onion and pull the pan from the heat so it doesn't wilt.

Putting it all together: I love using deep dishes for Chinese food since it usually involved layering something. I don't have to worry about potentially dropping any tasty morsels. Pile a couple of scoops on the dish, add the steak and shrimp. Enjoy!