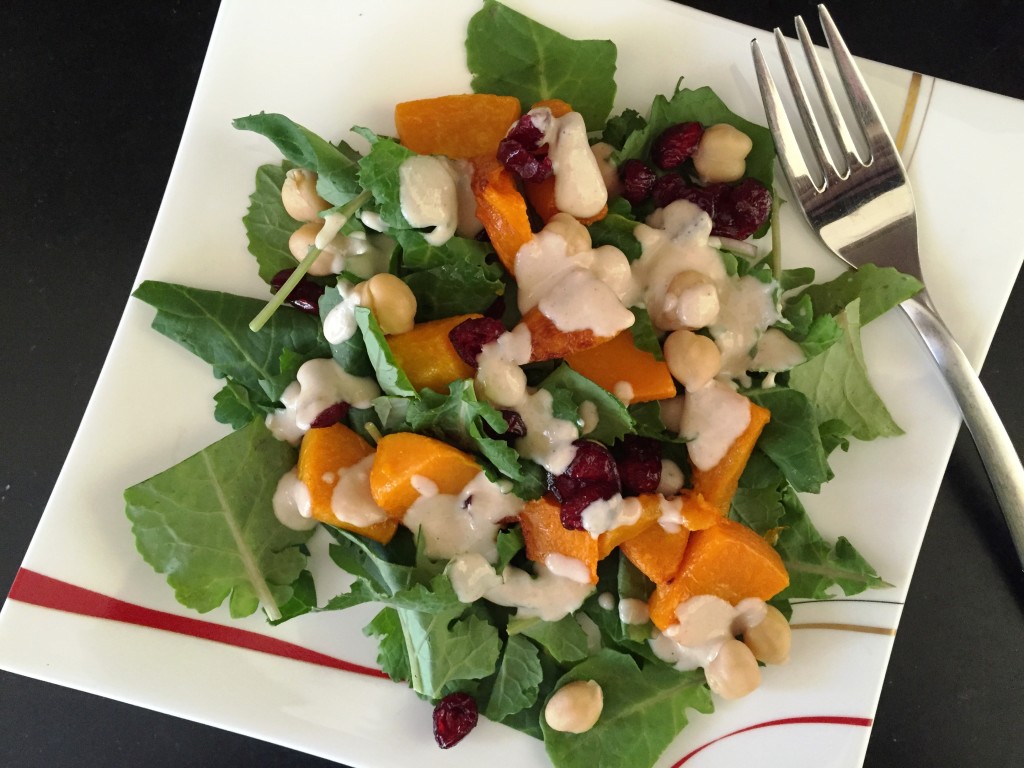 I'm writing this post after thoroughly gorging on a huge pork roast, complete with chicharonnes and a vinegar gravy, accompanied by roasted root veggies and puff pastry pinwheels. I'm stuffed, and after nearly two and a half weeks on Whole30, this "feast" day was not what the doctor ordered.
Blech.
That said, the saving grace at this meal—and what I filled half my plate with—was a gorgeous kale salad a client of mine brought to my attention. I think there's a theme shaping up within our tahini theme this month, and it's looking a lot like salad for the win.
Must be spring, right?
It's totally natural for our bodies to start craving freshness as the first flower shoots poke their heads through thawing soil. Our organs, like the liver and lungs, want cleansing after the heavy meals that satiated us through winter. But though this time of year is ripe for lettuces, you won't find a juicy local tomato worth a sprinkle of salt for a few more months.
Enter the "segue salad". Think of this like the foodie version of the crossover automobile: It's not quite a car, and not quite an SUV. It's straddling the two worlds with features of both.
A segue salad does the same thing, straddling winter and spring with produce from both seasons. The butternut squash may be smaller than those you'll find in late fall at this point, but they're still super sweet and sure to fill you up. Paired with the tender new leaves of baby kale, you've got the makings of a meal-worthy salad that is the perfect transition to a new season.
Make new veggies, but keep the old … one is silver but the other gold. Or something like that.
Anyway, the star of this crossover is really the tahini dressing. The original recipe in the WaPo (that's D.C. speak for The Washington Post) called for pomegranates, which are pretty much about as elusive as the Easter Bunny as of today. So I swapped in cranberries to wonderful, tangy effect (and since I find mining pomegranate seeds about as rewarding as picking crabs … no big loss).
This is a keeper.
I'd suggest adding some rotisserie chicken if you want to lose the beans (for our Paleo and Whole30 peeps), or even in addition if you don't. If you make a larger batch of the dressing up in advance, this makes for a super quick weeknight dinner.
Or just a detox-worthy side, as the case may be.
Raw Kale, Roasted Squash & Chick Pea Salad With Tahini Dressing

Adapted from a recipe printed in The Washington Post, which called for kale to be sauteed. I like to massage my kale to retain all the super-good-for-you nutrients—but try it both ways and tell us what you think! The ingredients for this dish will keep separately for four days. The tahini dressing is good for 1-2 weeks, but may need to be thinned out further after sitting in the fridge. Thin with lemon juice, if possible.

Ingredients

1.5 pounds butternut squash, cubed in 1-inch cubes (about 1 medium squash)
2 tablespoons extra-virgin olive oil
1/2 teaspoon fine sea salt
10-12 ounces kale (baby is best if you can find it—which means no massaging necessary!)
1/4 cup dried cranberries (unsweetened, if possible)
1/2 cup home-cooked or no-salt-added canned chickpeas, drained and rinsed

For the dressing

1/4 cup tahini (make sure you stir well first)
1-2 cloves garlic
zest of one lemon
2-3 tablespoons fresh lemon juice (plus more to thin, as needed)
Pinch fine sea salt, plus more as needed
2+ tablespoons water

Directions

Preheat the oven to 375 degrees.

Toss cubed squash with olive oil and salt and arrange in a single layer on a large, rimmed baking sheet. Bake for 10 minutes. Flip cubes, then bake for 10-20 minutes more, or until tender (we prefer ours firm to mushy). Transfer to bowl and place in refrigerator to chill completely.

If you are using tender baby kale, this next step can be skipped. If not, remove the stalks from your kale and thinly slice or tear into smaller pieces. Rub a little olive oil into your palms and start massaging the kale until it breaks down slightly. You'll notice it seems like half of it has disappeared!

To make the dressing, add tahini, garlic (we like garlic, but use to your taste), salt, zest, and two tablespoons each lemon juice and water to a food processor. Pulse until combined, stopping to push down sides frequently. Keep adding liquid using a 2:1 ratio of water to lemon juice until the dressing pours easily off the spoon. Think heavy cream, not yogurt. Adjust salt to taste. (I really, really wanted to add cumin to this, but decided to wait until we have it with rotisserie chicken later this week.)

Assemble on individual plates by topping prepared kale with squash, garbanzo beans and cranberries. Drizzle with dressing and serve.