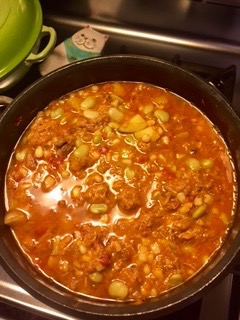 I love reading old cookbooks. They're a great window into history and culture. Like the classic Joy of Cooking with illustrated instructions on how to skin a squirrel for your Brunswick Stew. It involves using your foot to hold down the critter while you peel back the skin.  I'm so glad I wasn't a rural housewife in the late 1800s!
Today, a chicken in the pot works just fine to pull together a hearty batch of this classic served at any respectable hunting camp in the South. That's probably why my father-in-law always called it "camp stew."
Brunswick Stew is a rustic combination of meat, tomatoes, corn, potatoes and butter or lima beans stewed in a barbecue sauce—but it's adaptable. You can use whatever meat and veggies you have on hand. Ground meats work just as well as stewed and shredded. Some folks add old bread or cracker crumbs, but I find the potato starch does enough thickening for me. While others use English peas, I find them too mushy for my palette. I typically use leftover BBQ pork loin, a whole stewed chicken that the grocery plucked, canned tomatoes, fresh potatoes, frozen baby limas and silver queen corn.
There's some great drama over who gets bragging rights for originating Brunswick Stew: Brunswick County, Virginia or Brunswick County, Georgia?
Georgia has installed a giant cast-iron pot atop a concrete marker that proclaims, "In this pot the first Brunswick stew was made on St. Simon Isle July 2, 1898." But the story from Virginia is that it dates to 1828 when an enslaved African cook created the squirrel-based stew during a hunting expedition led by a Virginia state lawmaker. Both places have annual festivals dedicated to the dish (check out Georgia's Brunswick Rockin' Stewbilee and Virginia's Taste Of Brunswick Festival).
I don't have a dog in that hunt, but my esteemed brethren at the Southern Foodways Alliance give Virginia the edge.
Either way, a steaming bowl with a skillet of crusty corn bread makes a nice winter meal. Or a summer one: Traditionally, Brunswick Stew is served as a BBQ side dish, much like baked beans or coleslaw. And with this recipe, you'll have plenty to stash in the freezer or invite the friends and neighbors to share your table.
Brunswick Stew

This always tastes better the next day, just warm it up on the stove or in a crock pot. This makes enough to serve about 25 hungry people.

1/4 cup bacon renderings (or substitute vegetable oil)
2 cups chopped Vidalia onions
1/2 cup chopped celery
1/2 cup chopped bell pepper
2 cloves garlic, pressed
3 cups diced potatoes
3 cups white corn
3 cups baby lima beans
3 cans diced tomatoes
3 cups chicken stock
1 teaspoon kosher salt
1/2 teaspoon crushed black pepper
1/2 teaspoon smoked paprika
2 Tablespoons Worcestershire sauce
1 cup dark beer
5-10 shakes hot sauce (about 1 to 2 tabelespooons)
3-4 cups meat from one small, fresh chicken (stewed and shredded)
one small pork loin (slow cooked and shredded)
1 bottle BBQ sauce
More salt, pepper and paprika to taste

In large stockpot, sauté onions, celery and bell pepper in the bacon fat over medium heat for about 5 minutes. Add garlic and sauté for another minute. Next, stir in the vegetables, stock and seasonings. Bring to a simmer, cover pot, and reduce heat to medium low.

Cook for 20 minutes, stirring occasionally while you shred the meat.

Mix in the shredded meat and BBQ sauce. Bring back to a simmer, cover and cook on low for about 2 hours, stirring often.

When done, adjust seasonings to taste.