When what seemed like a perpetual winter finally ended, I couldn't wait to get my fruits and vegetables in the ground. Last summer, my two toddlers and I couldn't pick the tomatoes, zucchini and green peppers fast enough. Surprisingly though, the star of the garden had to be our cucumber plant. This year, we planted double in hopes of expanding our summer line-up of cucumber recipes.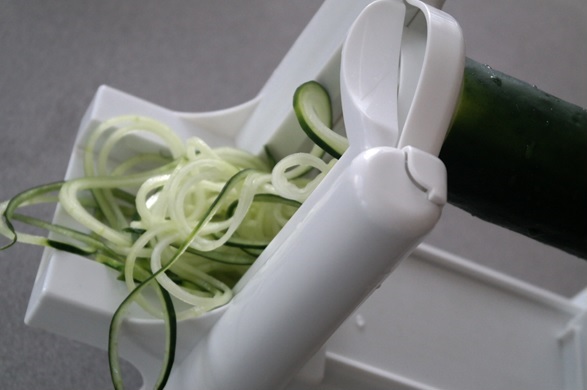 An unlikely character, this fruit (yes, fruit—it has seeds!) is surprisingly versatile. From the very basic (sliced in a pitcher of ice water), to the more complex Concombres au Beurre (baked cucumbers, from none other than Mastering the Art of French Cooking), the possibilities for cucumber dishes seem endless.
If I had to pick five ways that garden staple gets used most in our home, Julia Child's whimsy and flavored water (or, if you're really thirsty, these fantastic mojitos) would be on the list. For a different approach, a spiralizer is an incredible option. In under a minute, turn your produce into fanciful ribbons.
My preferred use for these "noodles" is to incorporate them into a caprese salad. With sliced grape tomatoes, mozzarella balls, fresh basil, cracked sea salt and pepper, and a drizzle of both olive oil and balsamic, this dish is a wonderful appetizer. But it also stands alone as a great summer lunch on the deck.
Years ago, I saw a recipe for a cucumber salmon appetizer (or "those awesome little salmon cuke guys" as my sister and I call them) in what I believe was a cream cheese advertisement. I've searched the entire internet to find the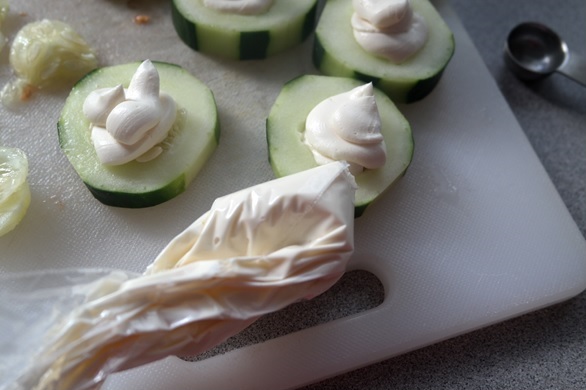 original version, to no avail.
Through many tribulations (it's hard to screw this one up, I assure you), I've adapted the recipe to reflect not only my palate, but more importantly, whatever ingredients I have on hand that day. The iteration below pairs the sweetness of raw honey with the contrast of Sriracha for the perfect bite.
Finally, end your summer meals with a refreshing albeit unsuspecting dessert: this cucumber ice cream from Tasting Table. It's smooth and crisp, savory and sweet, and light and serious all at the same time.
From cucumber drinks to desserts, may your glass be as full as your summer line-up.
Cucumber Salmon Bites

Yield: 12 (depending on size of your cucumber)

1 large cucumber
1 block Kraft cream cheese, at room temperature
1 tsp raw honey
1 tsp coconut aminos (soy sauce works too)
dash (or less/more to your liking) Sriracha
Smoked salmon (the better the salmon, the better the bite!)
Black sesame seeds

First, cut both ends off your cucumber. Using a vegetable peeler, remove the skin in long "stripes" from your cucumber. Turn a bit, leaving an equal width of skin on and repeat. By alternating between leaving skin on and peeling, you're creating beautiful little cucumber vessels that look much more complicated than they are.

Slice your cucumber into 1" slices. Using a melon baller (or a ½ tsp measuring spoon seems to do the trick), remove the center seeds. Try not to scoop all the way through the slice, or your filling will stick to your plate (I speak from experience). Arrange your slices on a serving tray.

In a bowl, combine the cream cheese, honey, coconut aminos and Sriracha. Beat with a hand mixer until creamy. If you have a pastry bag, place your filling into the bag to pipe onto your cucumbers. If you don't, use a ziplock bag, cutting off a small triangle in one of the corners. It will make filling your bites much easier—and cleaner. Pipe a dollop into the hollowed slice.

Top with a piece of smoked salmon about the same size as your cucumber. Sprinkle with black sesame seeds, and chill until ready to serve (or—again, from experience—eat them all before your guests arrive).