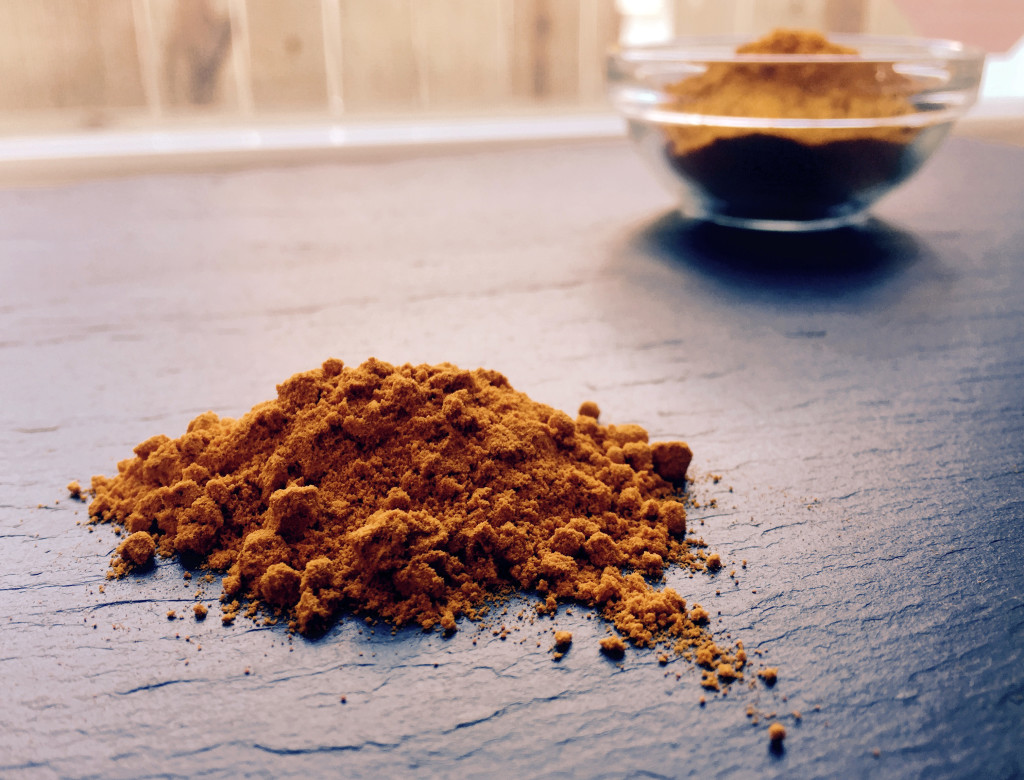 Okay … curcuma longa (turmeric) was never solely used for cobra bites, though it is used to treat just that in Thailand. This bitter-tasting ginger root—the main spice in curry dishes—has plenty of other well-documented medicinal properties. That's how it landed here in our discussion about immunity boosting foods.
According to the National Center for Biotechnology Information, the use of the turmeric plant dates back nearly 4000 years to the Vedic period. The delightfully bright yellow-orange powder it produces is used as a principal culinary spice in Southeast Asia, but also plays a significant role in wedding and religious ceremonies. By 700 A.D., its use had spread to China, which is where Marco Polo encountered it. In 1280, he noted, "There is also a vegetable that has all the properties of true saffron, as well as the smell and the color, and yet it is not really saffron." In medieval Europe, the spice became known as  "Indian saffron."
One of my favorite kitchen reference guides—The Spice Bible—helped me dig a little deeper. Turmeric is often used as a dye and natural colorant: Think American cheese and that vibrantly yellow ball park mustard. The root of this rhizome from the ginger family is harvested from the ground, boiled in slightly alkaline water to preserve the color and then dried … to the consistency of concrete, making it difficult to grind at home. Not even in your Vitamix, which they say can blend actual concrete into powder—it's just not something we recommend doing with this expensive (and categorically awesome) appliance.
In classic Ayurvedic medicine, turmeric was used as a cold remedy and to relieve congestion; to heal wounds, bruises sprains and inflamed joints; to treat ringworm, eczema and other skin maladies, including chickenpox, and shingles; as well as for treating hemorrhoids and jaundice. It has "hundreds of molecular constituents, each with a variety of biological activities. There are at least 20 molecules that are anti-biotic, 14 that are known cancer preventatives, 12 that are anti-tumor, 12 are anti-inflammatory and there are at least 10 different anti-oxidants."
Curcumin is the principle curcuminoid—a natural phenol—in turmeric, which scientific studies show has both antioxidant and anti-inflammatory effects, as well as antiseptic, anti-fungal and anti-bacterial properties. Curcumin is the basis for most scientific study in looking at the effectiveness of using turmeric to treat a range of modern afflictions, including:
It has also been shown effective in the treatment of cancer, urinary tract infections, asthma and bronchitis, as well as viral infections, like HIV/AIDS, the human papiloma virus (HPV) and herpes simplex. That's the short list.
There's an equally long collection of ways to include turmeric in your diet—aside from curry dishes, which might just be my personal favorite method of consumption. Check out this great guide from The Kitchn, and since I adore turmeric on my vegetables, this Vegetarian Times article is also a great resource. Or there's the warm hug of the drink below, which I highly suggest drinking before bedtime. Yum.
Turmeric is food, but as with any kind of treatment for a medical condition, you should do your research … and consult your doctor if necessary. As with bone broth—this isn't a cure-all. It is intended to support and aid in healing, not replace a healthy, balanced diet rich in whole foods.
Want to learn more about nourishing immune-boosting foods like turmeric, ginger and bone broth? Sign up for our newsletter, The Peppercorn Press, and you could win a copy of Sally Fallon Morell's latest cookbook, Nourishing Broth. Entries will be open through the month of February. The winner will be announced in the March edition.

Spicy Turmeric Milk

This version of turmeric milk packs a double punch with a hefty dose of ginger, which, as we learned last week, has immunity boosting properties of its own. It also tends toward the spicy side, with a slightly rich (for some, oily) mouth feel because of the use of coconut milk. You can tweak the spiciness for your palate by reducing or eliminating the amount of ginger and cayenne, but keep the black pepper—it enhances the bioavailability of turmeric (basically, it helps your body absorb it.) The coconut oil and water can be swapped for almond milk if you prefer. The addition of a tablespoon of coconut oil to either version makes it more rich … and has some benefits of its own.

14-ounce can coconut milk, plus can of can filtered water (or substitute both for about 4 cups almond milk)
1 tablespoon raw honey (you can use maple syrup or agave if you prefer)
1 tablespoon coconut oil (optional)
1 to 1 1/2 teaspoons turmeric (I like mine turmeric-heavy)
1/2 teaspoon cinnamon
1/4 to 1/2 teaspoon fresh grated ginger, depending on your taste (can substitute 1/4 teaspoon or less powdered ginger)
1/4 teaspoon black pepper
1/4 teaspoon cayenne pepper (optional)

Place all ingredients in a small saucepan and cook over medium high heat, whisking to incorporate the dry spices. [PLEASE NOTE: Remember when we said turmeric is used as a dye? It will stain clothing and your skin, so be careful … and use a dark mug!] Cook about five minutes until the turmeric milk begins to steam, but remove it from the heat before it boils.

Drink immediately. (As if you could stop yourself.)