Want to win a copy of Carmine's Celebrates: Classic Italian Recipes for Everyday Feasts? Simply leave a comment here and you'll be
entered into our drawing. Winner will be announced in our next post and notified via email on December 26th.

When you take a Jewish family, add a heaping dose of Italian, what you get is Chef Glenn Rolnick.
"I grew up both sides. Both sides have the chance to eat with big families," he says.
Rolnick says dinners at his aunt's house with this burgeoning, blended family is where he learned what "family dinner" meant. "So much food! After dinner — two hours later — everybody is eating again. You never finish. There's always something coming!"
He describes course after course, and really what he says is the inspiration behind his profession — work that Rolnick admits brings back so many memories of home. Especially at the Alicart Restaurant Group, the parent company of Carmine's Italian eatery and Virgil's Real BBQ — and the place that he's called home for more than a decade.
"Coming here was pretty much the best thing I've ever done," Rolnick adds.
Home Is Where The Heart Is
Chef Rolnick's love of cooking grew out of the family kitchen as he pitched in around the house, whipping up dishes while his mom was at work. Neighbors came for dinner, and impressed with the then-teenager's skills, asked for him to cook for their small fetes. That's how his first catering business started.
In high school, he worked at a bakery, continuing there until he earned his associates and fixed his eyes on the Culinary Institute of America. Shortly after graduating he landed a dream job at the The Carlyle Hotel in New York City. It was a place, Rolnick says, he'll never forget. The early 20-something was rubbing elbows with the best French chefs in the kitchen, and while in the dining room, the likes of Paul Newman, Robert Redford and Michael Jackson.
He says hearing of Prince William and Kate Middleton's recent stay reminded him of another Prince who often visited while he was there, or, rather, the artist formerly known as. As he tells it, the singer traveled with a private chef who didn't have to work when Rolnick and his team were cooking. He talks about cooking lobster four or five ways for model and actress Cheryl Tiegs, who brought the crustaceans with her from Maine. And cooking liver for Elizabeth Taylor's dog. Rolnick also remembers the reaction of staff when one customer would put his feet up on the very expensive dining room chairs: "Dammit, Warren Beatty is in again!"
He laughs recalling a time he says was filled with fun … and success. Within six months at the establishment, he'd been promoted to Sous Chef. That lead to a position at the United Nations Dining Room as the Executive Sous Chef, where he cooked for politicians, diplomats … and John Travolta. Rolnick says he'd walk out into an empty dining room and Travolta would just be sitting there chatting with his dining companion, but would always take a moment to say hello. Here, he had the opportunity to become familiar with Chinese and Japanese cuisine, and says he realized the importance of food to bringing people around a table in every culture.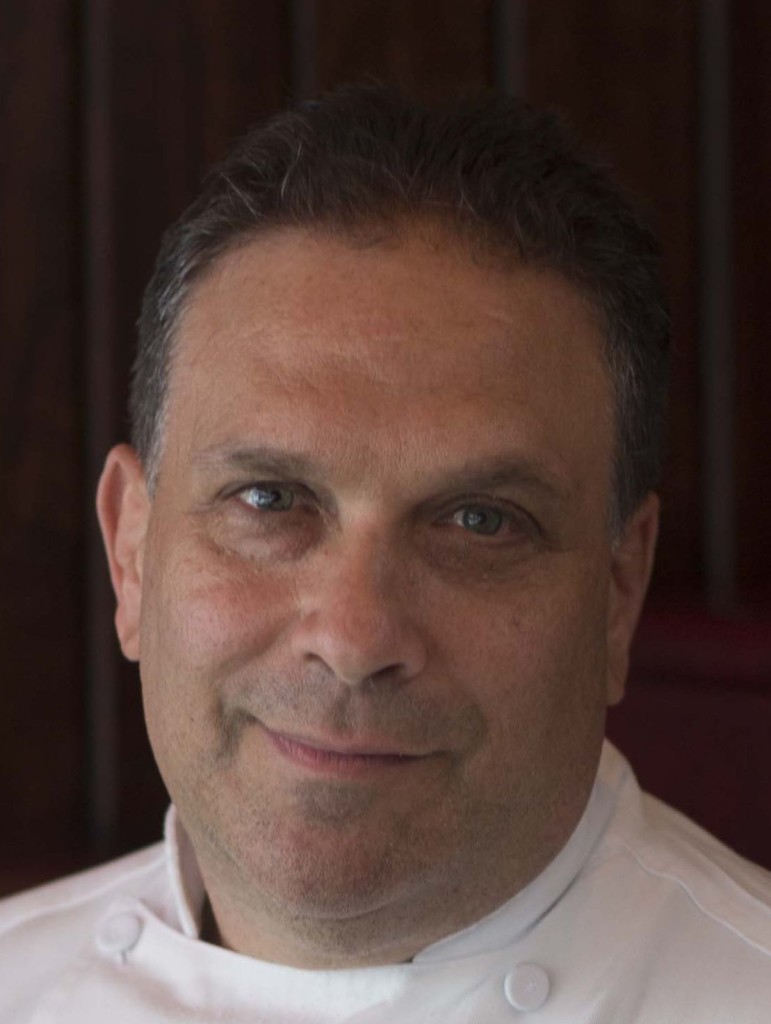 Carmine's Celebrates
Fast forward a few decades and you'll find Chef Rolnick at the beginning of his career with Alicart as their corporate executive chef. He collaborated on Carmine's original cookbook a few years later. But, as he puts it, there are still so many recipes.
"We have 1000s of recipes," Rolnick says, explaining that the restaurant group is constantly working to stay ahead of the curve, trends and allergy concerns. The biggest aim, though, is revealed in the title. It's to celebrate family, a topic near and dear to this chef's heart.
"It's really to celebrate every day at your house," Rolnick says, "You sit around and you have family, everybody helps."
He wanted the book to be approachable, so he took his work home with him, recruiting 6-year-old son, Chace, to cook with him. "I had him work on the recipes with me. It was simple, it was fun. It was easy for him to do."
So easy a kid could do it … and that, Rolnick says, is the point: "That was the biggest thing we wanted to come across — this is not beyond you, me — anybody." Everything about this cookbook is aimed at making life easier so that you have time for what's most important: family. You'll find ingredients easily in your local supermarket. Recipes that typically take one or two days with several big steps have been simplified. Most recipes take about 20 to 30 minutes to prepare. "There's a lot of starters, a lot of things to throw together," he says. It's simple.
One of the recipes he points to as an example is the seafood stuffed salmon. "People think that a stuffed item is such a complicated thing," Rolnick says. But the pictorial illustrations here show each step visually. They give at-home cooks a better idea of what it's supposed to look like instead of just the "after" shot most cookbooks provide. And the chicken cacciatori, which is usually made a day ahead, is a same-day version here. You just make it early … before guests arrive.
"You can cook food, and enjoy the time with your family or your friends," he says, adding, "[and] not be the one stuck in the kitchen!"
Chef Glenn Rolnick's Tips For Eaters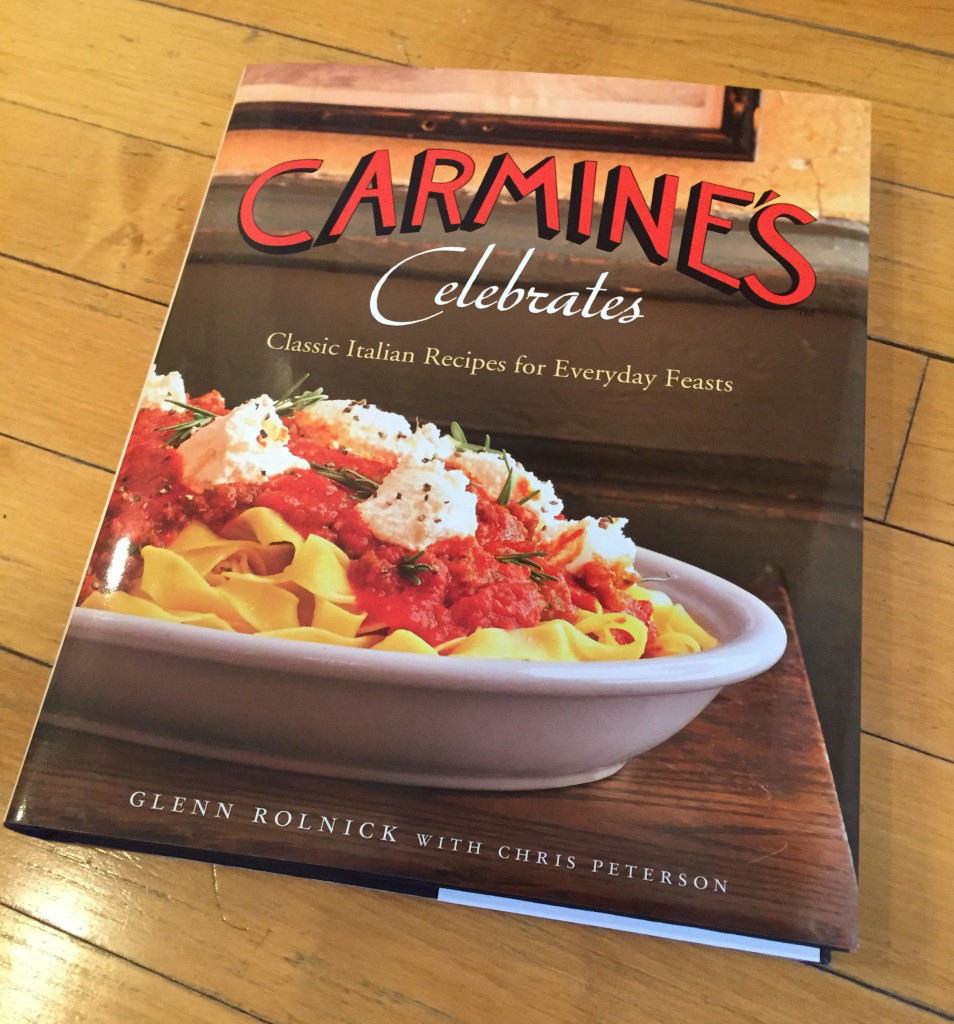 We asked Chef Rolnick to share with us three things that will get your family around the table this holiday season. Here are his answers:
Pick items that everybody likes — you know your family and what they'll eat.
Know your ingredients before you go shopping. Rolnick says he separates his shopping list into sections, like produce: "So I don't run back and forth in the supermarket!"
Cook together. Consider this a teaching tool. The chef says that we sometimes assume everyone knows how to cook, and that's just not the case. "You're bringing up the young ones in the family," he says, "Pick dishes that your kids, nephews and nieces will have fun preparing." Family meals are made by families … literally.
Want to win a copy of Carmine's Celebrates: Classic Italian Recipes for Everyday Feasts?   Simply leave a comment here and you'll be entered into our drawing. Winner will be announced in our next post and notified via email on December 26th.
Sea Bass Cioppino

Published in Carmine's Celebrates: Classic Italian Recipes for Everyday Feasts, reprinted here courtesy of Chef Glenn Rolnick and Carmine's (formatted slightly to fit WTE style). This is the chef's favorite recipe from the book (though he also points us to the Fava Bean Asparagus on page 81 and the lamb bolognese on page 122). We The eaters would like to thank Chef Rolnick for taking the time to speak with us, and to he and Carmine's for providing a copy of this book to giveaway on our site.

Description from Carmine's Celebrates: "Every culture with a coastline has some form of seafood stew, a hearty mix that the fisherman boils up right on the boat. Cioppino is a great example of a filling fisherman's stew, an Italian-American dish, developed in San Francisco in the early twentieth century. We include naturally sweet shellfish with a distinctive sea bass that creates a wonderfully vibrant undertone to the stew. The combination of basic herbs, spices, and tomatoes makes for a hearty foundation, creating the perfect hearty dinner to chase the cold out of your bones."

INGREDIENTS:

¾ cup olive oil blend (3 parts canola oil to 1 part olive oil)
1½ pounds skinless, boneless Chilean sea bass, center cut, butterflied
1½ teaspoons kosher salt
3/8 teaspoons ground white pepper
½ pound extra-large shrimp, shelled and deveined
½ pound dry-packed jumbo scallops, side muscle removed
12 Littleneck clams, cleaned
12 PEI mussels (substitute a local variety if PEI are not available), cleaned
2 tablespoons thinly sliced garlic
1 cup thinly sliced celery
1 cup cored and thinly sliced fennel
4 tablespoons chopped fresh basil
4 tablespoons chopped fresh flat-leaf Parsley
½ teaspoon saffron
1 large dried bay leaf
½ cup white wine
1 tablespoon fennel seed
3¼ cups clam juice
1¾ cups canned whole, peeled Italian plum tomatoes

Heat 6 tablespoons of the olive oil in a large sauté pan over medium-high heat. Season the sea bass with ½ teaspoon of the salt and 3/8 teaspoon of the pepper. Gently slide the fish into the pan and brown each side, but do not fully cook the fish. Set aside.

Repeat this process to cook the shrimp and scallops, seasoning them before cooking with ½ teaspoon salt and 1/8 teaspoon pepper. Set aside.

Add the remaining 6 tablespoons olive oil to the pan and sauté the garlic until lightly browned. Add the celery, sliced fennel, 2 tablespoons each of the basil and parsley, the saffron, and the bay leaf. Reduce the heat to medium and cook until the vegetables are just a bit tender and begin sweating.

Add the white wine and fennel seed and cook until the liquid has reduced by half.

Add the clam juice, tomatoes, the remaining ½ teaspoon salt, and 1/8 teaspoon pepper and bring the sauce to a boil. Add the clams and mussels and cover with a lid. Check often and, as each one opens, remove and set aside until all of the clams and mussels are cooked; discard any that do not open.

Increase the heat to high, and cook until the sauce has reduced by about 40 percent, about 15 minutes.

Carefully return the sea bass to the pan and simmer for 3 to 4 minutes, or until just cooked through. Transfer the fish to a serving platter.

Return the mussels, clams, shrimp, and scallops to the pan and cook for 1 minute. Place the shrimp and scallops on a platter along with the sea bass, and pour the sauce and shellfish on top of the bass. Sprinkle basil and parsley over top and serve.