We The Eaters would like to thank the author of this post for interning with us during the fall 2014 semester.
Sarah has been a real asset to our team, and we hope you'll enjoy her first post!
I was in for a way-too-sweet surprise when my mom and I made raspberry and Chambord glazed pork chops. Sometimes cooking on the fly has your taste buds soaring, and other times you land in the dirt. Our foray into improvisation was the latter — so we made the pork again, this time with apricots and Triple Sec.
Second time's a charm, right?
Cooking has always been about improvisation in my family, and my mother is the master of it. Watching her cook is like watching a whirlwind. She hardly measures anything and it always looks like she's just throwing ingredients into a pan, but it definitely never tastes that way.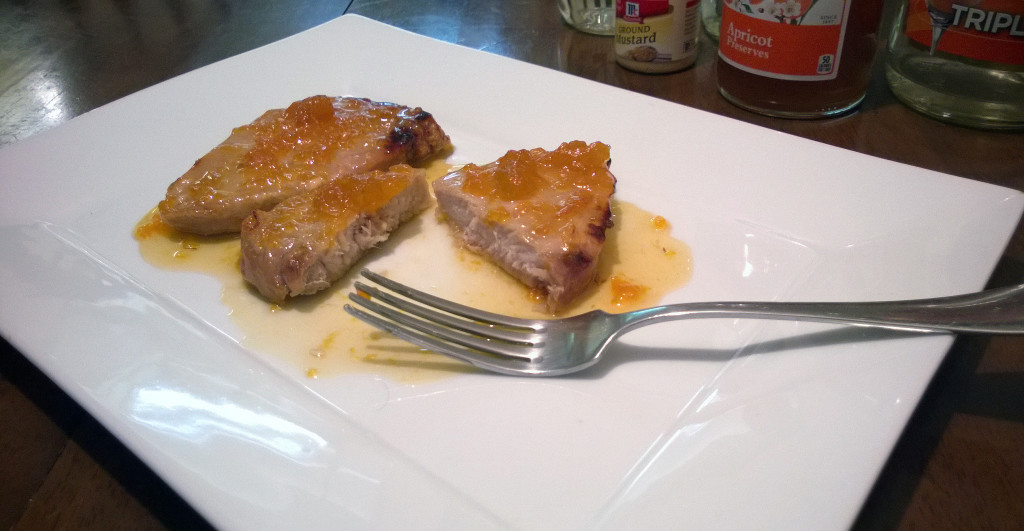 When I got my first apartment three years ago, I was determined to cook like her. There would be no diet of Top Ramen and Easy Mac for this girl! Instead, I spent the summer before my move cooking with my mom to learn all of my favorite recipes.
I learned that the way my mom cooks comes with practice. If I simply threw something in a pot when I first started, I would likely have ended up with something that resembled toxic sludge more than actual food. Or worse yet, set the house on fire! It took time, but my mom's incredible patience helped me improve. Once I became comfortable with the recipe cards she gave me, I began to see how she cooks — and by the end of the summer, I had a repertoire that would save me from a kitchen full of pizza boxes.
Flash forward three years, and I cook almost every night. And when I come home on weekends, my mom and I cook together. Some people are afraid of too many cooks in the kitchen, but we're a dynamic duo. And while we try to plan our meals ahead of time, it's often a matter of what we have in the kitchen. Or what's on sale at the store. Or both. This method can be a blessing, but it can also be a curse, as we soon found out.
When I told my mom I was supposed to cook with some sort of liqueur for my post, we found a pork recipe she used to make all the time. It called for apricot preserves, and my mom suggested adding triple sec. But a funny thing happened when we went to the store to pick up the ingredients … our improv bug kicked in. Raspberries were on sale — four packages for a dollar. We couldn't pass them up, so decided the recipe needed an overhaul. Thus, pork with raspberry preserves, Chambord and fresh raspberries was born.
We followed essentially the same recipe, only with our berries instead of apricots. The result was a less-than-sweet success. The addition of fresh raspberries gave a nice bit of texture to the sauce, but the combined taste of the raspberry preserves and the Chambord was overpowering. And while the flavor of the pork wasn't terrible, it was definitely not the flavor I was looking for. The sweetness of the sauce overrode the savory flavor of the pork, and made me feel like I should be spooning the sauce on a dessert instead.
After deeming our concoction too sweet for consumption, we went back to the drawing board … and by drawing board, I mean back to the grocery store to pick up apricot preserves.
When we returned with our spoils, cooking the pork a second time was a breeze since we'd already done it once before. While making the glaze for the dish, we could tell from the smell alone that it was going to be better this time around. The apricot preserves coupled with the triple sec gave the pork that bit of tart flavor we had been hoping for, while still offering just a hint of sweetness. In other words, the sweet-tart flavor of the apricot sauce complemented the savory flavor of the pork, instead of overpowering it like the raspberry sauce had. It was well worth the effort of making the dish twice.
Cooking is about trial and error. We aren't all Rachael Ray, and we mess up sometimes. The beauty of it is you can always make it again … or give up and order pizza!
Make sure to check back with us next week for a "Meet The Chef" post and our first cookbook giveaway! You'll find details in next Friday's post and on our Facebook and Twitter feeds. Good luck, readers!
Glazed Pork Chops

(adapted from 366 Low-Fat Brand Name Recipes in Minutes)

4 3-ounce pork chops, trimmed
1/2 cup apricot preserves
1 tablespoon light corn syrup
3 tablespoons cider vinegar
1/2 teaspoon dry mustard
2 tablespoons triple sec (more or less to taste)

While the recipe says that the pork can be baked, broiled, grilled, or pan broiled, I decided to broil it. First, combine the apricot preserves, corn syrup, vinegar and mustard into a small saucepan. Stir them together before placing them on the stove. Bring the mixture to a boil on high heat, then reduce the heat to bring it down to a simmer. Cook it for three minutes while gently stirring the mixture. It's ready when the sauce is slightly thick.

When the pork is almost done cooking, spoon the glaze over the pork chops. Do this multiple times during the last few minutes of cooking. The heat of the oven will thicken the glaze even more, giving it a nice consistency. Cover the pork chops with the glaze to your liking, and wait until the sauce is your desired thickness on the pork — but take care not to overcook the pork. Pull out of the oven and let stand for a minute before serving.