The featured image used on the previous page is courtesy of Kerry Lee Smith via Flickr.
Photo credit: James Henley via Flickr
Food is a treacherous thing.
I know I speak sacrilege in saying such things, but give me a moment to make my case.
Food kills. Not in the Mama Cass and a ham sandwich sort of way (which isn't true, anyway), but in many others. Take food in just about any foreign country, for example.
It is not choclo's fault that approximately 12 hours after savoring each delicious corn kernel purchased from a not-so-legit-looking street vendor that I wound up on the bathroom floor of my rental house in Peru's Sacred Valley.
Wishing. I. Would. Die.
The same thing happened to me in India. I love chole, but there, the place where all good chole comes from, it did not love me back. And just last year, after a dining experience in the Ubud region of Bali, both my husband and I regretted thinking it would be okay to eat at a place with the word "dirty" in the restaurant name. Yes, really.
Food can make you sick. In fact, earlier this year, 216 attendees of a food safety summit in Baltimore, Md., got sick from contaminated food (chicken, to be precise). Just this week: a hummus recall in Canada, a beef trimmings recall and even a pet food recall. Salmonella, E. coli and listeria … oh, my!
Then there are food allergies. The journal Pediatrics just published
Photo credit: Scott Ableman via Flickr
a study that suggests, in the U.S., about six million kids experience allergic reactions to food. That's half of the 12 million people in the country with food allergies, leading anyone with enough healthy brain cells to conclude that the number is on the rise. Peanuts, seafood and milk are only the tip of the iceberg when it comes to foods that can cause anaphylaxis — "a severe, whole-body allergic reaction to a chemical that has become an allergen", which can potentially be lethal. For those with an allergy like this, one bite can literally be a death sentence.
And then we have the food that we put in our bodies knowing they are probably toxic … or just plain nasty. Like the hamburgers in the school cafeteria, which NPR reports has 26 different (and mostly unpronounceable) ingredients. Poor kids, right? Well, stop reading this now if you ever want to eat fast food again. Subway egg sandwiches contain a "premium egg blend," which includes glycerine and silicone. As The Huffington Post puts it, soap and Silly Putty. And don't try to be healthy and order a side salad … that same article claims, "many places dust their salads with propylene glycol to keep the leaves crisp." Don't get me started on soda.
Gross. I repeat:  Food is a treacherous thing.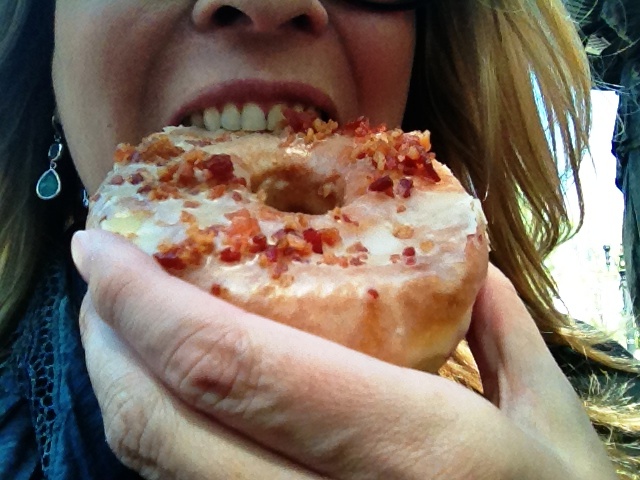 As part of Project Detox (a six month adventure to getting healthier — and you can join us!), my husband and I have decided to try Whole30. The plan is "designed to change your life in 30 days."  by changing the way you think about food, your tastes and cravings. It's quite similar to paleo, but focuses more on resetting the body to eliminate cravings and identifying food sensitivities. If you decide to change your eating style when you finish 30 days on the program, do so slowly and one at a time to see how you feel. If symptoms resume, you may want to consider eliminating that food from your diet. You can find out what you eat on the plan HERE, get recipes HERE, and find out if it could work for you HERE. I'll be reporting on my progress in Project Detox.
I'm approaching a phase of Whole30 too appropriate for the horror show that will be our posts this October, including other Eater's food debacles, slimy scobies, the weirdest things our Eaters have ever eaten, a magic berry that makes sour pickles taste like candy … and the story of a man with no taste buds. The phase is called Kill All The Things.
Food is a treacherous thing.