The only thing better than writing about a cocktail is experiencing one. 
I was two days into my vacation in St. Maarten, and, quite honestly, I couldn't stand the thought of another frozen, super-fruity rum creation. So I took to the food and cocktail blogs I follow and found a cocktail alternative: the Chartreuse Swizzle.
The very next morning, I set off to the local grocery to get what I needed. Thankfully, St. Maarten is the culinary hotspot of the Caribbean and I found everything I was after. I knew the drink was a winner when there was nothing left in my glass by the time I sat down to enjoy it — so I had a few more.
When I got back to the States and had some time and fresh produce on hand, I fiddled with the recipe. Some of the ingredients may be unfamiliar to readers not directly involved in the spirits business, so I'll explain them.
The alcoholic components of Chartreuse Swizzle are equal parts of Jamaican rum and Chartreuse, and .25oz falernum. Measure in some pineapple and fresh lime juices, plus a hefty sprig of fresh mint, and you have you have yourself a cool and classy cocktail.
So why Jamaican rum, falerWhoWhat — and what exactly is Chartreuse? Glad you asked! … Now, the "Cocktail Geek" in me gets to come out and play!
Quick rum class: Rum is made from sugarcane juice or sugarcane byproducts, aka molasses. Most rum — and there is a ton of it — is made in the Caribbean. Each island has its own style, just like BBQ in the states: it all tastes different, but you know exactly what it is. If you try several rums side-by-side at a tasting, this becomes really apparent.
Rum from Barbados (Plantation), is light and sweet, Guyana has a super-heavy and rich style (El Dorado), Martinique specializes in Agricole Rhum made from sugar cane (St. James and Clement), Puerto Rico has what most people are familiar with — light, dry and oaky rum (Bacardi), while Jamaica has a funky, rich and aromatic style of rum (Appleton and Myers), which we are using today.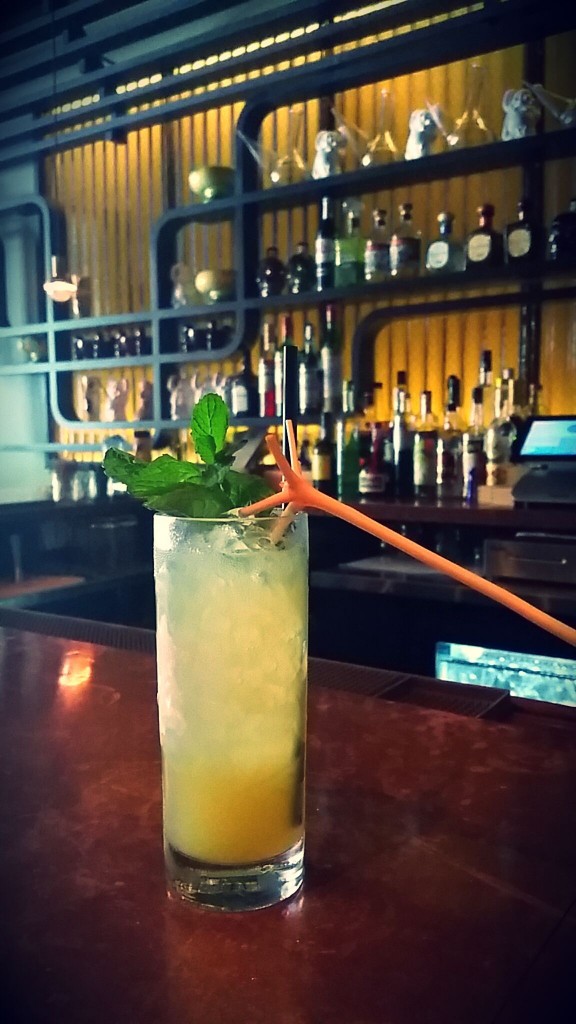 Falernum: Falernum is a bit tricky. The liquer has flavors of clove, ginger, almond, lime and allspice and is used to give tiki-style drinks great depth, complexity and spice. Sometimes it is alcohol-based and sometimes not. In this case we are using an alcohol base (Fee Brothers makes a decent non-alcoholic version). Taylor's Velvet is a commercial, alcoholic version.
If you really want to experience good falernum, and you have an adventurous soul, make your own or try a bartender's creation. The best falernum that I have ever had was made right here in Pittsburgh, at Maggie's Farm Rum, by a super-crafty and multi-talented bartender named Lucky. Amazing stuff!
Lastly, the spirit Chartreuse. Chartreuse is in a class of its own and deserves special attention + love. For this, I will hand the stick over to David Bouchard, principal bartender at The Cooper in Palm Beach Gardens, Fla., who was kind enough to give me an interview.
Me: "David, it's obvious to anyone that meets you that you are passionate about this particular spirit. Why?"
David: "My first experience with Chartreuse was almost a decade after I first stepped behind a bar, and for me, it was truly an eye-opening experience. Not only was I captivated by what is in the bottle, I was inspired by the story. It's a spirit that has hardly changed in over 400 years – and it's so good."
Me: "So what's the story? 400 years is a long time."
David: "The Order of Carthusian monks received a gift in 1605, an already ancient manuscript containing a recipe that would later become an elixir, the 'Elixir of Long Life.' There is a great deal of uncertainty regarding this manuscript, but what we do know is that Chartreuse is made up of a specific concoction of 130 different plants and herbs. What's even more interesting than that is the fact that only two monks actually have the knowledge and skill to infuse, macerate and blend these ingredients to produce the herbal elixir."
Me: "An elixir? Sounds like a type of medicine."
David: "Ironically, the elixir was so delicious that it was often used as a beverage, rather than a medicine. And in response to this, the monks adapted the recipe to produce a 'milder' beverage of 55 percent ABV or 110 proof, that we know today as Green Chartreuse. Green Chartreuse is most commonly used in classic cocktails such as Last Word [gin, Green Chartreuse, Luxardo Maraschino, and lime juice], as well as an often overlooked classic Bijou [gin, Green Chartreuse and sweet vermouth]."
Me: "Wow, great story. Is there anything else we should know?"
David: 'Yes! If you look on the neck of the bottle there are some numbers. If you add the first three numbers to 1084, the year the Carthusian monastery was founded, you'll get the year the spirit was bottled. The next three numbers represent the day of the year. Right now I have a bottle on the shelf that was bottled on Valentine's Day, 2006. There is also a milder version, Yellow Chartruese. It is lighter in color and flavors as well as AVB percent."
Gotta love when you learn something new, right? Not a ton of people are familiar with Chartreuse, at least here in Pittsburgh, so when they come into the bar looking for something different or new, this is one of the spirits I mention. And, if they are totally un-initiated, I explain what they will be tasting with this story:
Remember The Sound of Music, when Julie Andrews is singing her heart out and twirling through an Alpine meadow? Pretend for a moment that you are there, on a warm summer day, with just a hint of a breeze blowing through the tall grasses and mountain flowers. As you lie down in the tall grasses there is a brilliant blue sky, bright summer sun and giant, ever-so-slow moving puffy white clouds. The only sound you hear is the gentle rustling of grasses and buzzing of honey bees. Now breathe in. That's what Yellow Chartreuse tastes like.
Now, pretend you start to hike towards the rocky, craggy mountains that surround that same meadow. As you wander higher in elevation, you notice the vegetation changes and the air is crisper and cooler. As the tree line thins out, you rest on a rocky outcropping under a pine bough. Off in the distance you notice the clouds are getting thicker and ominously darker. The breeze kicks up a notch. You get a slight shiver and smell the rains of a summer storm coming. That's the flavor of Green Chartreuse.
My advice to you would be to try Chartreuse on its own first, then try it mixed in a classic cocktail and then go back and try it again straight. I guarantee that if you stop by a quality establishment they will have Chartreuse. If they aren't super-busy and it isn't a hectic Friday night, the bartender may even pour you a drop. And if they get a twinkle in their eye and smile while they explain the spirit, you should consider making that bar a regular stop, because you have found a true gem.
Cheers.
Chartreuse Swizzle

Some advice: This is a great drink for a large group. To make things easier on yourself, batch it the night before by converting all of the ounces to cups and refrigerate. When  you are ready to use it, pull it out of the refrigerator, pour and follow the same directions as above. This way you won't have to bartend your own party. Sit back, cool down and relax with an amazing cocktail that pleases almost any palate and is super approachable.

Also — and this is important to the quality of any cocktail you will ever make — always use fresh ingredients. Don't use the lime juice that's been chillin' in your fridge for the last year. Trust me.

1oz Green Chartreuse
1oz Appleton Rum
.25oz Falernum
1.5oz Pineapple juice
.5oz Lime juice
.25oz Simple syrup (equal parts sugar and water, completely dissolved)
One hefty mint sprig
Crushed Ice

Pour all your ingredients into a mixing tin or shaker and shake without any ice. Shake vigorously. Pour mixture into glass and add crushed ice until glass is about 3⁄4 filled. Swizzle (or stir gently if you don't have a swizzle stick) and top glass off with more crushed ice. Take your hefty sprig of mint and beat it gently on the outside of your filled glass (this will release all of the aromatic oils of the mint). Place the aromatic mint sprig into your glass as the perfect garnish.