I unapologetically admit it: I cooked dinner in my dishwasher.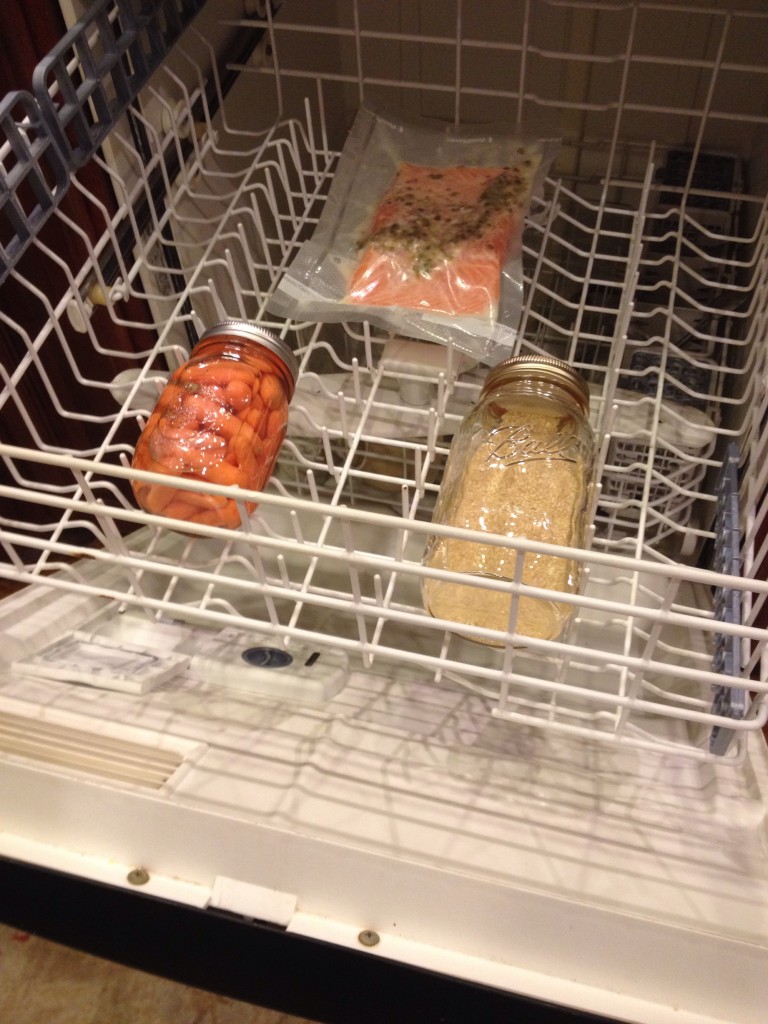 When I first heard about the idea, it seemed as farfetched as the concept of cooking on an engine block (clearly, we now know that's possible!) So I did a little research and found there's a lot more to cooking in a dishwasher than one might think … including clean dishes.
Honestly, when I read about the most popular method of wrapping the fish in aluminum foil, I was a bit grossed out. Nobody likes soapy fish, and I just couldn't imagine how the foil would protect the fish from the "elements," so to speak. Then I read about another method involving a sealed pouch, which gave me peace of mind about avoiding an unwanted flavor profile in my dish.
That I could do … so I did: I poached salmon in my dishwasher.
Taking a cue from this video produced by Slate.com, I decided to try to cook a few side items, too. They tried rice, which requires boiling and a longer cooking time. I turned to quinoa. They tried broccoli with cheese. I settled for something simpler: carrots.
Even though I started my quinoa and carrots (in mason jars) with boiling water, neither cooked enough. I think I might try again with different foods — like bagels — that need a more humid environment, but not the higher heat.
But the fish, well … it actually worked! Other articles I read described the salmon — that pièce de résistance — as creamy, which I find to be a pretty unappetizing word. But what do I know? The texture of this fish could only be done justice with that word: creamy. It was so velvety, and unbelievably moist that I must admit that it was about the best damn salmon I've ever tasted.
And it was so easy!
The whole point of this exercise was to get us out of our comfort zones … and you out of yours. Try something different — even if it's just tossing some tilapia in a pan. Or in some lemon juice (but more about that next week!)
In the meantime, we hope all this talk about fish is making your taste buds crave goodness from the sea. On August 6th, We The Eaters launches it's first live event with Cedar Restaurant in Washington, D.C. You'll find details about the event, and where to sign up, this coming Monday — so stay tuned!
Dishwasher Salmon

4 servings salmon
1/4 cup fresh lemon juice
2 tablespoons capers
2 tablespoons shallots
3-4 cloves garlic

If you have a FoodSaver or sous vide system, place salmon in an appropriately sized bag and set aside. This is the preferred method to use if you are planning to save some energy and cook your dinner while doing the dishes. (If you need an alternative, you can use an oven bag– like the ones you cook turkey in. And apparently, you can actually cook your turkey in the dishwasher, too. Or keep it simple with a double layer of heavy-duty aluminum foil.)

Finely chop shallots, rough chop capers and mince garlic … or use D0rot Crushed Garlic from Trader Joe's, which I love! Much better than the minced stuff in jars! Combine with fresh lemon juice in a bowl.

Add to bag and vacuum seal (or add to cooking bag, squeeze out all the air and seal … or wrap salmon tightly in aluminum foil using the instructions found here.)

Place pouch in the dishwasher on the top shelf and press start. If you have an extra heat cycle, or heated dry cycle, choose that.

Remove from dishwasher and open package, using caution if there is steam. Plate and serve immediately topped with any remaining juice from package.

I checked for "doneness" by just looking at the finished product. That said, for salmon, a safe internal temperature is 140 degrees.