All photographs used in this post, including the featured image, were provided by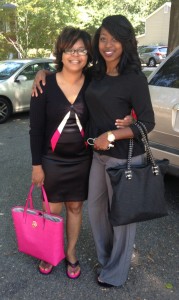 Marcia Morgan and are used with her consent. At left, she is pictured with her daughter.
Marcia Morgan was born in Jamaica and lived there until age 13. Her mother taught her how to cook, including what she considers her specialty — jerk chicken. Marcia says she took the family recipe to another level, tweaking the flavors to reinvent the recipe and make it her own.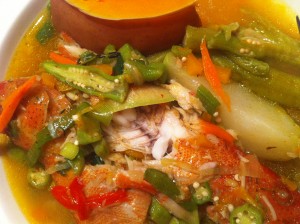 She then took that product to the public in what would be her first foray into food: an American and Jamaican cuisine restaurant on Branch Avenue in Temple Hills, Md.
"People say they can't eat Jamaican food aside from mine," Marcia says, laughing. She says it's that flavor that sets it apart—and customer service.
Her popular, but struggling, restaurant folded in late 1995 because of a lack of capital. That may seem a lifetime ago — some of you readers were just toddlers, for crying out loud — but it brings us to today, and how I know Marcia.
She came to work at NPR that same year. She worked her way up, beginning by answering phones in Distribution, serving as an administrative assistant for the Washington and Foreign Desks, and then becoming a long-time administrative coordinator for News. Marcia decided she wanted to advance in the news department and enrolled at University of Maryland University College, where she got her communications degree in 2004. She came to work for NPR's Operations Desk the following year.
That's where we met.
I got to know Marcia through work, but I got to love Marcia through her passion for food.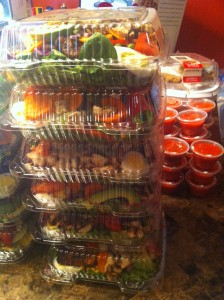 Before we moved to our new building, in the "not-so-old" days of the scrappy media organization, there was sort of an underground food delivery ring. We'd been in the neighborhood a while, and many of us just wanted something different for lunch. So some of our chefs-at-heart would prep meals at home to "share" with colleagues for a moderate fee. Some came with grilled shrimp and polenta cakes with mushroom ragout, others with jerk chicken.
I always admired Marcia's entrepreneurial spirit. Her business thrived long after I retired from this lunch delivery enterprise. This was a few years ago, but I can still remember the flavor of that chicken, which we are still very lucky to get a taste of now and then.
In October, around the same time Marcia had major surgery, the company announced it was offering a voluntary buyout. She headed out on FMLA leave with a lot to think about.
It didn't take her long to make up her mind.
"To leave … to go back into the food business — I had thought about it so many times. But the severance gave me a cushion while I restart my dream."
That dream is to do food, and do it well.
"When someone tastes my food and they come back to me and say, your food was comfort to my soul, your food made me happy. The joy that I get from this! It's about having the possibility to create great food for people," says Marcia.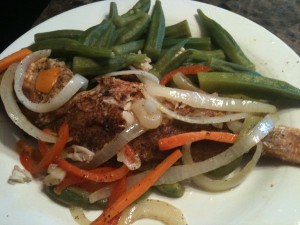 Her short-term plan is to launch a catering business. She'll use an incubator — a kitchen you rent by the hour or day to cook your food. Then there's her long-term goal: a food truck.
"I'm intrigued by the mobile restaurant more so than a brick-and-mortar. A food truck allows me to pick and choose the days that I'm open, hours, and allows me to change my locale at the drop of a dime."
She says she knows there were issues in the past. Capital was one. The other is her inclination to give customers huge portions.
"That's how I ate growing up. Mom always fed us well. That's one of the biggest downfalls of my business," she says. She plans to overcome that this time by offering meals geared toward two people with one low price. And she's bringing more diversified capital to the table for the re-launch of her career in food.
What Marcia's leaving on the table — a guaranteed paycheck — is the scary part of this venture, she says, and it isn't easy to leave behind. "That has kept me hostage for 18 years and two months."
But she's motivated by the opportunity this project could afford her kids later in life: their own business, should they desire to continue. The single mother of three says her two oldest have been very supportive. Her baby, 10, has only expressed concern that he'll never be able to visit NPR again.
Leaving isn't easy for Marcia, either.
"NPR is family. Change is always new, and you do get that anxiety that I hope I'm making the right decision. But nothing beats a failure but a try. And try I must."
JAMAICAN CURRY CHICKEN RECIPE

Though this is a family recipe, Marcia has added a few things over the years to make it her own.


1 whole chicken or chicken parts (roughly 3 pounds wings, breasts and leg-quarters)
6 tablespoons of Jamaican Curry powder
2 potatoes
1 carrot
1 green pepper
3 stalks scallion
1 large onion
1 piece ginger (or powdered ginger)
5 sprigs of fresh thyme
4 cloves of garlic
12 pimentos
½ hot pepper (preferably scotch bonnet)
2 teaspoons salt
2 teaspoons all-purpose seasonings
½ teaspoon black pepper
2 tablespoons of vegetable oil
2 cups water

Cut whole chicken into small pieces, or if you are using chicken parts, such as leg-quarters, cut them into pieces. Why chop the chicken? I firmly believe the chicken marrow enhances the taste of the cooked dish. But be sure to make just one good chop. (WARNING: The more chops you make, the more the bone splinters. You run the risk of that ending up in cooked dish, which may present a hazard, especially for children.

Rinse chicken with vinegar, salt, lemon or lime juice. Whatever works best for you. Do not over wash, or you run the risk of over process of the meat.

Chop, onion, scallion, green pepper, scotch bonnet pepper, fresh thyme, ginger and garlic cloves. In a large bowl, rub meat with all chopped ingredients, including curry powder. Let marinate in fridge overnight.

Take meat out and allow to come to room temperature — about 20 minutes — before you prepare. <WTE note: please follow proper food safety precautions.>

Heat skillet or tall-sided pan over medium heat. Add oil and heat for 2 to 3 minutes. Put all ingredients from bowl in pan and cover with lid. After 5 minutes, turn meat. Continue to monitor, and 15 minutes into cooking, add water, potatoes and carrot.

Reduce and simmer until chicken is done. The meat will sometimes end up falling off the bones. Serve hot with rice and peas or white rice.