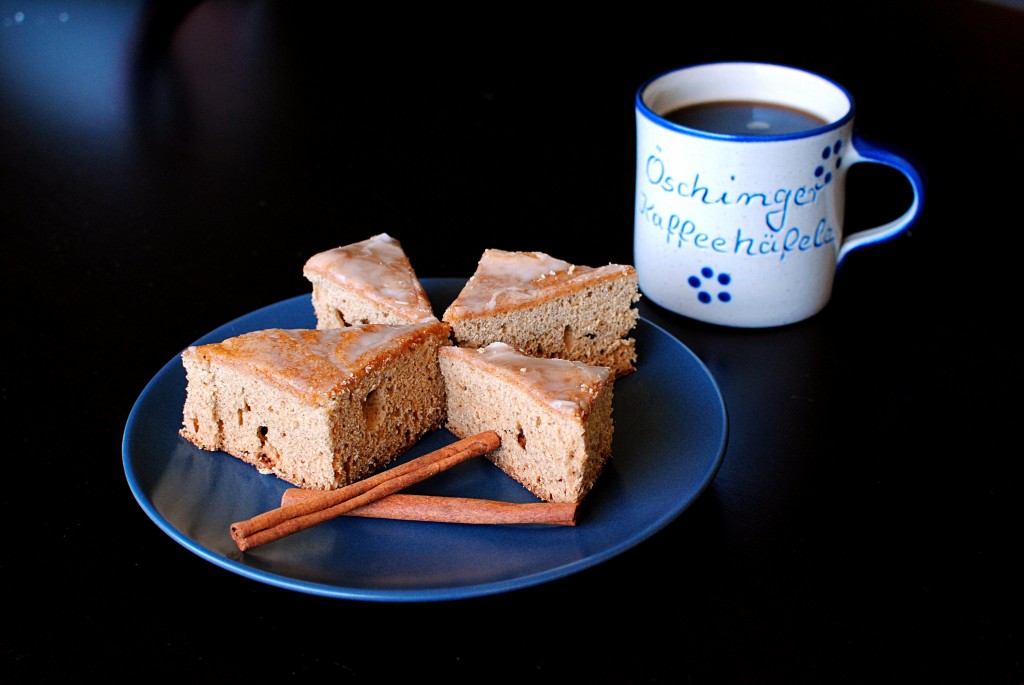 In my family, returning home for the holidays has always meant a kitchen full of baked goodies – many of them from our motherland. My grandmother was born in Öschingen, a little village tucked away in the Schwäbische Alb of Southwest Germany. A little more than 50 years later and not so long after I was born, my dad was stationed at the Air Force Base just a few hours north.
For the next few years, I grew up in another little German village, but visited Öschingen often — believing the whole while that I was, and always had been, a little German girl. We would take walks through the forest, I attended Kindergarten where it really meant "garden for children" and the village baker would give me one pretzel for each of the five fingers I held out to him.
Call me biased, but I know I'm not the only one who thinks that Germans make some of the best breads ever. My mom picked up a few recipes while we lived there and these, along with the usual Christmas cookie culprits, have always been a part of our holiday tradition.
Although I've always felt a strong connection to my German heritage, it never really occurred to me to learn the old family recipes. Because my mom is so talented in the kitchen, there was hardly a reason for me to learn her baking secrets. Until the chance to write a guest post for We The Eaters came up! What a perfect opportunity (at, ahem, 35) to finally "come of age" in the family kitchen. And learning these delicious traditions is its own reward: I'll be able to continue to enjoy and share the yummy family goodness, even when we don't spend the holidays at Mom's.
So, today, I share with you what I've dubbed the Holy Trinity of German Breads: kranzbrot, lebkuchen and soft pretzels. The first is a braided loaf of dense, slightly sweet bread with just a hint of … is that almond? Lemon? Vanilla? Lebkuchen is a sweet honey and allspice bread – perhaps the German cousin of gingerbread (the Starbucks' seasonal drink menu in Europe includes a "lebkuchen latte"). And, well, we all know that German soft pretzels are the envy of pretzels the world over.
My intention was to make the first two recipes on my own (although I probably called my mom a dozen times while trying) and then wait for my mom's visit to make the pretzels, which can be a little trickier than the other two. However, after much success with the kranzbrot, the lebkuchen tanked on my first try – turns out dissolving sugar in honey is a lot trickier than it sounds (but don't worry — I'll tell you how to get it right).
So, despite my best efforts to go it alone, I had to enlist Mom's help (and enhanced instructions) on both the lebkuchen and the soft pretzels. She is seriously the most talented baker I know. To date, the best baking compliment I've ever received came from my Aunt Meg, who, after biting into a pumpkin pie I'd made with my mom's recipe, closed her eyes with an, "Mmm Mmm." She then looked at me and said, "You are your mother's daughter."
Too bad it still took me nearly 5 more years to get serious about learning some of Mom's more complicated recipes, but here goes!
All photos courtesy of Jared Grauer
Sweet

Sweet, sweet honey spice bread. Meet gingerbread's German cousin: Her name is Lebkuchen and she is made of sugar and spice and everything nice.

Savory

The salty goodness of the soft pretzel was born in Southern Germany … as was this family recipe. It's soft, chewy and boasts that brown thin, crusty skin for which German soft pretzels are famous.

Spin

The twist on this recipe isn't just in the bread! Guest Eater Emily says her family's Kranzbrot is a twist on a German Easter bread, with a few special ingredients to make it taste just like Christmas!