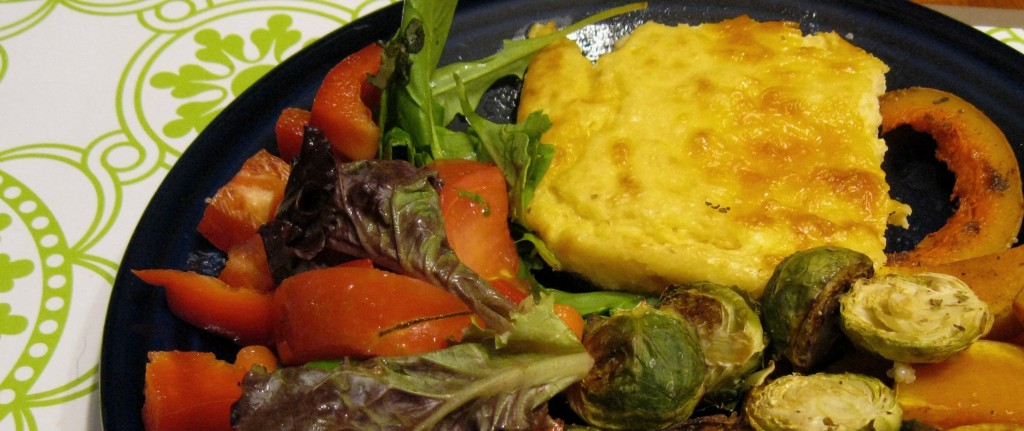 Bless y'alls hearts … you let the North Carolina girl blog about the Southern President.
No, not the one who once made McDonald's runs during his jogging sessions, years before he went vegan. I'm referring to the 39th President of the United States and winner of the 2002 Nobel Peace Prize — former President Jimmy Carter.
It's peanuts that come to mind when most think of Carter, which makes sense, given that he was raised on a farm that grew the southern staple. But peanuts? Been there, done that. Thankfully, there's another food that demonstrates the southern roots of this Plains, Ga., native: Mr. Carter loves his grits.
Native American in origin — and a common breakfast side dish for many natives below the Mason-Dixon line — grits (always plural, by the way; never a "grit") are made of coarsely ground corn. Not familiar? Consider them the distant Southern cousin of polenta. They're not as firm in consistency, but just as versatile.
According to the White House Family Cookbook, grits were a staple for the first family while Carter was in office between 1977 and 1981. "President Carter liked grits baked with cheese, so the dish was often included on the family's weekend breakfast menu," the authors write.
And Carter's allegiance to grits extends beyond the dinner table. During his term in the White House, it's the name President Carter (or his daughter, depending on who you ask) gave the family dog. Frankly, I'm a fan of anyone who names their dog after a food product. I thought long and hard about naming our new dog "Biscuit," and I once knew a very spirited brown Chihuahua named "Puddin'." (It just doesn't sound the same if you don't drop the "g" at the end. Try it. See?)
As a Native North Carolinian, I've seen various grit preparations in home kitchens and restaurants: the traditional style , boiled until creamy and topped with butter and/or cheese; cooled and sliced into cakes that are pan-fried, topped with a spicy roux and sauteed shrimp; baked in a casserole with sausage and eggs. The possibilities are numerous beyond measure.
And here's a tip rooted deep in southern tradition: keep it savory. Cinnamon and sugar belong in oatmeal, not grits. And don't even think about adding grape jelly. That's a cruel Yankee trick.
I do, however, agree with President Carter that adding cheese to grits is a wonderful thing. Aren't most foods improved by cheese?
With a nod to the 39th POTUS, here's a dish that should suit cooks, from above and beyond the South, who have never before cooked grits.
Southern Cheese Grits Bake
Adapted from Cooking with Jack: The New Jack Daniel's Cookbook by Lynne Tolley and Mindy Merrell

This is a dish perfect for breakfast, lunch or dinner. I served it with a side of roasted Brussels sprouts and acorn squash for a easy evening meal last week. It's a blank slate for all kinds of goodness — jazz it up with chopped fresh herbs, or substitute the cheddar for chevre, smoked Gouda, or other cheeses.

4 cups water
1 teaspoon salt
1 cup grits (traditional, not instant)
2 1/2 cups grated sharp cheddar cheese, divided
1 cup milk
4 eggs, beaten
1 clove garlic, minced
1 tablespoon Worcestershire sauce
1/2 teaspoon hot sauce (I used Texas Pete's)

Preheat oven to 350 degrees and grease up a 9×13 inch baking dish. Bring the water and salt to a boil in a saucepan and stir in the grits. Reduce to heat to low and cover.  Simmer for 20 minutes, stirring often (really — stir, stir, stir). Remove grits from heat and mix in 2 cups of cheese until it's melted and well-mixed in. Stir in the milk, eggs, garlic, Worcestershire sauce, and hot sauce (yes, more stirring — but you're almost there!). Pour grits mixture in prepared baking dish and sprinkle remaining cheese on top. Bake 45 minutes.