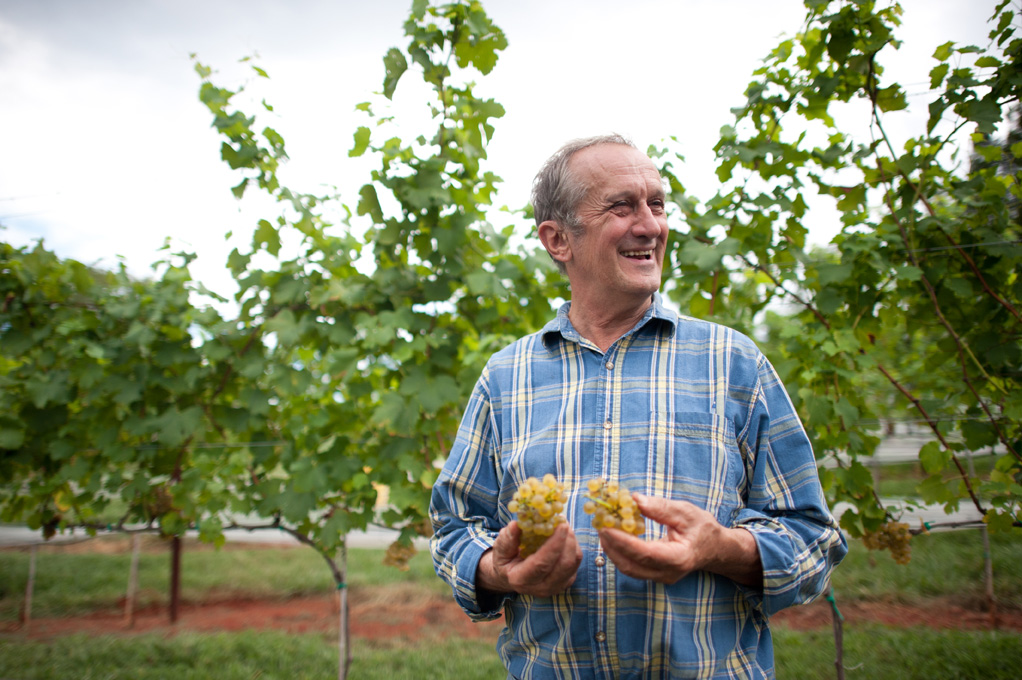 ©Thomas Jefferson Foundation at Monticello, photograph by Sarah Cramer
It's a bright, sunny day as I drive through the Virginian countryside. Even at this late date, a few trees dotting the hillside remain full of vibrant yellow leaves. I'm heading toward Thomas Jefferson's Monticello to attend a vinegar making workshop under the expert tutelage of celebrated  wine-maker and self-taught chef, Gabriele Rausse.
The classroom is crisp and clean with grey floors and celery-colored walls.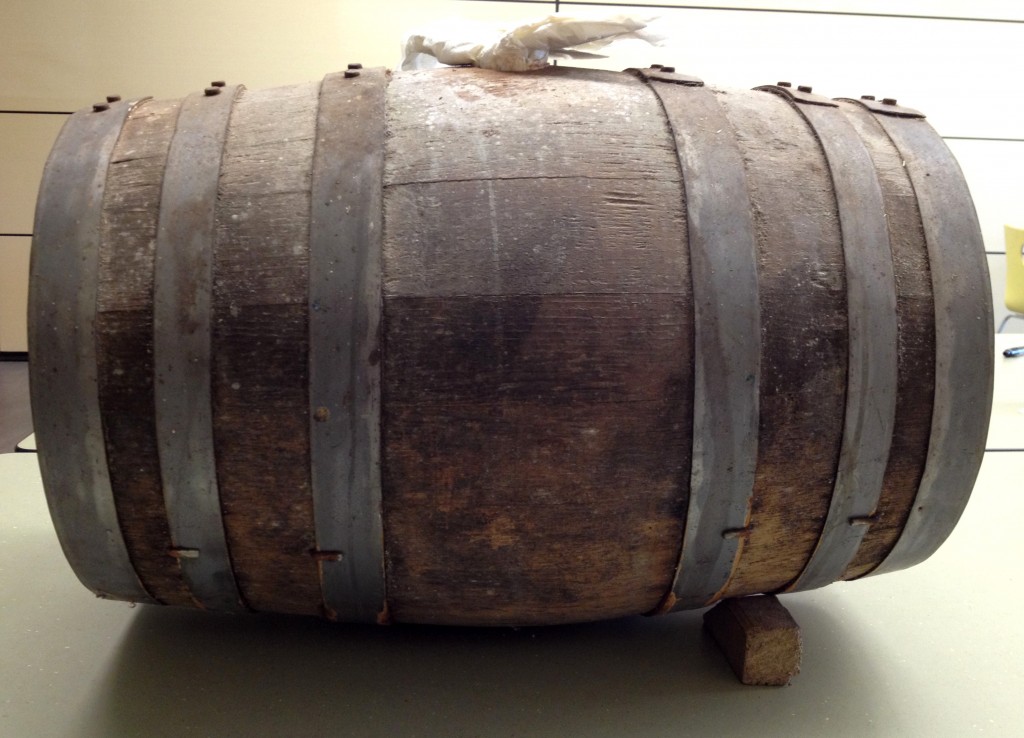 Assorted bottles with clear, burgundy and rose-colored liquids are scattered on one table. They stand next to a small barrel held in place with a wedge of wood on one side and a plastic spatula on the other. An assistant chops vegetables, occasionally stirring pots on the stove.
Rausse, the director of gardens and grounds at Monticello, is one of the last to arrive. He looks very much a professor, clad in tan corduroy pants and a tweed jacket over a v-neck sweater and button down shirt. With a thick Italian accent, he begins the class with a story about growing up near Venice, Italy.
His mother had a cask, too, he says. As a child, it was his job to pour the leftover wine, or wine with sediment, into the small wood barrel. Eventually, vinegar would be on tap from the spigot in the front. Rausse, 67, compares the process to recycling, and it's clear that this type of re-use became a family tradition: "I try not to throw anything away in my life," he says.
Italians have always been good at recycling. Consider Grappa. The cheap kind is made from leftover grape skins and sugar. The skins, says Rausse, have an infinite life in his country of origin. And in Italy, he stresses, grapes are the only thing wine is made from. He launches into another story about coming to the United States and being invited to a wine club. As the "go-to-guy for aspiring wine makers," his feedback was coveted. Upon being presented with dozens of different types of wine — none made from grapes — his feedback was, "no comment."
"If you want to insult an Italian wine maker, you have to ask him if his wine was made with apple," he laughs.
You might think this is a lot of talk about wine in a vinegar class, but there's good reason: you can't have vinegar without the vino first.  And here at Monticello, Rausse says, wine making wasn't an option — no matter how hard Jefferson tried. He dedicated 25,000 square feet of land to two vineyards on the property, but most records indicate that his attempts at growing European grape varieties in Virginian soil failed repeatedly.
Rausse says the grapes that did grow here ended up disappearing. The garden overseer suspected slaves were stealing the fruit, an idea the vitner scoffs at. "A human being commit a lot of sin, but he change the sin so he doesn't get caught." But animals, Rausse explains, aren't that smart. This is why, he says, the grape theft continued over multiple seasons, according to Monticello records — long past the time a human would have stopped stealing. 
Regardless of whether the thieves making off with Jefferson's precious crop were two- or four-legged, there was no shortage of wine at Monticello. While on leave from his post as minister to France, the Founding Father brought back 680 bottles of wine to the U.S.  And of his annual presidential salary of $25,000, $7,597 was spent on wine in his first term alone.  (Sounds like my kind of guy.) At Monticello, a dumbwaiter was built into either side of the dining room fireplace specifically to bring bottles of the stuff up from the cellar.
The point is, there was wine around … and where there's wine, there's vinegar. Eventually.
At Monticello, vinegar was used to preserve food as well as flavor it. Just as lemon juice brightens up a dish, so does vinegar, says Rausse, as his assistant passes around a sample of the Fennel in Balsamic Vinegar (recipe below). Acidity, he says, makes food more attractive.
The main ingredients in vinegar? Alcohol, oxygen and temperature. Ideally, Rausse says, the latter should be 60 to 80 degrees. Balsamic could once take 20 years or more to make, as it is moved from barrel to barrel, typically aging in five different types of wood. That wood, says Rausse, serves two functions: microoxygenation and imbuing the liquid with antioxidant properties. The longer it ages, the thicker it gets — a 50-year-old balsamic, for example, can have the viscosity of dark molasses.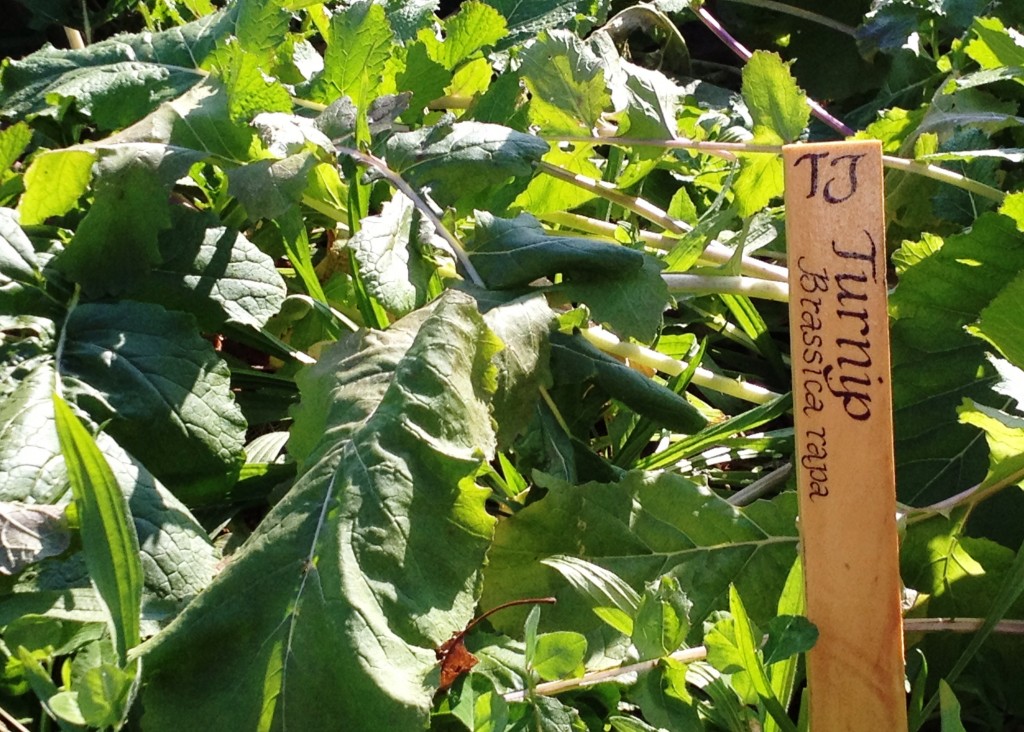 Now, thanks to  technological advances and a better understanding of the chemistry involved, vinegar making doesn't take as long, Rausse says. You might not get that super thick stuff, or the complexity of flavor, but even Rausse says that many of the mass-produced commercial brands you get off the grocery shelf are pretty good.
As the next sample comes out of the oven — turnips roasted with sauteed greens (recipe below) — Rausse explains how easy it is to make vinegar at home: "Open wine," he says. "It will become vinegar by itself."
There's a little more to it than that, of course, he says, once the other "students" have filtered out after the class ends. You need a starter, or "mother," which can be purchased on Amazon or at many beer and wine making suppliers. Unpasteurized varieties you can buy from the grocery store may even develop one, and some vinegar is sold with the mother in it.
Rausse will leave a few cups of the mother sitting out in a wine bottle for a few weeks, which kills the sulfites. He has a bottle he's been waiting to start here in the classroom, to which he adds some liquid from a tall bottle of burgundy liquid on the table. He assures me that his vinegar is so strong, it won't need a mother (OMG — Gabriele Rausse just gave me vinegar, and it's made from his own wine!).
Want to make your own? You should! Here are a few tips from Rausse, and some recipes you can try making with your first vinegar batch.
Chef Rausse's Vinegar Making Tips For Eaters:

1. To make a stable vinegar, you have to start with enough alcohol. When the alcohol level is too low, bacteria can thrive.

2. If you are making the wine, too, remember that different kinds of yeast will impart different flavors to the final products (the wine, and then the vinegar).

3. Vermouth is spoiled wine with herbs in it. Note the world "spoiled." When it comes to vinegar, in Rausse's opinion, you only add herbs when it's bad. He suggests sage and rosemary.

4. Be a good recycler — never throw away wine. Use it in your next vinegar-making project.
And now, for some food. All the samples we tasted in class were delicious. Mr. Rausse has graciously agreed to share a few here. We The Eaters would like to thank him and the Monticello staff for their hospitality.
Fennel in Balsamic Vinegar

1 fennel bulb
1 cup balsamic vinegar

Shave fennel as thin as rice paper with a mandolin. Place in bowl, pour vinegar over and toss. Cover and refrigerate, tossing a few more times to coat evenly. Serve chilled.

Turnips Roasted with Sauteed Greens

8 whole turnips, fresh from garden, greens removed and reserved
Olive oil
Salt
4 garlic cloves
1/4 cup wine vinegar (red or white)
1/4 cup water

For turnips:

Preheat oven to 325 degrees. Peel turnips and cut into small, bite-sized cubes. Put in casserole dish and toss with olive oil and salt. Roast for a long time — between 30 to 45 minutes, depending on how small you chop –– stirring occasionally, until browned.

For greens:

Wash greens thoroughly, derib, and blanch the leaves. Drain. Saute garlic in olive oil over medium-high heat for a minute or two (do not burn). Add turnip greens and saute two to three minutes covered. Add vinegar, water and a pinch of salt. Let liquid evaporate, add a bit more oil and lower the temperature. Cook until greens are tender and begin to caramelize. Serve roasted turnips atop greens.

NOTE: in class, the assistant just tossed the chopped turnips with the salt, olive oil and garlic and then roasted. It was delicious. I'd suggest a nice addition would be to add toasted pignolias (pine nuts) and chopped cranberries toward the end of cooking.