With the election madness behind us, WTE's little presidential culinary tour is coming to a close — but
not before a final stop with the nation's first president, George Washington.
One problem: There's scant information about Washington's actual food favorites. I thought I'd hit the jackpot when I discovered Martha Washington's Booke of Cookery and Sweetmeats. Surely it would be filled with dishes that regularly graced the president's table?
Not so much, as it turns out. The book was not a compilation of Martha's personal recipes. Rather, it was a collection of Custis family recipes dating from the 16th and early 17th centuries and passed down to Martha upon her marriage to her first husband, Daniel Custis, in 1749. Food historian Karen Hess, who transcribed the book in 1981, felt it possible that Martha never actually used the family heirloom. While it might have been interesting to attempt "boyled carp in its blood," it's probably for the best that I kept looking for a better dish to share.
Historical documents offer some references to meals the Washington family actually ate — like the extravagant spread described by a visitor in 1799, featuring several kinds of meats, cabbage, potatoes, pickles, tripe and onions, followed by pies, cheese, fruit and nuts (and, naturally, wine, beer, port and madeira).  But whether or not any of these dishes qualified as "favorites" is difficult to say. The memoirs of George Washington Parke Custis, Martha Washington's grandson, indicate the Founding Father was partial to fish. Others have noted that his taste in food was rather plain.
That said, there are some references on the Internet that sound intriguing, even if there's not a great deal of evidence to back them up. George Washington's fondness for mashed sweet potatoes with coconut pops up several times, but I've been hard-pressed to find any historical documentation of that. But hey — authenticity be damned! Sweet potatoes and coconut are both delicious, so I decided to give it a try. Good thing, too. If this was indeed a Washington favorite, he was onto something.
I give a bit more credence to the information provided by the team at Mount Vernon, Washington's stately home on the Potomac River. Research historian Mary Thompson says ice cream — served regularly — was likely a "favored dessert." Also available at Mount Vernon site are excerpts of writing  from Washington's step-grand daughter, Nelly Custis Lewis, who described hoecakes (essentially, corn pancakes) swimming in "butter and honey" as General Washington's typical breakfast.
All well and good, but I still wanted to serve up something a bit more interesting for you Eaters. Luckily, Washington was also partial to pineapples. After being introduced to the spiny fruits on a visit to his brother in Barbados, Washington wrote, "none pleases my taste as do's the Pine."
With this in mind, I took some inspiration from another reference to Nelly Custis Lewis, as described by the folks at Mount Vernon:
"Her 'Pine Apple Cream,' called for steeping or 'infusing' a pineapple rind in boiling cream. Utilizing the rind instead of the acidic fruit itself imparted the flavor of pineapple, without taking the risk of curdling the cream."
English custard-and-cream desserts known as "fools" were popular at the time, so I decided to give Nelly's technique a try. I tweaked an adapted period recipe for orange fool (the original recipe appeared in a cookbook owned by Martha Washington, Hannah Glasse's 1747 book The Art of Cookery Made Plain and Easy). I diligently scrubbed my pineapple, cut the rinds from the fruit, heated up my cream and set to steeping. 
Then things went terribly wrong. Perhaps there's good reason this technique has faded into obscurity,  because this cream was absolutely horrid. It was bitter. It tasted spoiled. And it went straight down the drain.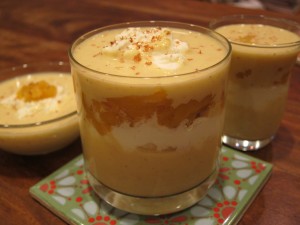 So much for history-inspired experiments. I went back to the fool recipe, this time swapping actual pineapple for the oranges, and subbing pineapple juice for the orange juice.
Would I recommend making this? Yes and no. Here's the thing: It's absolutely delicious (Amy licked her bowl — true story). But the custard simply wouldn't set. I simmered and stirred for an hour, and while it did thicken slightly, it never reached the right consistency. I think the culprit may be the whole eggs. Many custard recipes recommend using egg yolks without the whites. Because this recipe truly is worth making, I recommend trying it using four yolks, rather than four whole eggs (full disclosure — I haven't tried that revision myself, but I will!). 
And that's it! I'm no president, but (with a little tweaking), I've hit upon a few new personal favorites on this little historical tour. Enjoy!
Mashed Sweet Potatoes With Coconut
Adapted from Family Fresh Cooking

2 pounds sweet potatoes (I used a mix of the standard and Japanese varieties)
¼ cup coconut milk
¼ cup unsweetened grated coconut (you could use the grated sweetened type, but the result will be cloyingly sweet. If that's how you like your sweet potatoes, go for it!)
1 ½ to 2 tablespoons brown butter (I used this technique)
¼ teaspoon nutmeg
salt and pepper to taste
Maple syrup for drizzling
Grated coconut for sprinkling

Scrub the potatoes and chop into chunks about three inches thick. Toss them into a big pot of boiling water, and boil until they're soft enough to spear with a fork.

Drain and cool the potatoes until you can handle them. You can slide off the peels now, if you like, or leave them on.

Mash the potatoes and all ingredients but the maple syrup with a potato masher or ricer.

Spoon into your serving dish or individual serving dishes, drizzle with maple syrup, and sprinkle with a bit of grated coconut.

Pineapple Fool
Adapted from Hannah Glasse, via Damon Lee Fowler 

4 large eggs (I recommend using just the yolks)
1 1/4 cup pineapple juice (1/4 cup reserved)
3/4 cup sugar
1/4 teaspoon ground cinnamon
1/8 teaspoon ground nutmeg
2 cups heavy cream (1/4 cup reserved)
1/3 cup finely chopped pineapple
Dash freshly ground nutmeg, for garnish

Beat the eggs with a mixer until they're a pale yellow. Mix in 1 cup pineapple juice, then the sugar and spices, until all are well-blended.

In a medium sauce pan over medium-low, bring 1 3/4 cups cream to just below boiling, stirring often (you don't want the bottom to burn).

Whisking constantly, pour 1/2 cup of the hot cream, extremely slowly, into the egg mixture (you want to prevent the hot cream from cooking the eggs). Once it's well-blended, pour the entire egg mixture into the pan with the rest of the hot cream , still whisking. On low and stirring constantly, cook until it all thickens enough to coat the spoon.

Note: Don't let the mixture boil — it will cook the egg. You'll know that's happening if it seems to start curdling. If you see the slightest hint of a curdle, you can still save the custard: pour the entire mixture out of the hot pan, add a small splash of cold cream, and whisk, whisk, whisk until smooth before pouring back into the saucepan and returning to the heat. Cook over low heat, stirring constantly until it thickens enough to coat back of spoon.

Remove the thickened custard from the heat, pour into a bowl and refrigerate for at least two hours (you can put a layer of plastic wrap on the top to prevent a skin from forming).

To prepare the pineapple, stir the chopped fruit with remaining 1/4 cup pineapple juice in a small saucepan. Cook, stirring occasionally, until the juice has evaporated and the fruit is slightly cooked; about five minutes.

To serve, whip the remaining 1/4 cup cream. Layer the custard, whipped cream and pineapple in serving glasses, and top with a dollop of whipped cream topped with a tiny dash of nutmeg.

Makes about 6 to 8 servings