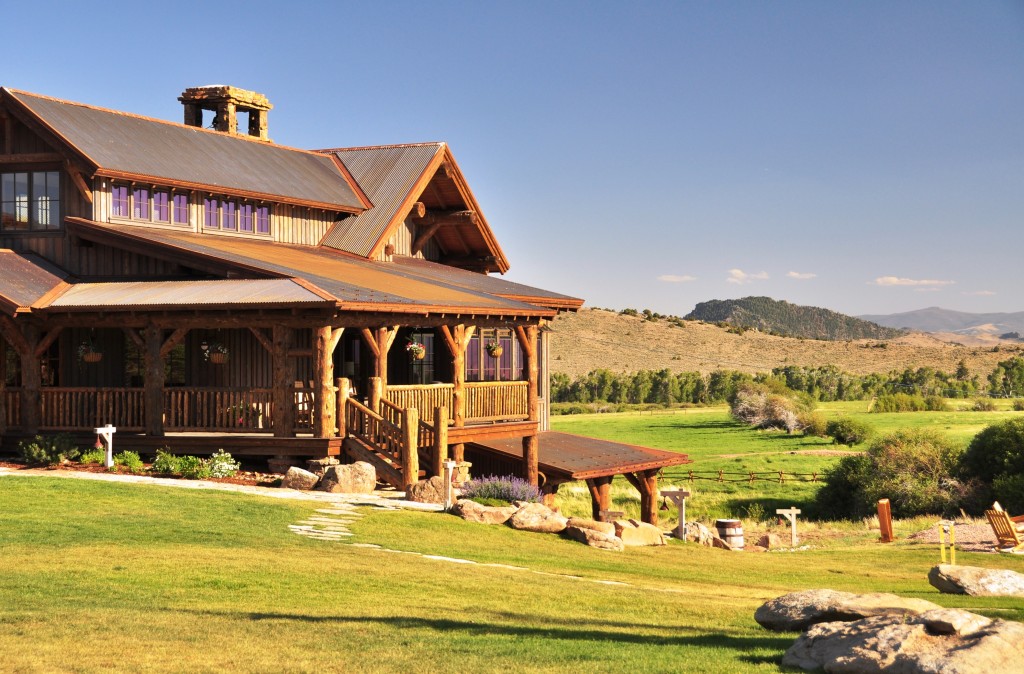 The tires kick up plumes of dust as we turn into Brush Creek Ranch, near Saratoga, Wyo. As we drive toward the lodge, we see log cabin-style buildings dotting the hillside — and a whole lot of sagebrush. Horses frolic in the pastures, carefully irrigated due to the lack of rain.
The drive with my family up from Denver made clear just how dry it is here. Fires that had claimed more than 26 square miles — and several lives — filled the sky with acrid gray smoke that followed us throughout the four-hour journey. I'm here with my father, alternate mother (one stepmother was enough!), my brother, sister-in-law and cousin. We've come to celebrate a landmark birthday for Dad: the big 6-0.
That can be a pretty traumatic number for just about anyone, so I figured the occasion called for some creative intervention. In keeping with our mutual love of the kitchen, I arranged a cooking class with the ranch's executive chef, Drew Anderson. Because, really — where better to tackle SAVORY than home on the range?
When we walk into to Drew's kitchen for our lesson a few days later, it dawns on me that this guy is never without a baseball cap. The affable 30-someting may seem shy at first, but he exudes such confidence in the kitchen that I can tell we're in good hands. Like me, he doesn't use recipes, but he's heavily influenced by French cooking and often turns to Thomas Keller's French Laundry for inspiration.
His "customers" — the guests staying here at Brush Creek Ranch — appreciate his unique style. Time and again they commented on Drew's ability to start with something everyone loves — like a burger — and elevate it to an unexpected level. Like making that burger with elk meat, or crafting meatballs with ground lamb.
Today's menu? Venison burgers (deer,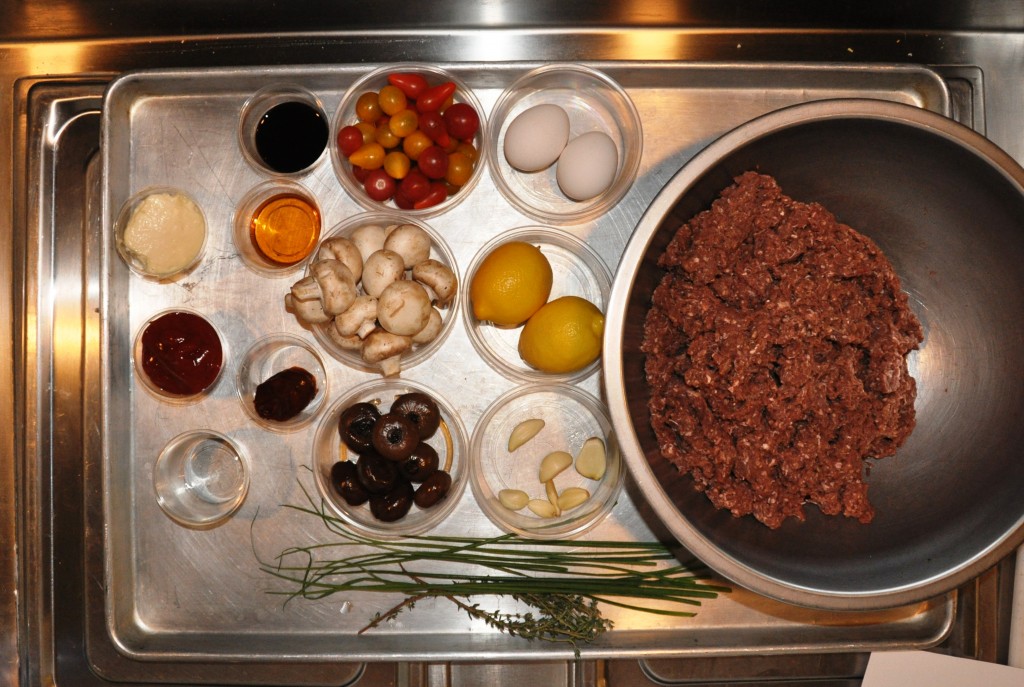 this time). Naturally, Drew's going a step further, with a savory relish made with tomatoes, mushrooms and cipollini onions. And … even further, with chipotle mayonnaise.
If what I've eaten at the ranch thus far is any indication, we're in for a real treat.
Drew's got all his ingredients lined up on the lodge kitchen's stainless steel counter tops. The lodge is one of the ranch's main gathering places, complete with gorgeous natural stone floors, antler chandeliers and expansive wood tables flanked by tall chairs covered in cowhide. The building alone inspires awe even if the food doesn't (and if it doesn't, sorry, but there's seriously something really wrong with you).
As we begin adding ingredients to the venison, Drew explains that kneading it won't make it tough like it does other ground meats, because of how it's been processed. Drew emphasizes that this deer is domestically raised at Durham Ranch in Wyoming. It's obvious how important the quality of ingredients is to him.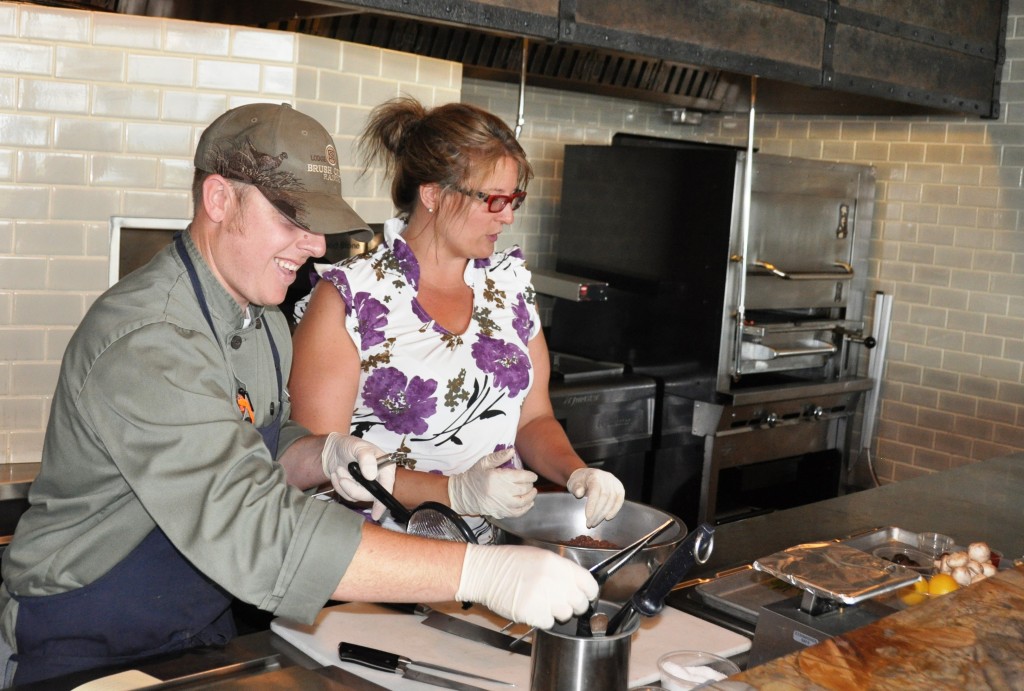 … Like about every other aspect of food prep. He has me microplane garlic into the meat, a technique he uses to release the garlic's oils and flavor in a way chopping just can't. Then we drop in the zest of a full lemon, which strikes me as an odd choice. But Drew says it cuts the venison's gamey flavor. "The lemon," he says, "adds brightness."
I'll say. He sears a small patty in a sauté pan to test the seasoning, offering Dad and I a taste. That brightness literally somersaults around in your mouth. That mini-patty method is another trick that's never dawned on either of us, but now seems so intuitive. Why cook a whole batch of burgers, meatballs or meatloaf — or anything that you can cook a small bit of — without making sure it actually tastes good? Do this to avoid ruining a whole batch.
We throw in pinch of needed salt, and then we're forming out patties. Because venison's a very lean meat, the proteins in it will tighten up over the heat. So, we make large, flat 8-ounce patties to ensure they're still cowboy-sized post flame.
According to Drew, the grind of game meats makes them difficult to get off the grill. He says the same is true for other meats, like turkey (and veggie or black bean burgers, I'd add). So before these savory babies head to the grill, we'll give them a quick spin in a well-oiled pan to carmelize them and get those proteins bound together nicely.
But that's not the only reason for the quick pan-fry. Drew compares it to roasting vegetables, which, he says, "is giving ten times more depth and flavor." Searing burgers, he says, does the same thing.
We work on the meal's other components in between the pan and
the grill. First up, the relish. The cipollini onions add a sweet, vinegary touch. They're tart, but a nice complement to the mushrooms' earthiness and the meaty tomatoes.
Drew attempts helping me with my knife work, which I admit, must seem pretty scary. Watching him pull knives out of his big red-and-black toolbox — yes, a real toolbox — makes me a bit sheepish, but he's patient and probably hoping I don't lose a finger on his watch.
Meanwhile, Dad's peppering him with questions about making stock as the rest of the amazing kitchen staff buzz around us, each intent on their individual tasks. They're busy preparing for the nearly 150 people arriving here at week's end. Yesterday, Drew says, he received a $5,000 order of red meat alone, and he's trying to make room for it around the suckling pigs and racks of ribs piled in every nook and cranny of the multiple refrigerators. When the ranch is at full occupancy, he says, they'll serve an average of 700 meals a day.
After we've cooked down the relish, it's on to the chipotle mayo, which takes all of five minutes. Drew says garlic would be a nice touch, but then it would be an aioli, wouldn't it? Still … I may try that at home — I'm a garlic fanatic!
As we're grilling the meat, regularly rotating an eighth of a turn to create beautiful grill marks, Drew suggests brushing the buns with clarified butter and throwing them in a pan or on the grill to toast them a bit.
Then, it's time to build the burgers. He slathers both pieces of bun with chipotle mayo, adds a perfectly grilled patty, some lettuce and a heaping portion of relish.
The family is waiting impatiently at the ranch's chuck wagon for lunch to be served. The corners of the table's red-checked tablecloths are blowing in the wind, held in place by horseshoes and mason jars filled with water. As the servings arrive, there's a quiet pause. It's such a colorful plate, and with the gorgeous Wyoming sky above us, for just a moment, we feel like real cowboys and cowgirls.
But the moment doesn't last long. My brother and cousin sink their teeth into the juicy burgers, pieces of relish falling to their plates. And Drew's picked the best side imaginable: rough-cut truffled fries. Everything is amazing, or — as to use his other guests' words — simply fantastic.
So is the smile on Dad's face as he picks up what we helped prepare together.
Happy birthday, Daddy.
Dad sits down to enjoy the fruits of our labor at the Brush Creek Ranch chuckwagon.
Many thanks to the White family and all of the wonderful folks at Brush Creek Ranch for making this post — and the best vacation ever — possible! Your warmth and hospitality were truly amazing.

Venison Burgers
4-5 pounds ground venison
2 cloves garlic
1 lemon
1/8 to 1/2 tsp. Worcestershire sauce
2 eggs
Kosher salt
Freshly ground pepper
Canola oil

Place meat in bowl, using a microplane to grate garlic into meat. Zest one lemon over meat, and add Worcestershire, eggs, salt and pepper to taste. Knead with your hands until all ingredients are incorporated. Take a small amount, form a patty and cook in a pan to desired temperature (rare, medium, well), cool and taste to check seasoning. Make any necessary adjustments to your meat mixture and form into large, 1/2-inch or thinner patties. Oil pan and sear patties over medium heat until nicely caramelized on each side. Remove from heat and transfer to grill, tuning an eighth-turn for grill marks. Flip and repeat cooking to desired doneness.

Tomato, Mushroom and Cipollini Relish
1 1/2 cups heirloom grape tomatoes
2 cups button mushrooms
2 cloves garlic
1 cup cipollini onions
2 tablespoons sherry
1 sprig fresh thyme
1 teaspoon fresh chives
Kosher salt
Freshly ground pepper
Canola oil

Halve tomatoes, quarter cipollini onions and slice mushrooms. Remove thyme leaves from stem and mince chives. Oil pan and saute mushrooms on high heat until tender and beginning to caramelize. Microplane garlic into mushrooms. Reduce heat and add cipolinni onions. As they begin to cook down and break apart, add sherry and tomatoes. When the tomato skins begin to blister, add thyme and chives. Remove from flame and season with salt and pepper.

Chipotle Mayonnaise
1/2 cup mayonnaise
1/2 lemon
1 clove garlic
1/3 to 1/4 prepared (canned) chipotle pepper

Add mayonnaise to bowl with juice of lemon. Microplane garlic into mixture. Chop desired amount of chipotle pepper finely, scraping across cutting board to form paste. Add to mixture and whisk together until all ingredients are incorporated.

Brush buns with clarified butter and grill or toast in pan to crisp.

Build burgers, and enjoy!

Serves 8

Recipe courtesy of Drew Anderson, executive chef at Brush Creek Ranch