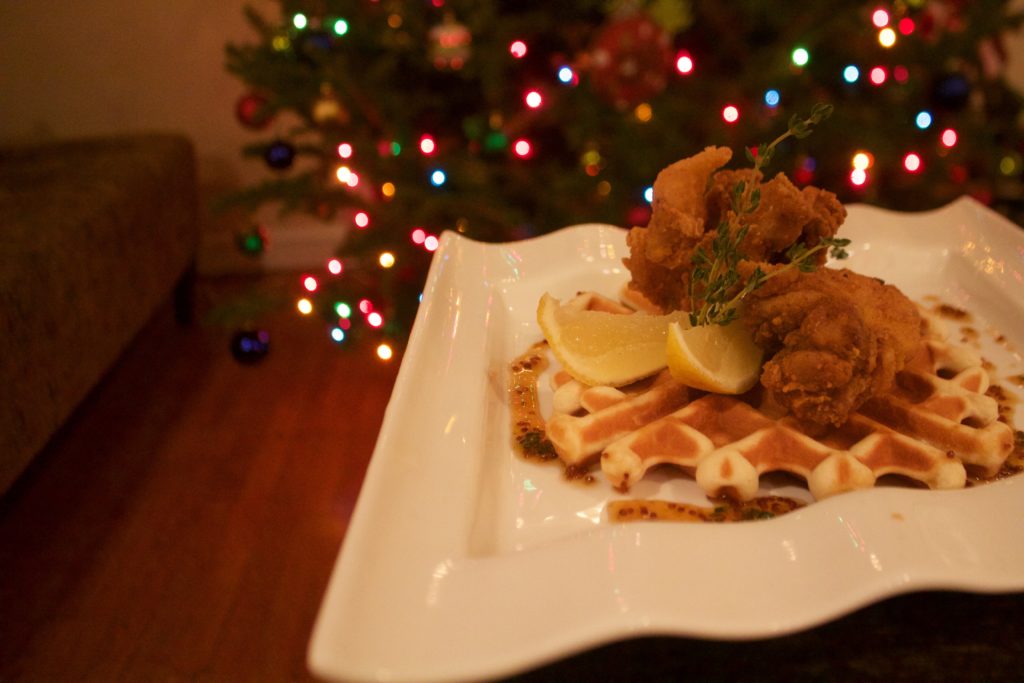 For the last week of December, and of 2016, We The Eaters recruited Chef Will Young to give his take on homemade, honey-inspired gift.
An accomplished chef instructor and culinary master, Chef Will has taught the art of cooking and pastry for many years. A graduate of Johnson & Wales University in Providence, RI, he has earned degrees in culinary arts, baking and pastry arts, as well as food service management.
He's opened two restaurants in Dhaka, Bangladesh, and as Executive Sous Chef of the Westin, Camino Real in Guatemala City, he revived the culinary palette of his clients by reengineering the menu with his personal touch.
Chef Will's creations are a unique interpretation of a wide range of culinary cultures and cuisines. His quest for culinary adventures have taken him to Southern Africa, Europe, Central America and Southeast Asia.
The chef has a real passion for helping young people and enjoys challenging them to be the best they can be and to live out their dreams. As both a teacher and a mentor to his staff, Chef Will thrives on creating an inspirational environment. He lives out his mission each day with the creed "Where there is a WILL, there is a WAY".
As to the holidays, Chef Will gifts his heart through food at this time of year.
"Every year I look forward to spending time with family and friends. Usually my wife and I will host a brunch on Christmas for our family and friends. They, of course, love to stop by because I am cooking. Any gift you put your creativity and personal effort into is extra special. So this year I have decided to make this a little more special and give love in the form of a little culinary DIY. I've created a food item made with honey in mind so that the ones I love (and you!) can enjoy something from my heart."
"I've come up with a Chinese five spice honey compound butter that will taste great on salmon and a whole grain mustard honey sauce great with fried chicken. These recipes are easy to make and a joy to give as gifts. Below I have listed the ingredients for each culinary DIY with suggested dishes."
Enjoy!
Chinese Five Spice Honey Compound Butter

2 sticks unsalted butter
4 tablespoons honey
1 teaspoon orange zest
2 tablespoons orange juice
2 teaspoons of Chinese Five Spice

Mix all the ingredients together in a bowl.

Take a piece of parchment paper, about 8 1/2 x 11 inch sheet.

Place the parchment in front of you the long way and spoon the butter on to the sheet 2 inches from the bottom of the parchment.

Roll the butter into the paper going away from you until you have a cylinder of butter that looks like your favorite slice and bake cookie roll. Twist the end so that it looks like a very thick roll of taffy candy.

Place the rolls of butter in the refrigerator until it has hardened.

I used it on baked salmon served with basmati rice and a hoisin sauce. Place a medallion of butter on the hot salmon just before you serve it. The butter melts and the combination of flavor from the compound butter, salmon, rice and hoisin sauce is tasty.

To give the Chinese Five spice honey compound butter as a gift, keep it wrapped in parchment paper and tie the end with decorative ribbon. Place it in a decorative wooden box from your local craft store!

Honey and Whole Grain Mustard

½ cup of dark honey
1 teaspoon lemon zest
1 teaspoon lemon juice
1 teaspoon fresh thyme, chopped
2 tablespoon whole grain mustard
2 tablespoon Dijon mustard

Place all the ingredients in a sauce pan and bring to a boil for a few second and turn off.

Let the sauce cool and place it in a beautiful jam jars that can be purchased at the local craft store. Adorn with a delightful tag and festive ribbon. It's simply easy and your friends will use it. I serve this sauce with Fried Chicken and Lemon thyme waffles… delicious!

These are just a few ways you can give some home made, DIY love on Christmas Day.