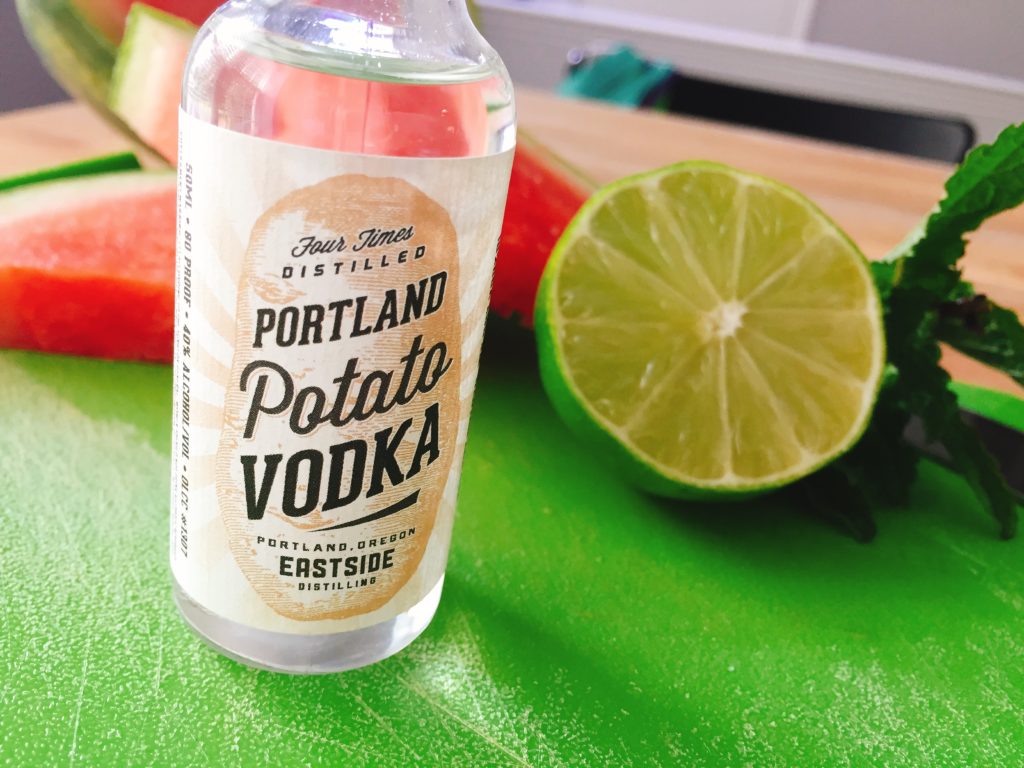 While winter arrived this week with the return of Game of Thrones, summer seems to be getting hotter and more humid around these parts. Watching the snow fall Sunday night on the season opener gave me some much needed chills.
July's stickiness is the perfect excuse to break open a watermelon to try to cool down. Whether you choose to make a salad with it, eat it straight out of the melon or booze it up by shoving a whole bottle of vodka in it … well, you do you. They just make a ton of sense in the summer heat, on the beach or on a boat, in a box or with a fox. Get your hands on a good ripe one – sweet and juicy – and you'll be hydrated and feeling refreshed.
I decided to up the chill factor with my watermelon recipe this week by making popsicles. I found a ton of inspiration from bon appetitit, including a recipe I used as my base. Unfortunately, this required me to buy some new kitchen gear – popsicle molds. Years ago I bought a Zoku "quick pop maker", which I never ever used. So it was purged from the collection. The idea sounds super cool. But for the roughly $50 I spent … well, did I really need my popsicles in under 10 minutes?
For these watermelon pops I found a simple mold set at Target for $12. Of course, it took roughly 8 hours for my pops to set. I figure with our new son I'll be making popsicles a lot more in the future. Of course, when my impatient toddler is asking over and over for them I will wish I still had that Zoku.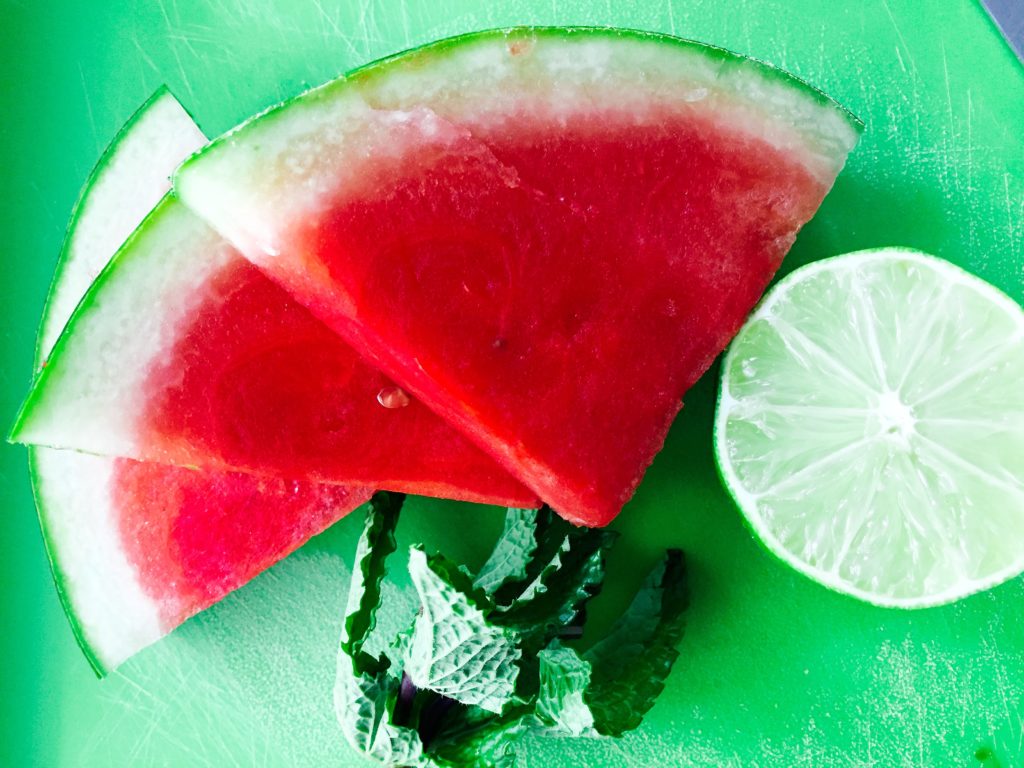 One other awesome idea from bon appetit: boozy popsicles. Um, yes, please!
I figured I could use something I had in our liquor cabinet. At the very least, I figured, we had vodka. Rum or tequila might work too. As I prepped my puree, I had my husband dig around for a good option. Apparently we had flavored vodkas … nothing plain. Except for a tiny little "one shot" bottle of a vodka from Portland, Oregon's Eastside Distilling, gifted to us by Amy and Adam after their trip … quite a few years ago now. Somehow this little gem had evaded our thirsty eyes that long!
All in all, this was a pretty awesome success. The yogurt added to the popsicle puree, while it sounded strange at the time, makes sense. Watermelon has a lot of water content, so the whole thing could get too icy. Adding yogurt is a secret of the pros I definitely recommend!
Boozy (or not!) Lime-Ginger-Mint Watermelon Popsicles
I used one of those smaller, seedless watermelons to make things a bit easier. Of course, while they don't have the black seeds, they do have the smaller seeds. I left those in and they blended up just fine.

3 cups cubed watermelon, seeded
2 tablespoons plain Greek yogurt
1 tablespoon lime juice, fresh
1 tablespoon agave nectar
1 teaspoon finely grated ginger
3 mint leaves
pinch of Kosher salt
1 ounce vodka, optional

Blend or puree all ingredients together till finely processed. Adjust to taste, for example, add more agave or lime juice. Pour into popsicle molds. If using wooden sticks, set the pops in the freezer for about 45 minutes or so, then insert the sticks; otherwise, simply put the stick and ends into the pops. Set in the freezer for at least 4-5 hours. Use a little hot water to release the pops from their mold when you're removing them. Enjoy the cool feeling!