These last weeks of summer are precious. Before you know it, the sunshine is slipping through your fingers. You're lamenting that beach trip you haven't squeezed in, those al fresco plays and concerts you've missed.
My point, dear Eaters, is two-fold. One: You don't want to waste these last slivers of sunny summer abandon cooking – and while we may be on the march to autumn, it's still plenty hot outside. Two: You don't want to spend your time reading too much about cooking, either.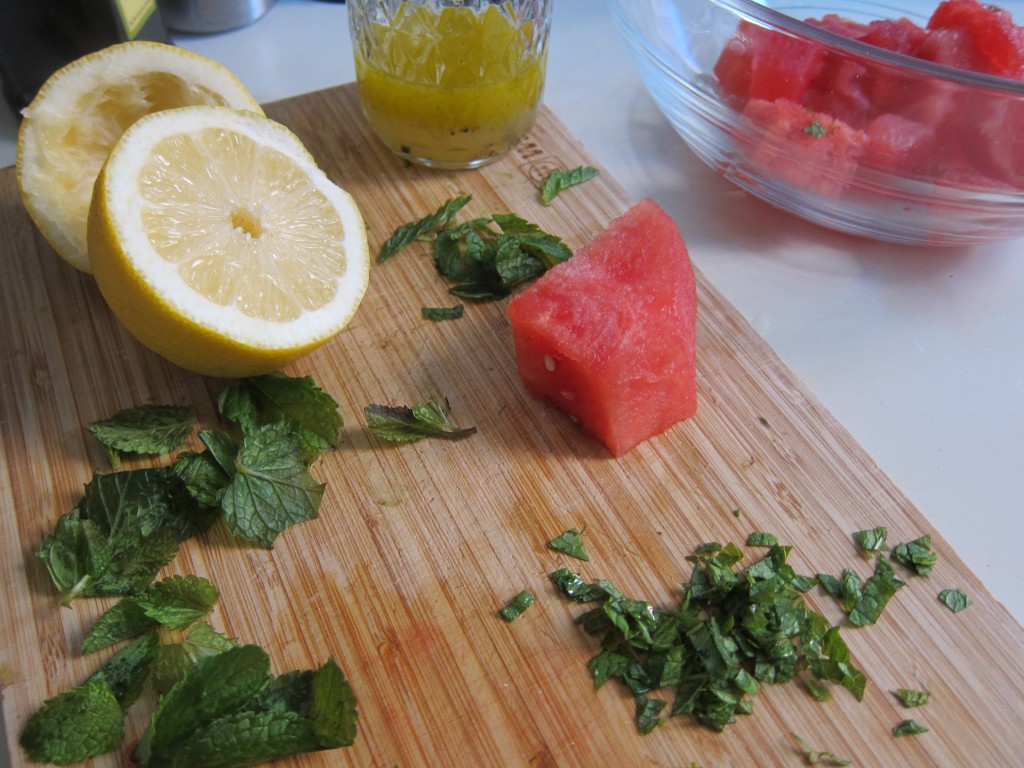 So I'll keep this post short and sweet, with a recipe that requires little time and no heat.
No pots, no pans. No simmering, no grilling (you know how I feel about grilling, anyway). Those are all worthy tools and pursuits, of course, but time is short! So for this simple salad, you'll need just a few basic ingredients, a sharp knife and a quick spin in your salad spinner.
A quick word on watercress: I rarely purchase it, but after doing a bit of reading, I might pick it up more often. It's loaded with vitamins C, K and A, and has a wonderful, peppery punch that's reminiscent of arugula leaves. And July is prime watermelon season, which is precisely why we're featuring it this month.
This dish works well because the melon's sweetness nicely balances the watercress' bite, but you could also mix it with other greens to add some zip to a more traditional salad. And if you find you like it, you'll find recipes galore on the internet for more traditional preparations like egg salad or watercress soup.
But that's enough chit-chat — you should be outside! So pick up that last watermelon, some cotija or feta cheese and some zippy watercress, and toss this zippy salad together.
Then head to the park. Stat.
Watermelon Watercress Salad

1 1/2 pounds watermelon, cut into 1-inch cubes (or whatever size, really)

1 bunch watercress washed and trimmed to leaves and tender stems

2 tablespoons rice vinegar, white balsamic vinegar or fresh lemon juice

3 to 4 ounces feta or cotija cheese

Salt and pepper to taste

8 to 10 mint leaves, chopped finely

I tried three different acid options of the dressing: rice vinegar, white balsamic vinegar and lemon juice. I found all three delightful, so whichever option you choose, you can't go wrong.

Combine all ingredients in a large bowl and toss gently.

Some recipes out there advise letting the flavors meld for an hour or so, while others suggest serving immediately. Either works!

Makes about 4 servings
Save