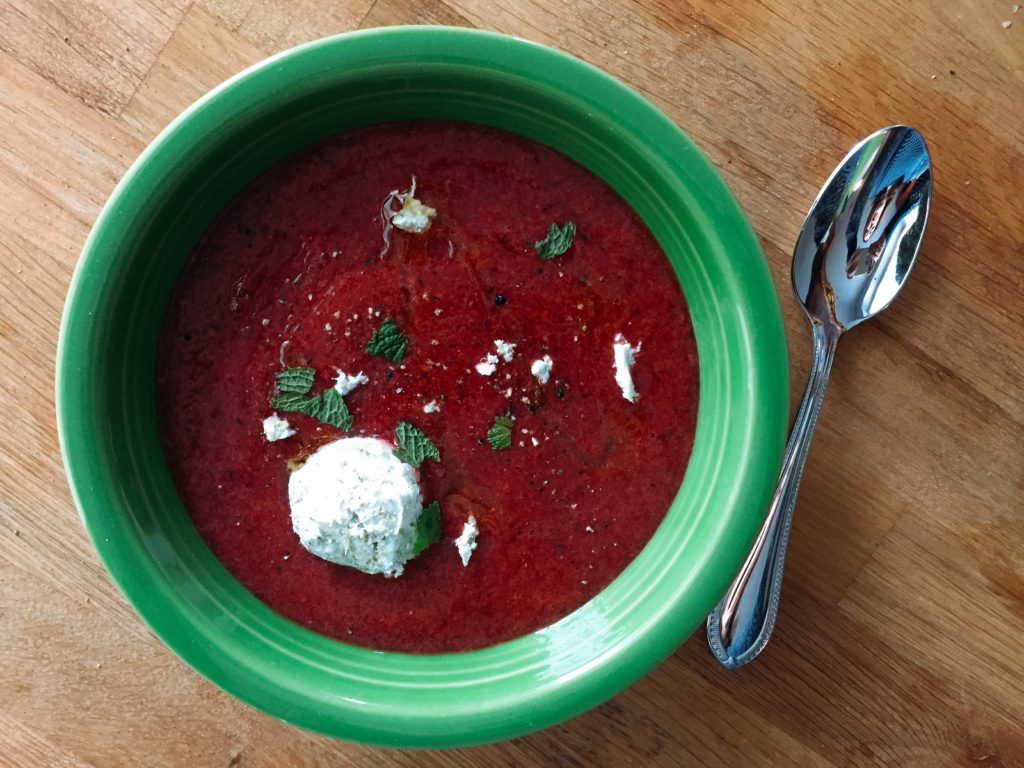 We're in the middle of a very strange weather pattern all over this piece … and by piece I mean the Northern Hemisphere. I happened to read this little article on the Washington Post's Capital Weather Gang's blog explaining this whole jet stream pattern we're seeing right now. Six low pressure pockets are stuck in a sort of traffic jam. Apparently these things can lead to some pretty extreme weather events – flooding, wildfires, blizzards. And, while some of the US has been hit by some pretty nasty, even deadly, stuff recently, we in the DC area can count our lucky stars. This whole thing is only giving us a few rainy days sprinkled in with some lower than average temperatures.
But here's the thing, these jet stream patterns can lead to the weather "sticking" around for quite a while. The next week looks pretty chilly around these parts. It's good and bad all at the same time. On the one hand, I'm still not totally ready to get rid of my cooler weather wardrobe. That baby weight is sticking like glue and it's been tough to get into a workout routine that isn't just "let me take the stairs three flights…eh, screw it". But while sitting at my desk at work, quite winded from all those stairs (or not), I dream of beach season.
We're only a few short weeks away from Memorial Day weekend, the official kick off of sand, sun and surf for people in the mid-Atlantic region. For others, like my sister-in-law's family in Orange Beach, AL, it's beach season all the time. SIGH.
This season is bittersweet for me. Thanks to Founding Foodie Amy introducing me to Dewey Beach, DE, I've been a member of a pretty awesome beach house with her on the same block as the beach. Membership gets you every other weekend from Memorial Day till Labor Day for an extremely sweet price. It's just ridiculous. But…I'm a new mom. And babies are not part of my membership. Sadly, I'll be transitioning out of the house this season. For half of the summer I'll be relying heavily on my amazing husband to take our little boy for the entire weekend. Awesome, yes, but also I cherish my weekends spent with him. It's going by so fast…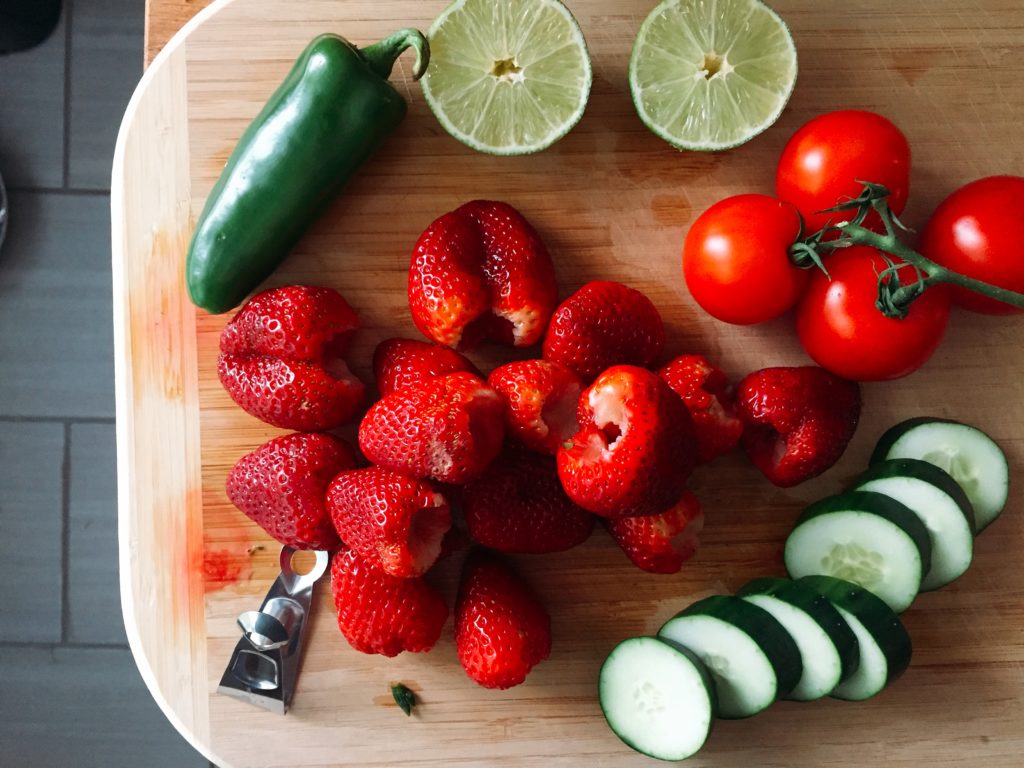 But then I remember, while sitting at my desk at work [insert craziness here] that I really need the beach. Which brings me back to the weather. It's been chilly for this time of year for sure, but to get into the spirit I thought I would pretend it's hot out, close my eyes and picture myself at the beach house working on a quick and easy dinner. Something cooling, something refreshing, something … gazpacho.
Gazpachos are soups made with raw veggies (most have a base of tomatoes) served cold. Here's where I might lose you … what if you added strawberries? Personally, tomatoes and strawberries sound like an add combination, but after some recipe Googling it turns out this is a thing. And there are quite a few interesting twists. I combined a few of my favorite ideas and made a Frankenstein-like-monster chilled soup. Cucumbers and mint add a cooling effect; jalapeno, garlic and goat cheese add a savory effect to balance out the sweetness of the berries. I also saw recipes that used green pepper, tarragon and fennel, just to name a few.
Not only would this work on a hot day because it's cooling and light, but let's talk about how easy this is. It's raw. Chop some stuff up, throw it all into a blender, chill and eat. No one wants to slave over a stove in the heat. Perfect!
Cooling Strawberry Gazpacho
Fresh local strawberries are a must. Paired with ripe tomatoes, you'll get a deep red and super flavorful gazpacho. Also, depending on the power of your blender, chop the ingredients as little or as much as need, for example, a Vitamix can handle larger chunks.

Soup
1 pint strawberries, hulled
5 ripe tomatoes, chopped
1 medium cucumber, preferably English hothouse, peeled and chopped
1-2 jalapenos, seeded and chopped (amount to your taste)
1 clove garlic, crushed
juice of 2 limes
2 tablespoons honey
freshly ground salt and pepper to taste

Garnish
2 ounces goat cheese, softened
zest of 2 limes
freshly ground black pepper, to taste

Add all soup ingredients to blender. Turn on high and blend until all combined. Optionally, strain the soup to remove any larger bits that didn't get combined smoothly. Chill in the fridge for at least an hour.

When done chilling, season with more salt and pepper to taste. Serve with a dollop of the goat cheese garnish.