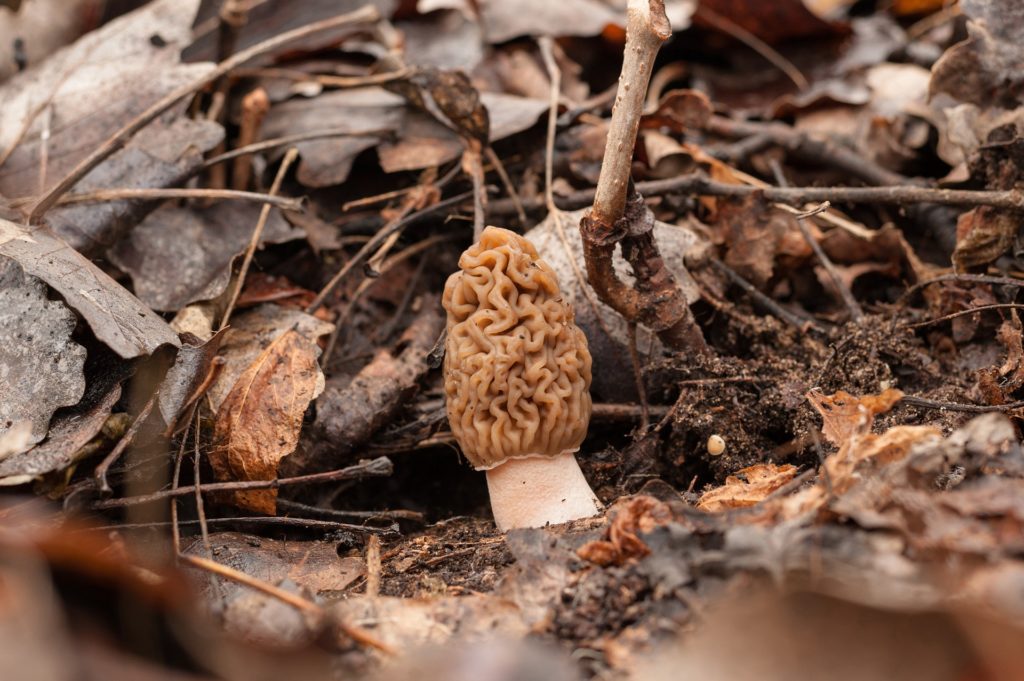 I only use the title above because the Washington Post beat me to my original idea, The Morel Of The Story, in 2008. Such is life.
That would have been a perfect description of what I've done, though. Perfect, because this is a story about not waiting until the week before your post is due to try and find an elusive key ingredient… the star of the show… the only thing that really matters when you're writing about the unique bounty of Spring… the morels.
Hence the "moral" of my story.
But, honestly, this WaPo nonsense isn't such a bad thing, because the title I've ended up with here truly describes what I have had to do to turn this week around. You see, to "rest on one's laurels" (or "morels" here) means "to be satisfied with one's past success and to consider further effort unnecessary" according to this website. I've done posts in the past requiring all manor of strange ingredients, from kefir to pomegranate molasses. Finding those things was never as difficult as tracking down mushrooms… which grow in the ground.
Not like that was my first thought. No, first I went to Facebook after seeing writer and fellow foodie, Nevin Martell's plea for the earthy things there, too. Clearly this guy knows his fungi. Sadly, nothing panned out. Strike one.
Next, I figured… I got this. I'll just go out and pick some. So I started researching. I found so many awesome articles about morel hunting. Standouts include write ups on sites like Wide Open Spaces, The Mushroom Farm and Mother Earth News. Then I came upon this one in Field & Stream, which references a morel-look-alike that causes those who ingest it, "cramps or other forms of gastrointestinal distress." Yeah. No, thanks. Strike two.
My last ditch effort included a trip to Whole Foods… where morels are sold for a premium. When they say "whole paycheck," they are NOT kidding. Strike three. So I purchased some lovely dried porcinis for about $1o and headed home.
Thankfully, the recipe I'd chosen was originally made with porcini, anyway. But if you happen upon some morels, let me know how it turns out.
And maybe where to look next time…
Mushroom Risotto

2 ounces dried porcini
2 cups water
3 cups chicken stock
Salt and freshly ground pepper
1/4 cup + 1 tablespoon extra-virgin olive oil
1 small shallot
1 garlic clove
1 cup arborio rice
1/4 cup + 1-2 tablespoons sherry
1 small bay leaf
2 tablespoon butter (unsalted)
1 cup freshly grated Parmigiano-Reggiano cheese (about 3 ounces), plus a bit extra to shave on top
1/2 pound cremini mushrooms (or substitute morels and reduce porcini to 1 ounce)
2 sprigs fresh thyme
4 cups arugula
4 tablespoons fresh pesto, if desired (we love this Serious Eats recipe)

Boil water. Add dried porcini to a glass bowl or measuring cup and pour water over. Cover with plastic wrap and set aside to soften, about 10 minutes.

Drain mushrooms, reserving 1 cup of the liquid. Rinse mushroom, chop finely and set aside. Pour the reserved mushroom liquid in a medium-sized saucepan and stir in the chicken stock. Warm over low to medium heat.

Clean and slice mushrooms, then brown according to the instructions in this article, using one spring of time and sherry. Set aside.

Mince the shallot and garlic. In a large sauté or other wide-brimmed pan, heat two tablespoons of the oil until shimmering. Add shallot and garlic and cook over medium until softened and shallot is slightly translucent (about two minutes). Add the rice and porcini, stirring to coat, and allow to cook for an additional two minutes. Add the sherry and bay leaf, cooking until the liquid has been absorbed.

Add about a cup of the warm stock and cook, stirring constantly, until nearly all is absorbed. Add another cup, repeating the process until the rice is al dente and suspended in a creamy sauce. The entire process should take about twenty minutes.

Pick out and discard the bay leaf. Stir in the mushrooms, butter and parmesan cheese; season with additional fresh thyme, salt and pepper.

Lightly dress the arugula with olive oil. Spoon risotto into low-rimmed bowls and top with arugula, pesto (if desired) and fresh shaved Parmigiano-Reggiano. Enjoy!