I don't mind hot and spicy. Actually find that appealing in a girl. And chicken wings.
                                                                                                                                   – Julie James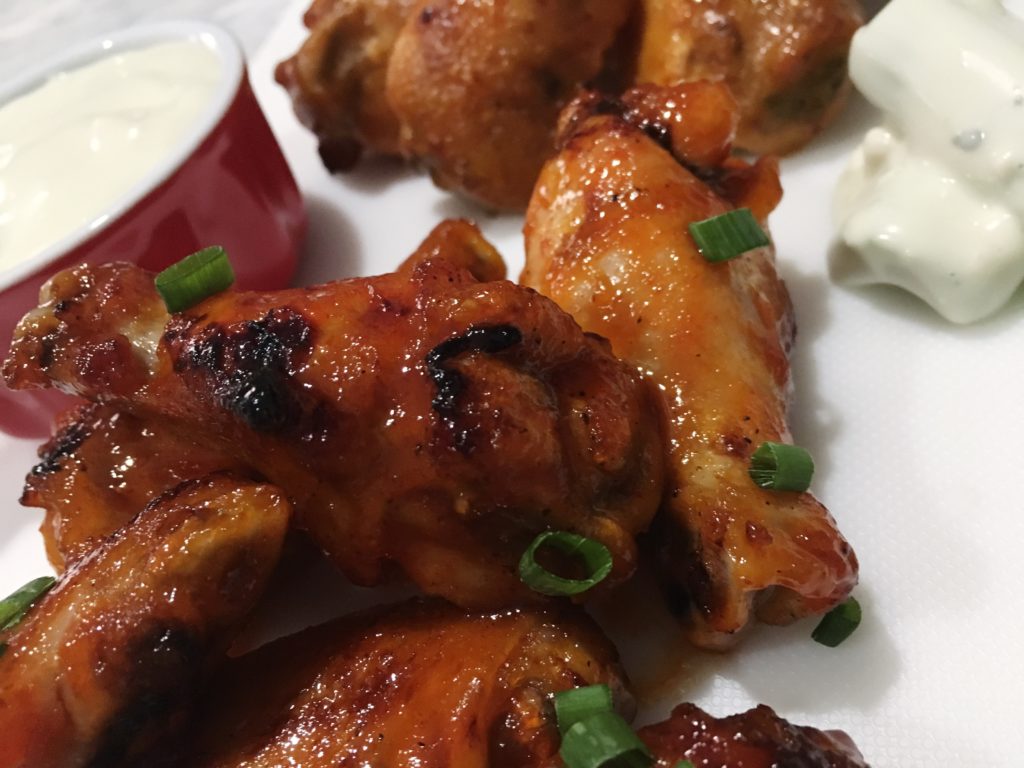 When it comes to chicken wings, you would assume that your average guy from Upstate New York would be a Buffalo-style purist. After all, it's not just an appetizer to us… it's a part of our history.
Some people debate the true origin of  the Buffalo wing, but the majority of "experts" agree it was created by Teressa Bellissimo, owner of the Anchor Bar, in 1964. Legend has it that her son arrived at the Buffalo bar late in the evening with hungry college friends. The day's cooking already completed, Teressa needed to create a quick, satisfying snack with what she had available. She went back to the kitchen to survey what food scraps remained, and dreamt up the idea of deep-frying leftover chicken pieces (wings, which were typically thrown away or reserved for stock), and tossing them in a cayenne hot sauce.
The rest is history.
And while it is important history to us Upstate New Yorkers, I have to admit that I prefer wings with a sweeter sauce. Sacrilege, I know! My west coast born wife even reminds me often how wrong that is.
Not to mention, though I greatly enjoy wings, making them at home without a deep fryer is a challenge. It's tough to get that crispiness you expect. And let's be honest: nobody wants a soggy wing. Nobody.  No crunch? Don't bother.
If you can't deep-fry them, a second great wing-cooking method can be found at Dinosaur Barbecue, another Upstate New York staple. Smoked, sauced and finished on the grill. Seriously. If you've never been to Dinosaur, it's worth the short drive to Baltimore's Inner Harbor where the chain recently expanded. Their Chipotle Garlic wings, charred to perfection over an open flame, might just be the best I've ever had. (I can almost feel the Buffalo-style purists ripping their hair out.) You can thank me later. Alas, smoking meat at home is even less accessible than deep-frying. So what's a chef to do?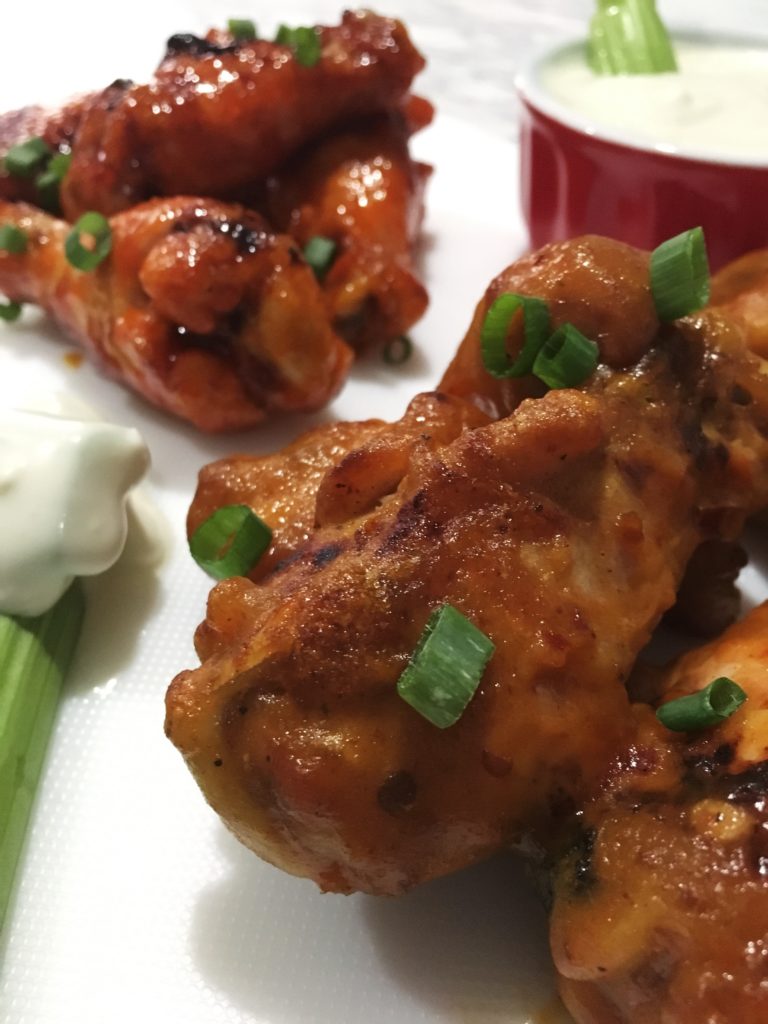 When prepared correctly, oven-made wings can indeed be good. It's possible to get them crispy, and you don't even need to use any flours or baking powders, which can sometimes alter the taste. Let me share a few tips:
Pat your wings dry. Very dry. Even let them air dry a bit. Dehydrating them a bit will aid in crispiness.
Lightly coat your wings in oil and season them. (Whatever spices you like, but I prefer salt, pepper, garlic powder and paprika.) There's no reason not to season from the on-set.
Cook on a rack. Get your wings up off the pan and out of the juice!
Finish under the broiler. It's an underutilized oven tool, and I've found it's the best way to get that crunch on the skin without overcooking the meat.
You can be as creative as you want with a wing sauce. If you're happy with Buffalo, I'd highly recommend checking out DC's own 8 Myles Pineapple Buffalo Sauce. My wife and I ran into Myles at the Brookland Farmers Market last summer, and we absolutely loved his sauce. It's a great balance of sweet and heat. I myself am a fan of Asian flavors, and I happen to love the Sriracha Honey-Lime wings from Stoney's on P St. across from Whole Foods. ($15 for 20 wings during happy hour!)
In addition to trying to recreate the Sriracha honey-lime wings, I wanted to put an Asian twist on some hot honey mustard wings. I took inspiration from a recipe I found at All Recipes.com, substituting rice wine vinegar for the apple cider vinegar it called for. Also, instead of hot pepper sauce, I used Huy Fong chili garlic sauce which you can find in the Asian section of your local grocery store. It's the same company that makes the well-known Sriracha bottled with the green cap. Both the Sriracha and chili garlic sauce are quite hot on their own, but the honey in both recipes tames them down.
If you're looking for an alternative to Buffalo style wings, give these easy mixtures a try. (Just don't tell my New York friends that I told you to!)
Anti-"Buffalo" Wings Two Ways

Chicken (prepared the same for both sauces)
1 bag of frozen chicken wings, thawed
olive oil, enough to coat the wings lightly
1 teaspoon salt
1 teaspoon pepper
1 teaspoon garlic powder
1 teaspoon paprika

Sriracha Honey Lime Sauce
1/3 cup Sriracha
1/3 cup Honey
2 tablespoons coconut aminos (or Soy Sauce)
2 tablespoons rice wine vinegar
1 lime, juiced

Hot Honey Mustard Sauce
2 tablespoons Dijon mustard
2 tablespoons prepared yellow mustard
2 tablespoons honey
1 tablespoon rice wine vinegar
2 tablespoons chili garlic sauce

chopped green onion for garnish
celery
thick blue cheese dressing

Instructions

Preheat the oven to 400.

Prep the wings by draining the juice and patting them dry. Once dry, toss them in a bowl with enough olive oil for a light coating and liberally season them with salt, pepper, garlic powder and paprika.

Cover a baking pan with aluminum foil for easy clean up, then place a baking rack on the pan. Put the wings on the rack leaving enough space around each wing for the air to circulate.

Bake for 25 minutes. Flip the wings, and bake for another 25 minutes.

While the wings are baking, make your sauces.

For the hot honey mustard sauce, add all ingredients to a bowl and combine well. That's it. Boom. Done.

For the sriracha honey lime sauce, mix all ingredients together well. Add to a small sauce pot and bring it to a light boil. Reduce to simmer and let is cook for just a few minutes to thicken slightly.

When the wings are done, remove them from the oven and switch to it to broil mode.

Dip the wings in your sauce of choice to coat, and place them back on the rack. Broil the wings for 4 minutes on one side, or until the skin is nice and bubbly and browning well.

Coat the wings in the sauce a second time, and then return them to the oven with the un-broiled side up, and cook for another 4 minutes.

(It's kind of like watching garlic bread. You need to babysit it so that you don't get side tracked and smell something burning 15 minutes later.)

And if there's one thing I can agree on with my fellow New Yorkers, it's very important to serve your wings with celery (carrots if you like them as well) and a good blue cheese.

Enjoy!