When faced with a culinary challenge, my go plan is to "Irish things up." I'm not always one hundred percent sure what that means when I start the process, but nine out of 10 times, it involves throwing a splash of whiskey in it.
Interestingly, there were two options for converting what is one of the most all-American foods I can think of to an Irish appetizer. It was a toss up between Guinness wings and whiskey wings. For me, no contest.
One of my fondest memories from a recent trip to Ireland was a visit to Tullamore, home of Tullamore DEW whiskey. And ancestral home to my friend Jim, husband of Founding Foodie Sarah It was a great adventure capped with a tour and tasting at the distillery.
Following Sarah's lead from last week, I didn't want to mess with frying wings in oil, so I opted to bake them. Of course, I was profoundly surprised to find that we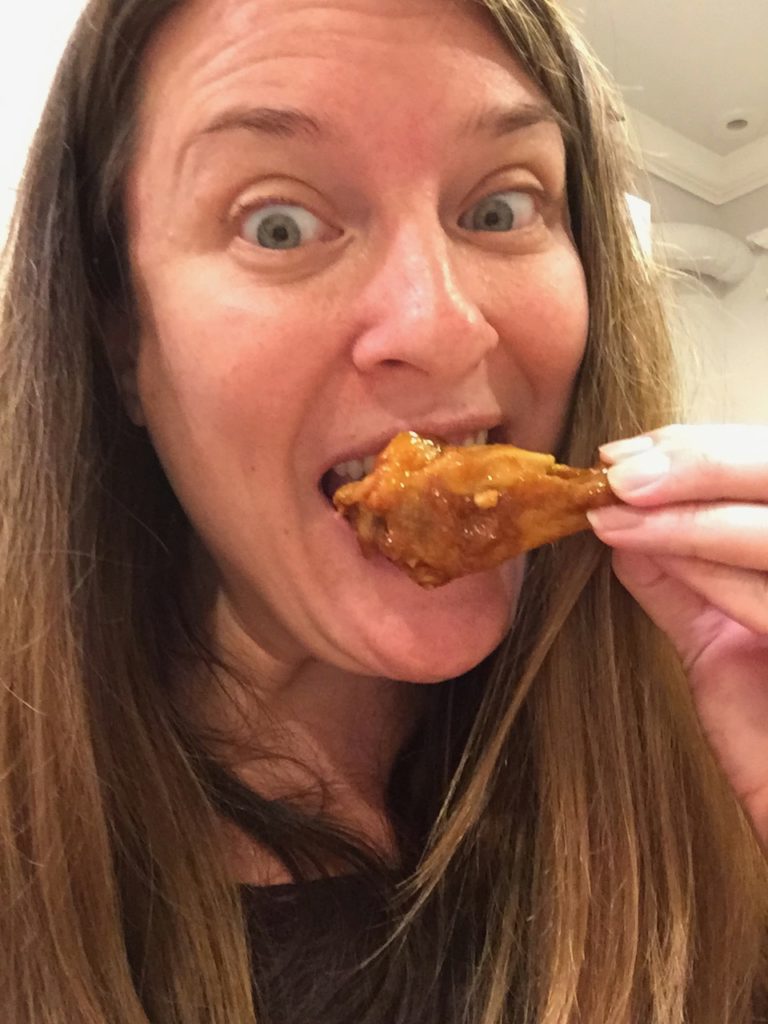 didn't have a wire rack to bake the wings on. But never let it be said that we Foodies aren't resourceful. I just broke out our turkey pan and strategically lined the wings on that rack.
I only tweaked the recipe a little, mixing some thyme in with the baking powder and salt. I didn't have the same success Sarah and her dad did, though. But the wings were still great: super juicy and a wee bit crispy.
I based my wing sauce on a recipe found on the New Jersey Local News website. I added a little extra garlic, brown sugar, honey and whiskey… and a little less onion. I probably could have dialed back the red wine vinegar as well. The end result still had a pretty strong vinegar flavor. It always helps to have your favorite foodie whipping up a massive batch of butter chicken on the other side of the kitchen while you're cooking.
All in all, if you like a vinegar based sauce, it was delicious. The wing preparation itself was a bit unremarkable, as I prefer mine on the crispier side — but something to work toward. It still tasted great. The tartness in the sauce really stood out against the chicken, and Founding Foodie Amy suggested the sauce would be great on pork ribs as well.
Tullamore Irish Wings
Based on the recipe found at NJ.com

Wings
1 dozen chicken wings
1/2 teaspoon salt
1 tablespoon baking powder
2 teaspoons thyme

Sauce
1 medium yellow onion, finely diced
4 cloves garlic, finely diced
2 tablespoons avocado oil
3 ounces Irish whiskey (I used Tullamore DEW)
2 ounces strong, dark roast coffee, brewed
6 ounces red vinegar
2 tablespoons brown sugar
2 ounces honey
8 ounces beef stock
10 ounces ketchup
2 tablespoons Worcestershire sauce
1 tablespoon dry mustard
1/2 teaspoon thyme
Salt and Pepper, to taste
Cayenne pepper, to taste

Heat your oven to 250.

Butcher the wings, separating the drumettes and discarding the tips. Pat dry.

Mix baking powder, salt and thyme in a large bowl and toss the wings until they are completely coated. Lay out on a wire rack on a baking sheet. (Lining them up on a turkey rack in a baking pan doesn't work as well but will do in a pinch.)

Cook the chicken for 30 minutes on the bottom rack. After 30 minutes, crank the heat up to 450 and move the chicken to a higher rack. Bake the wings for another 40 to 50 minutes.

While the chicken is cooking, dice the onions and garlic. Cook the onions in a pan in the avocado oil until translucent.

Add the whiskey and bring it to a simmer. Reduce sauce by half. Next, add in the coffee, stock and the remaining ingredients. Bring to a simmer and let it simmer for 30 minutes, until thickened. I used an immersion blender to incorporate some of the onions better into the suace, but left some of it chunky as you can see from the main photo.

Toss the wings in the sauce. Serve as is or with blue cheese or ranch dressing.